---
For many cyclists, there's no better ride than the one free of car traffic.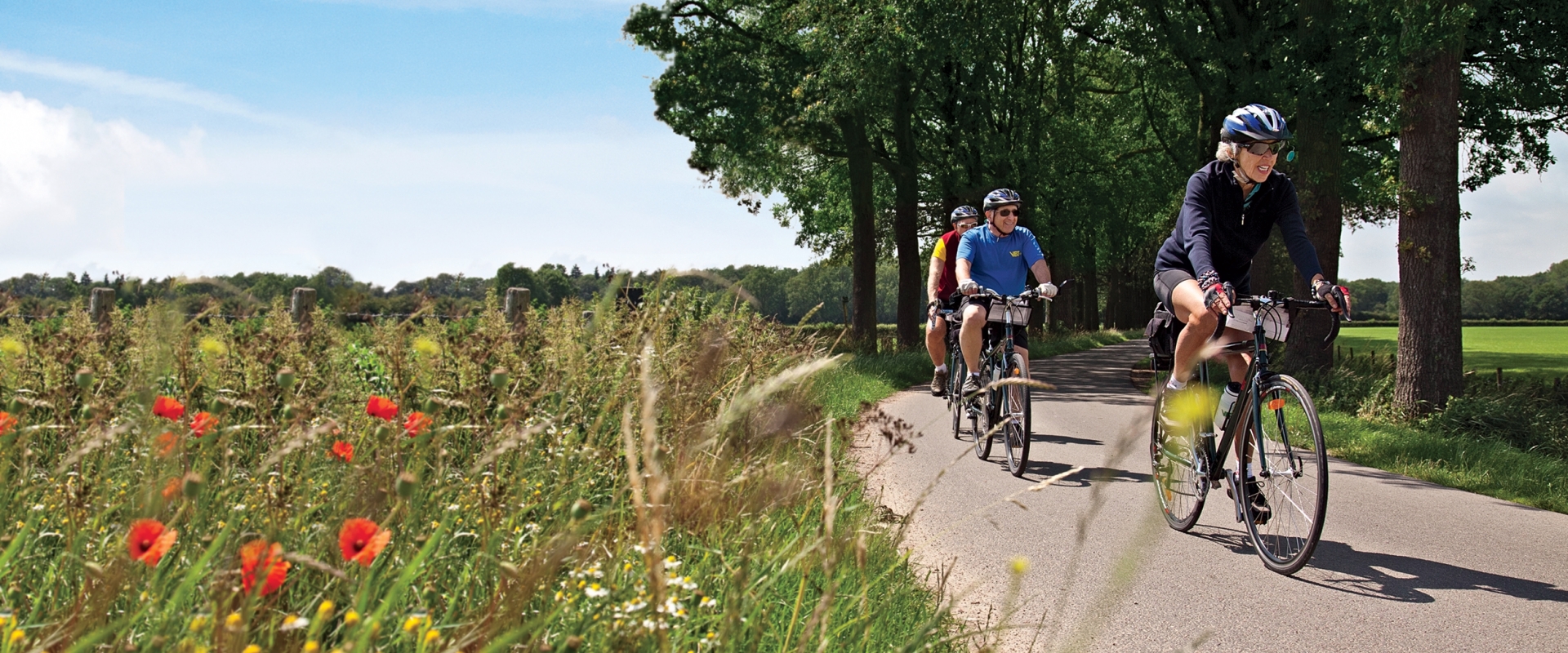 The rhythmic whir of tires against pavement is one of the simple, but profound, joys of cycling. That's why our VBT trip planners—riders themselves—seek out the most peaceful, traffic-free routes when they plan VBT bicycling vacations.
For many cyclists, there's no better ride than the one free of car traffic. Without the clatter and clang of passing cars, the act of exploring the world on two wheels can be a sublime experience. The tranquility of car-free cycling allows your mind to relax and immerse itself in the pleasure of the landscape. Without the hustle-bustle of traffic, years of built-up stress simply fall away—leaving you refreshed, contented, and energized.
How We Find the Best Car-Free Cycling Routes
VBT trip planners are pros at finding traffic-free routes for our guests. First and foremost—we visit our destinations and ride the routes. Fortunately, we have lots of friends around the world, and these local bikers know where to find the most tranquil and scenic bikeways—complete with clever shortcuts to circumvent traffic circles and busy intersections.
This being the 21st century, we also rely on technology. Tools like Google Maps™ and our own RidewithGPS software provide objective data about our routes—a nice complement to the more subjective input from our experts on the ground.
Our Most Traffic-Free Destinations
Here are our top-rated bicycling vacations where traffic is at a minimum—and joyful, quiet cycling is at the max! The vast majority of each itinerary—at least 80%—is car-free. And when you do share the road, drivers are generally few… and respectful, slowing down as they approach and giving you a wide berth as they pass.
Central Europe
Switzerland & France: Lake Geneva, Annecy & Valleys of The Alps. If you enjoy stress-free cycling along stunning European waterways, this tour is for you! Pedal along serene bike paths as you trace the storied Rhône and Isère rivers and wind your way around the sparkling waters of Lake Geneva and Lake Annecy. Spin past charming villages and medieval cities as you explore peaceful paths along the valleys of the Alps. Traffic-Free Riding: 94%
Scandinavia: Denmark & Sweden. Discover deep Swedish forests and shoreline meadows as you cycle quiet paths from Copenhagen to Stockholm. Stop in the home of Swedish villagers for a traditional Swedish fika coffee and learn about what life is like in this adorable Swedish village. With performances of traditional folk music, stops at Viking burial grounds and a visit to the castle that inspired Shakespeare's Hamlet, this is an eye-opening journey of discovery. Traffic-Free Riding: 86%
France, Luxembourg & Germany Bike & Boat: Mosel River Valley. Cycle scenic bike paths along the Mosel River—exploring the vineyards, castles, and medieval villages of this legendary region. Discover the ancient and modern traditions of three countries as you explore the landscape up close—by bike. In the evenings, relax on the deck of your luxurious barge—enjoying sumptuous meals and spectacular scenery along the way. Traffic-Free Riding: 85%
Slovenia, Austria & Italy: Alpine Valleys. Explore the mountains and lakes of three countries on this exceptional bike tour. Pedal along the car-free Alpe Adria and Kattegattleden bike paths through alpine valleys and quaint mountain hamlets as you glide beneath the snowcapped monoliths of the Julian Alps. Spin along the shores of the Laghi di Fusine lakes, Wörthersee Lake and pristine Lake Bled as you explore the waterways and forests of this spectacular region. Traffic-Free Riding: 85%
Italy
Italy: The Dolomites, Bolzano & Lake Garda. Explore the awe-inspiring mountain scenery of Italy's legendary Dolomites mountain range as you pedal along serene river valleys and dramatic mountain canyons. Enjoy wine tastings, gourmet meals, and the shimmering shores of Lake Garda in this low-traffic cycling adventure. Traffic-Free Riding: 98%
Italy Bike & Boat: Venice to Mantua. There's nothing quite like exploring Venice's Grand Canal and lagoon by boat! By day, enjoy stress-free cycling along quiet canal paths and peaceful riverfront trails—stopping to explore medieval cities and artisan's workshops. In the evening, relax in the comfort of your eco-friendly barge and watch the landscape unfold. Traffic-Free Riding: 95%
Puglia's Undiscovered Coast. We've found the perfect routes to help you cycle your way through one of Italy's top destinations. Tracing Adriatic shores, you'll ride quiet roads through stone villages and marvel at turquoise seas, shimmering olive groves, and medieval architecture. The best part? Enjoy paved byways and very little traffic. Traffic-Free Riding: 95%.
Lake Como & the Italian Lake District. Splendid alpine vistas, lakeside villas, and Switzerland's famed Bernina Pass showcase this dream bicycling vacation. When it's clean, crisp, alpine air you're craving, when you want flat, easy mostly car-free routes to whisk you past snow-capped peaks, this exceptional tour has it all. Traffic-Free Riding: 92%.
Sicily, the Noto Valley & Syracuse. Sicily overflows with drama—in its landscapes, in its history, and in its villages and cuisine. Cycling here gives you an up-close and personal front-row seat to it all. Though it is a famously unspoiled island, only a tiny fraction of our bike route is unpaved. As for the traffic, there's no drama there as we mostly keep to remote, seldom-traveled roads. Traffic-Free Riding: 90%.