A Checklist for Everything You'll Need On & Off The Road
From carry-on and checked bag recommendations to the best cycling clothing you should bring with you, VBT knows exactly the dos and don'ts for packing for an active vacation. Go through our VBT checklist to make sure you have all of your packing requirements covered, so you can enjoy the greatest (and lightest) bicycling vacation, whether you're at the airport or on the road!
Travel Light
Most travelers pack too much. As a guideline, your checked bag should be no larger than 62 linear inches (length + width + height) and weigh no more than 50 pounds. Your carry-on bag should not exceed 46 linear inches and weigh no more than 11 pounds. Checking more than one bag generally incurs an additional charge. We recommend contacting your airline directly or visiting their website for specific requirements and baggage allowance restrictions.
Please remember that there is no luggage portage when meeting your VBT representative at the airport and transferring to the first hotel. Therefore, the more you pack, the more you have to carry around. You may also want to leave some room in your bag for souvenirs and gifts.
Packing Your Bags
Before packing your bags, we suggest you check with the Transportation Security Administration (TSA) website at www.tsa.gov for a detailed list of permitted and prohibited items, and tips for packing and travel.
Click here for a video on packing for a biking vacation.
Carry-on bags
As a guideline, we recommend packing your carry-on with a full change of clothes, toiletries (please check the TSA website for liquid size restrictions), any prescription drugs, your camera, and any breakable items. A money belt is also recommended to keep your passport, credit cards, travel documents, and valuables together and safe. You are allowed one carry-on in addition to one personal item such as a laptop computer, other electronics, purse, small backpack, briefcase, or camera gear.
Checked bags
We recommend packing all of your clothing and gear in one duffel bag or suitcase, which should not exceed the size allowed by your airlines. Attach luggage tags with your name, address, and contact information.
To reduce the risk of damage to your luggage, please do not lock your bags when checking in for flights. The TSA screens every piece of checked luggage. Baggage-handling agents may require access to the contents of your luggage and will break locks as required. TSA Accepted and Recognized Locks are available.
Clothing
When packing for your cycling vacation, look for synthetic materials such as spandex, Lycra or nylon. If you prefer natural materials for some items, wool is a great choice. Stay away from Cotton. Cotton doesn't wick moisture and doesn't dry easily, especially in cooler temperatures.
Cycling Clothing
When cycling, it is best that you dress in layers that can be put on and taken off during the day as temperatures change. We recommend polypropylene, lightweight wool, and similar synthetic fabrics, which wick away moisture. A windbreaker or light shell is also useful for cool mornings and days that are a bit chilly. Adequate rain gear is a must! Pants and a jacket made of Gore-Tex or similar waterproof, breathable fabric will keep you comfortable and dry if needed. Padded cycling shorts will add considerably to your comfort.
Other Clothing
In general, the attire on our trips is functional and casual. For a dinner or a special event a smart-casual outfit is recommended.
Packing Lists
The following lists contain the items we recommend you bring with you on tour.
Add to these lists: toiletries and personal items; your passport; travel documents; emergency contact information such as credit card company, bank, and your physician's phone number; any prescription drugs you take on a regular basis; camera; alarm clock; electric adapter; and cell phone.
Cycling
Padded cycling shorts
Bright synthetic cycling jerseys
Firm-soled shoes for cycling
Clipless pedals and shoes (optional)
Polypropylene/lycra leggings
Personal saddle (optional)
Windbreaker/light jacket
Warm hat that fits under a cycling helmet **
Fleece pullover and/or vest
Warm (wool or synthetic) socks **
Light cycling/athletic socks
Full-fingered cycling gloves or warm gloves **
Cycling gloves
Waterproof (Gore-Tex or similar) rain gear **
Cycling glasses/sunglasses
Sunscreen
** These are important for cool-weather and autumn tour departures. Rain gear is strongly recommended on all VBT tours.
Other
Casual and dress shorts
Casual or collared sports shirts or blouses
Casual trousers, khakis, and button-up shirt for men*
Pants or skirt; top or blouse; or dress for women*
Sleepwear
Socks and underwear
Swimsuit
Comfortable walking shoes
Sandals or other shoes
Please Note: You will be sent a destination-specific packing list before your tour.
The VBT Travel Store
Visit the VBT Travel Store to find branded gear that will look amazing on your next trip!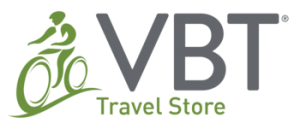 Request a
Free Catalog
Find Your next vacation with Over 200 Pages of tour information
Get Yours Today
Talk to a VBT
Tour Consultant
(800) 245-3868
Mon – Fri 8:30 a.m. – 6:30 p.m. ET
Talk to an Expert
Book Online
Reserve Instantly
Find your perfect tour and reserve a spot with our easy online booking.
Find A Tour