When you ask many of our repeat travelers the one thing that comes to mind when they think about VBT, after they rave about the amazing experience they had exploring a unique destination side-by-side with the locals, they often state "value" as the next common denominator. When you travel with VBT, you know that you're getting the best value possible as a result of our long established relationships with many major airlines and local operators.
Here are some of the ways to save when you travel with VBT…
Referral Program
When you introduce new travelers to VBT, you'll receive $150 in travel credits toward your next VBT vacation when the person you refer to us returns from her or his first trip. You can also get cash bonuses when you make additional referrals. Receive cash rewards for every third traveler you refer, up to nine travelers. Your friends benefit, too, with a $100 discount on their first VBT trip. Your friend must mention your name at the time of booking. Group discounts cannot be combined with the Referral Program, Promotional Discounts, or tour Specials.
Fill out the refer-a-friend form and we'll send your friend a welcome email letting them know that they were referred to us. They'll have the opportunity to request a catalog and decide whether they'd like to receive future communications from VBT.
Receive cash rewards for every third traveler you refer, up to nine travelers.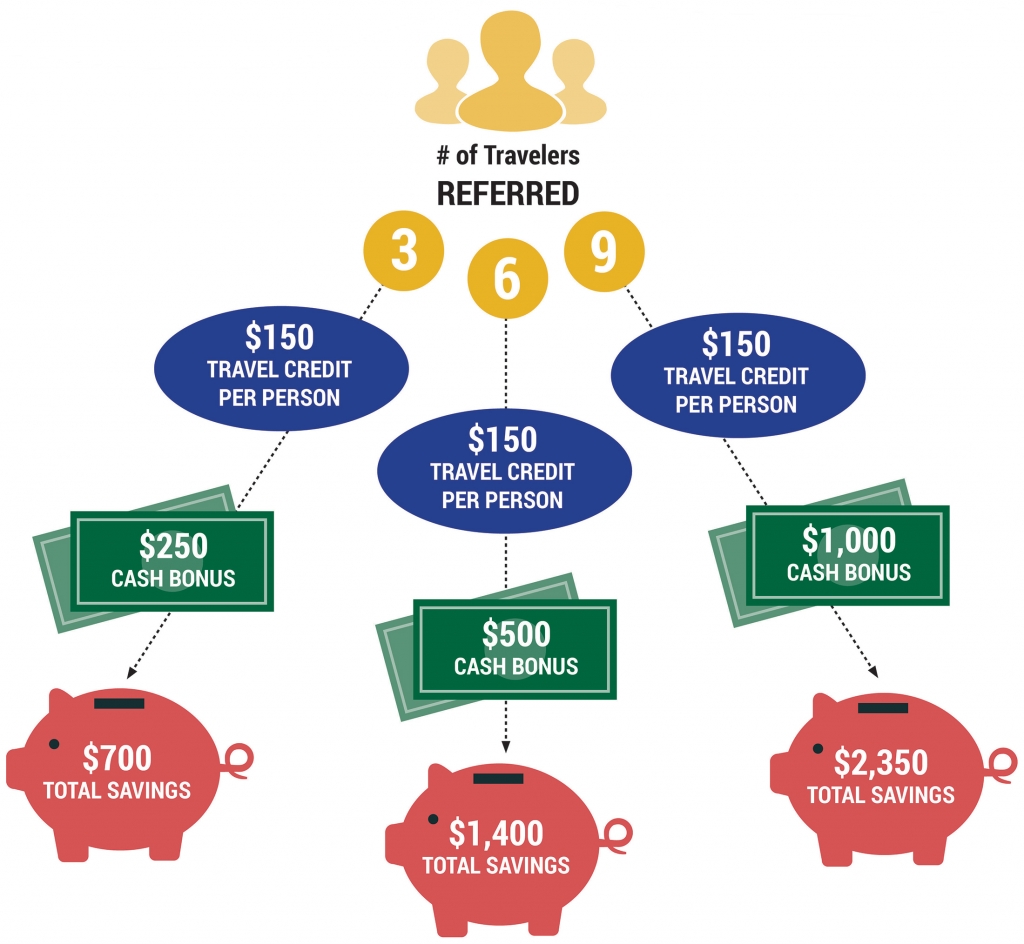 Frequent Traveler Credit
Every time you travel with VBT, you'll earn a 5% Frequent Traveler Credit which is valid for travel before December 31 of the next calendar year*. If you decide not to use your credits within a year, you will still have a 2.5% credit that remains valid through December 31 of the following year.
*Frequent Traveler Credits are calculated on the cost of your trip excluding any Business Class or Premium Class Upgrades.
Back-to-Back Vacations
Save on international airfare by pairing two VBT vacations back-to-back. Your tour consultant can help you choose trips and departure dates that work well together, along with a customized air itinerary. Likewise, you can pair a VBT bicycling vacation with a walking vacation from our sister brand, Country Walkers.
Good Buy Discount
When you book your 2024 vacation by October 19, 2023, and pay in full using MyAccount by November 2nd, you'll receive 5% off the total cost of your tour (minus Travel Protection, additional air costs, and any room upgrade charges). Click Here for more information on GBD.