Italy is an amazing country full of diverse cultural traditions, storied history and varied landscapes. With our 8 Italian biking tours everywhere from Puglia to Tuscany to Veneto, you're sure to find the perfect region to explore by bike. Whether you like pedaling down flat wine roads, along scenic coastlines, on majestic paths in the shadows of the mighty Dolomites or enjoy more challenging hill towns of central Tuscany—Italy has something to offer every type of cyclist. To get a better sense of where you could ride with VBT, check out our 5 favorite biking routes in Italy.
Valseguna Bike Path


On Day 5 of our Lake Garda to Venice: Cycling Italy's Veneto vacation, we'll being day 5 with a van ride up to through foothills of the Trentino region to Lake Caldonazzo. Once there, a thrilling descent on a paved bike path will lead us along the winding Brenta River through an ever-changing landscape full of apple orchards, verdant vineyards, and picturesque canyons that will leave you breathless.
What our travelers say: "The Valsugana Bike Path was one of my best biking days in Europe - a day long lovely ride away from traffic through beautiful mountains and farm country plus a rushing river!"
The Strada Del Vino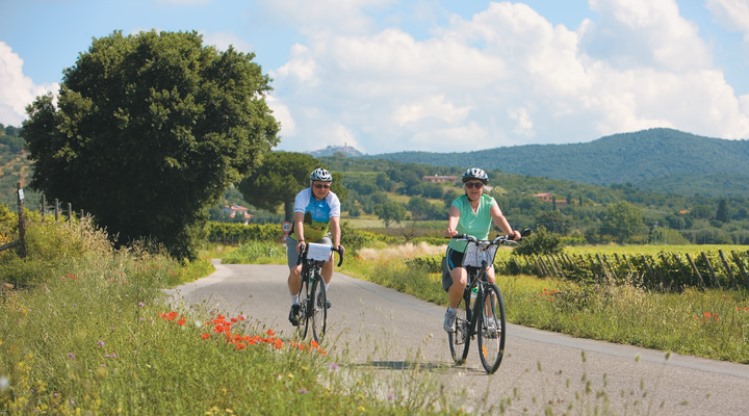 One of our favorite days on our popular Tuscan Coast bike tour is when we cycle through some of Tuscany's most renowned vineyards on the Strada del Vino, one of the most beautiful of Italy's wine roads. We'll see where some of the so-called "Super Tuscans" are produced like Ornellaia, Gaja and Antinori en route to the quaint town of to Bolgheri—known for its lovely Viale dei Cipressi, a cypress-lined avenue made famous in Caducci's poem "San Guido"—where you can walk the streets and enjoy lunch on your own.
What our travelers say: "The biking routes were beautiful - olive groves, vineyards, La Strada del Vino—amazing"
The Dolomites Bike Path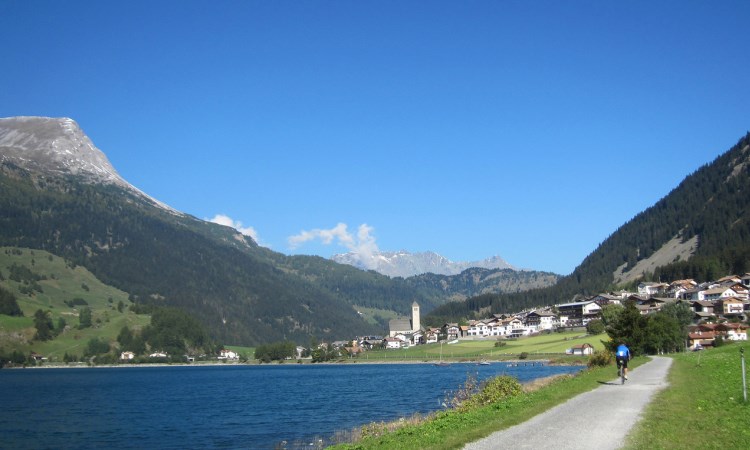 One of the most surreal days on our Italy: Cycling the Dolomite Valleys tour starts out with a transfer to a valley high above the town of Merano. We begin our ride along Lake Resia—a fantastic spot for photos with its famed submerged bell tower that still protrudes from the water—and head downhill towards Merano on an amazing bike path that traces the Adige River.
What our travelers say: "The best ride of my life was the last biking day out of Merano. We were bussed up to Lake Resia, high up in the Dolomites, then rode around the lake, down, back to Merano. High mountain peaks, many valleys, small towns, many grape growing farms, scenery, the best, and cool brisk weather. This was truly a great bike tour, one I will never forget."
The Salento Peninsula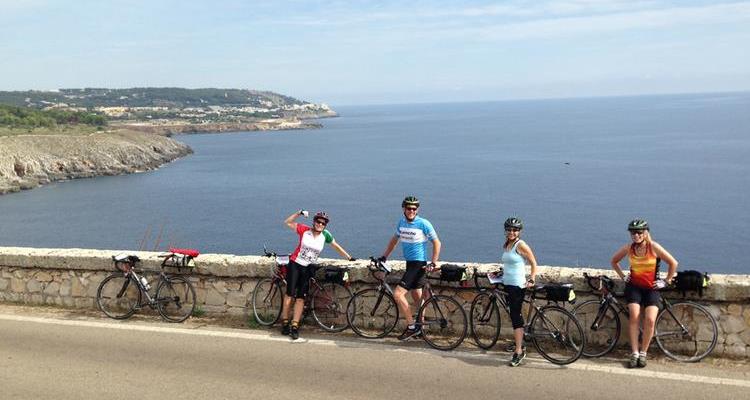 The area commonly referred to as the "heel of Italy's boot" is actually the gorgeous Salento peninsula located in Italy's Puglia Region. We'll set out on day 6 of our Puglia: Italy's Undiscovered Coast biking tour from the ancient walled city of Acaya before cycling along a rugged coastline with stunning views of the Adriatic Sea. We'll ride on sleepy country lanes through serene seaside villages and be treated to many amazing views.
What our travelers say: "And to cap it off, biking along the Salento coast looking out towards the Adriatic. Monopoli! Ostuni! Lecce! Each town magical in its own way. Do I want to go to Rome and Venice? Probably. But maybe I'll just come back to Puglia."
Val D'Orcia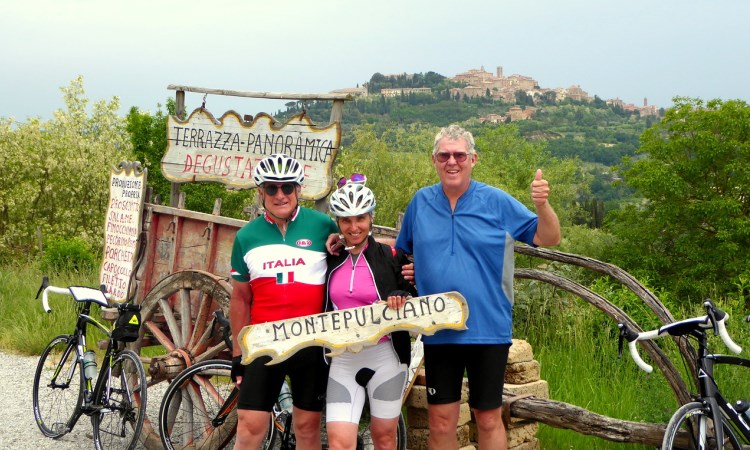 Art aficionados well-versed in the works of the Italian Renaissance will be familiar with some of the scenery that highlights our day 8 ride on our Tuscan Hill Towns by Bike tour. Our route leads us through the Orcia Valley—a UNESCO World Heritage Natural Site—boasting many gorgeous panoramic views before culminating in the medieval hill town of Montepulciano, where you'll have some time on your own to enjoy a local meal or browse some of the impressive wine shops.
What our travelers say: "The cycling was breathtaking, the many walled towns charming, and the food and wine of Tuscany memorable. The routes for the daily rides enabled you to truly soak in the landscape and the climbing was made easier by the very nice Fuji bikes"
To read more about our Italian vacations please click here or download our free e-book, An Active Traveler's Guide to Italy. To request a VBT catalog and learn more about any of our other exciting biking and walking destinations throughout the world, please click here. If you would like to reserve a vacation or speak with one of our Tour Consultants, please call 800-245-3868. They are available Monday-Friday from 8:30am to 6:30pm EST and Saturdays from 10:00am to 3:00pm EST.
If you are a former VBT traveler, you can take advantage of exclusive offers from VBT and our family of travel brands. Click here to view these offers. If you haven't traveled with us, but would like to learn more about these other travel experiences, Explore Now.