There is nothing more rewarding for us than when our travelers tell us how a VBT vacation has changed their life when it comes to how they travel. Whether you write trip reviews, a letter or email to the company, or even a nice message on our Facebook wall; we love hearing that our hard work has made a difference.
We strive to make all of our itineraries as experience-driven and stress-free as possible. From solo travelers, to couples, to groups of friends or family; we want every single person on a tour to engage with the locals in your destination, eat amazing farm to table cuisine, learn about the culture and history of where your traveling and of course, enjoy some of the best cycling or walking of your life. Here are some examples of how much our brand of immersive active travel has influenced how our guests continue to travel the world.
"A Dream Come True" by Greg from FL
Tour: Tuscan Hill Towns by Bike
This was my 12th trip to Italy, my first cycling excursion, and the most enjoyable trip ever. There was nothing to worry about. Much credit goes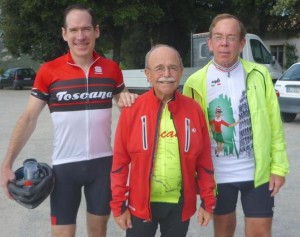 to Claudio and Elena our VBT guides who prepped us each day before our rides, and were always there for help and motivation. Add this to some excellent hotels in big and small cities, fantastic dinners and wine tasting, and oh yes, AMAZING CYCLING EXPERIENCE.
There were many ride options to reduce the difficulty of the rides, which several of the tour members took advantage of. We rode from 3 to 6 hrs daily and stopped for lunches in small towns which were quite amazing. The scenery came right out of the movie Under The Tuscan Sun. It was the first week of October, and the vineyards were turning a golden color along with some to the trees. Che bella!! I will remember this trip and the other members of the group for a long time. Claudio and Elena, grazie mille! You made this trip my best vacation ever. Where to next year?
"Awesome Ireland Trip" by Karen from FL
Tour: Ireland: Galway & Connemara Coast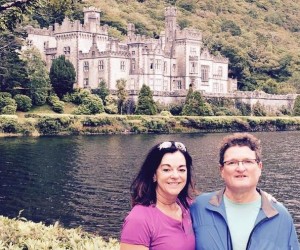 "This was my first trip with any type of tour--I was skeptical and I am usually in control and do not have other people in route with me--but I was pleasantly surprised! In fact, the trip was one of the best I have been on--from the people in the group being like-minded in exercise to the great guides--shout out to Gina and Stevie, to the magnificent views and off the beaten path routes. I would have never gone to the Aran Islands--as it was far away. The people of Ireland were the most friendliest and giving of any other country I have traveled. The food was amazing--I was a little afraid of what kind of food Ireland had to give--but now I know--it was fabulous. I am planning the next trip now!"
"An Extraordinary, Wondrous and Awe-inspiring Adventure!" by Rosie from VT
Tour: Peru: Machu Picchu & the Sacred Valley
"This trip went far beyond my expectations! I loved the immersion into past and present Inca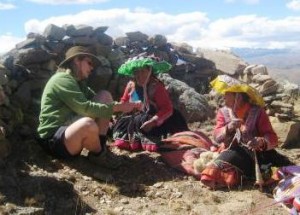 cultures. Carlos and Jorge's passion and knowledge for their country made this trip amazing & truly special. Highlights include hiking the Inca trail, exploring Machu Picchu, spending a day with the Cuyuni community and visiting a rural mountain home and farmer's market. One of the benefits of this trip were the friendships we made with like-minded travelers. I think every world traveler should see Machu Picchu in their lifetime. It was an emotional, magical & life changing experience for me."
"Biking with VBT, a perfect way to explore the Hill towns of Tuscany!" by Mary from AZ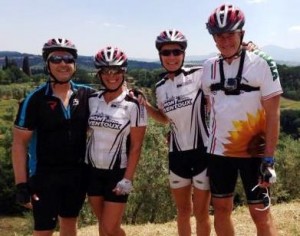 "Wow, are we glad we decided to go on the VBT bike trip this past June! We saw a completely different Tuscany than the one we thought we knew! We have driven the hill towns of Tuscany and almost decided against this trip because "we had been there, done that" ...But,biking these hills, stopping in the little towns and grabbing a slice of pizza while browsing the shops and filling water bottles from the town fountains was such a fun way to see these beautiful places. We learned so much from our guides and we met such great people on this trip, we had challenging rides and a great sense of accomplishment at the end of each day. My husband and I speak Italian and have spent much time in Italy but this was one of the best trips we have ever had there...it is now the way we plan to see Italy 'all over again'...on bikes with VBT! We want to do Puglia, Tuscany by the Sea and the Dolomites and we WILL! Thank you for putting together such a great itinerary. The bikes were brand new, the hotels were a great value, the pools were key in the heat we had, the dinners were delicious, we had great wine tastings and our guides really knew the inside skinny on where to score the best PIZZA by the slice ( a rarity in Italy) and the most wonderful Brunello's and Beer in town! Can't wait to book our next trip!
"Beautiful trip and fun!" by Silvia from GA
Tour: Maine Coast: Purely Acadia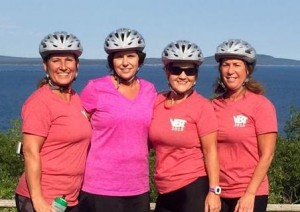 My college girlfriends and I took this VBT trip as our first group cycling experience. Purely Acadia was fun and lovely. The ride was beautiful and challenging. We had two wonderful tour guides who showed and told us about the Acadia area. Best of all, though, was the group in which we participated. By the end of the trip, we were all friends and look forward to riding together on another VBT trip.