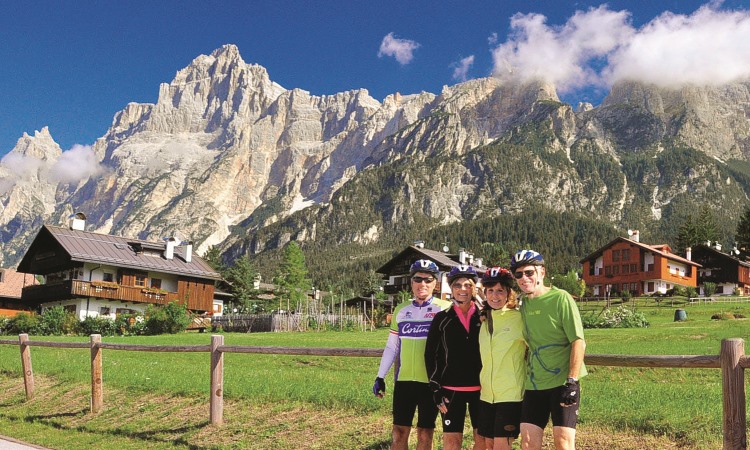 The Dolomites is a land of adventure with an easy-living twist. In this stunning area of Northern Italy, framed by majestic mountain peaks that reach toward the clouds, locals traverse verdant valleys on bike and foot, then relax with a rich dinner of sausages, pasta and bread dumplings - all the makings of a perfect day.
What makes this sub-region of the Alps so unique is the blend of Italian, Austrian and Ladin cultural influences. VBT offers two different bike tours in the Dolomites giving you a chance to explore all the enchantment this region has to offer.
A mix of influences
While the Dolomites are located in Italy, they are in close proximity to Austria. As Frommer's explains, the majority of the Dolomites was actually owned by Austria up until the end of World War I. Austrian influence is evident in every aspect of life, from the cuisine to the architecture.
This blend creates a distinctive atmosphere in the Dolomites. In Bolzano, the town considered the gateway to the Dolomites, you'll find a mix of "Austrian tidiness with an Italian love of life," as guidebook author Rick Steves put it. Our newest Italian biking tour begins in Bolzano, and as you explore the city you'll marvel at its vibrant, colorful squares, lush vineyards, and ornate Gothic churches.
Pedaling through other villages in South Tyrol, you'll learn more about another major influence on the area: Ladin. The roots of this ancient culture and language trace back to ancient Rome. Ladin is a modification of Latin, with some Bavarian influence, and is still spoken by locals today. In fact, the region is highly trilingual: Many villages, landmarks, and street signs are written in Italian, German, and Ladin.
Living amongst the mountains
As you explore the Dolomites, you'll soon find that living in the presence of majestic mountains has its perks. The colors of the Dolomites change by the hour, thanks to the area's dramatic crags, glittering geological makeup, and many sheer rock faces. Look out for the precious hour of enrosadira, when the mountains are blanketed in a fiery pink hue.
Though the Dolomites certainly present daredevil thrills for those searching for them, your VBT bike tour will cover only easy terrain, giving you ample energy to enjoy the spectacular views all around you - and for kicking it back in the local villages at night. You'll dig into sumptuous apple strudel, cheeses, bread dumplings, and locally made wine as you take up conversation with natives who are eager to share the Dolomites' reputation for hospitality.
Quaint mountain villages, humbling views, and an active spirit that equally values relaxation are all hallmarks of the Dolomites. Experience the region for yourself with VBT's Gateway to the Dolomites: Biking Bolzano to Lake Garda and Italy: Cycling the Dolomite Valleys tours.
To request a free VBT catalog and learn more about other exciting destinations throughout the world, click here. If you would like to speak with one of our Tour Consultants, please call 800-245-3868. They are available Monday through Friday from 8:30 a.m. - 6:30 p.m. EST and Saturday from 10:00 a.m. - 3:00 p.m.