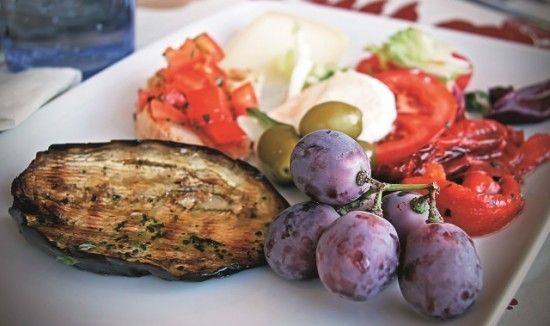 It's no secret that Italy is home to some of the world's most exciting and delicious cuisine. One of the perks of a vacation in Italy with VBT is that we incorporate all facets of Italian food into our tours. VBT guests might find themselves taking a cooking class with a local chef, enjoying a wine or olive oil tasting, foraging for ingredients before preparing a fresh meal with their group, or even checking out local restaurants at their leisure. VBT's Director of Marketing, Paul Williams, has compiled a list—and some fun stories to boot—of some of his favorite trattorias, enotecas and ristorantes that you can dine at while on tour with VBT.
For those of you who don't know the difference, a trattoria is an Italian restaurant serving simple food in an informal atmosphere where there are no printed menus and your wine comes by decanter; a ristorante is a full-service restaurant with menus, and chefs that prepare their special takes on traditional dishes; and an enoteca is basically a wine bar, where small snacks are served as you sample various local wines. Buon appetito!
Trattoria Mario: Via Rosina, 2, Florence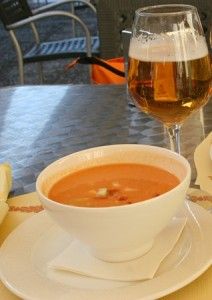 You'll find this welcoming, family-run place on a corner of the Piazza del Mercato in Florence—which is either a pre- or post-trip extension city on four of VBT's Tuscan tours. It can be busy, noisy and a bit hectic at times, but I assure you it is all entertaining. It was recommended to me years ago by a friend who lived in Florence, and I go back whenever I visit this great city. It is open only for lunch, and often there is a wait, but it is worth it. Your name is taken and you are called when space is available at a communal table. This is one of the best features- making new friends and sharing the experience.
On one visit, a group of American students were seated at a table with me. None of them spoke Italian so I assisted with my very limited language skills and with the help of a patient, laughing waitress, we ordered food for all, and enjoyed the meal together. There was no stress and no rush…just good cheer. The menu changes daily and is handwritten on a wall over the very busy kitchen. Some house specialties are always on it, but there is always a fine variety of delights to sample. Soups are popular, especially the bean soup, and they have excellent steaks and home-made ravioli which are my favorites.
Bengodi Enoteca and Cucina: Via della Societa Operaia, 11, Castelnuovo Beradenga, Siena
This small restaurant and wine bar is located in a small hill town in the Siena Province – about 7 miles from the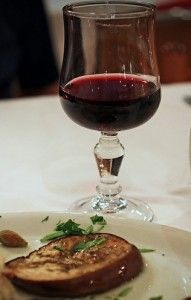 city center of Siena (a town featured on both our Tuscan Hill Towns by Bike and Italy: The Quiet Pathways of Tuscany tours). They have an amazing selection of reasonably-priced wines for such a small place, and the owner is happy to assist in making your choice. Largely unknown by tour groups—as Castelnuovo Beradenga is off the beaten tourist paths—Bengodi is very popular with the locals. We enjoyed attentive service, frequent interaction with the owner, and a few small surprises he provided as we waited for our meals.
Steak and wild boar items were plentiful on the menu, and they have an excellent assortment of homemade pasta dishes. Ample appetizers, salads and wonderful desserts made for a memorable meal for our party of twelve. If you find yourself in the in the area, be sure to visit the Poggio Bonelli vineyard. You can go to their small outlet on the vineyard property to purchase their excellent Chiantis, Vin Santo and enjoy one of the prettiest views in Siena.
L'Antico Moro Ristorante – Pizzeria: Via del Moro, 61/62, Trastevere, Rome
We happened upon this one day while strolling through our favorite Roman neighborhood. We were looking for a place to eat and I poked my head in to look and heard all at the three or four occupied tables speaking Italian. Bingo! A place the residents go to is always a strong recommendation.
I have been back on every trip to Rome (which is a city extension on 6 VBT tours) and am always delighted with our meals, whether lunch or dinner. The consistency is overseen by the owner, Elisa and the ingredients are always fresh, well-prepared and well-presented that yield simple Roman dishes cooked to perfection. We have enjoyed their pizzas, a mixed grill plate, a superb oxtail dish, many pasta specials, lasagna and so much more. L'Antico Moro is not fancy, but it's definitely the real deal. Also worth noting is that many times our waiter has been a man named Cee Cee who is attentive and fun.
Tasso Ristorante Pizzeria : Via Correale, 11d, Sorrento
We first visited this place on the recommendation of a resident of Sorrento, and I quickly learned that this is a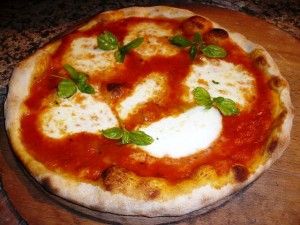 favorite of the locals. We had very attentive service and thoroughly enjoyed our lunch, but dinner is also served there. Tasso is located very close to Piazza Tasso, at the main intersection of Sorrento.
We decided upon a simple meal and began with antipasto which was a nice selection of cheese, meats and olives. Then we enjoyed wonderful salads along with two pizzas—one similar to what we would call a Margherita in the States with thin sliced tomatoes, fresh basil and mozzarella cheese—and a second with many interesting cheeses, artichoke hearts and onions. Along with the house wine, we were completely pleased and satisfied with all.
Trattoria del Moro: Via S. Leonardo, 7, Orvieto
This trattoria provides real value and well-prepared meals, as well as and friendly service in a warm and cheerful environment from the moment you walk in the door—what's not to love? In busy seasons you will want to make reservations, often the day before, as it is a favorite of many locals.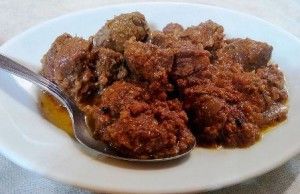 This small family-run trattoria offers wonderful steaks, specials with cinghale (wild boar) that are to die for, excellent pasta , soups and just and wait until you have their desserts—they are fabulous! Also they have a nice selection of reasonably priced wines and a good house wine. It is located on a small lane but easily accessible. Orvieto is a small, charming town and this place reflects that personality.
To learn about all the wonderful places you can travel to in Italy with VBT, click here.