Many VBT vacations to Europe include stops in cities with world famous museums – either on the trip or on our optional pre- or post-trip extensions. We wanted to provide a list for you of some of the great sculptures that you could see along your journeys. Some are masterpieces that cannot be missed and some are lesser known pieces found in places other than artistic meccas like Paris or Rome.
"Apollo and Daphne" by Gian Lorenzo Bernini (Galleria Borghese, Rome)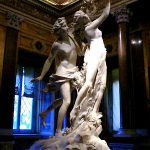 This life-sized Baroque marble sculpture, commissioned by Cardinal Scipione, was created between 1622–1625. The sculpture portrays the story of Daphne and Phoebus in Ovid's Metamorphoses. Although the sculpture may be viewed from every angle, Bernini intended it to be viewed from its side, to let the viewer see the reactions of Apollo and Daphne simultaneously. You can visit Rome as a trip extension on our vacations in Puglia, Amalfi and Tuscany.
"David" by Michelangelo (Galleria dell'Accademia, Florence)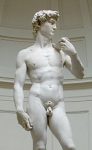 This masterpiece of Renaissance sculpture—and possibly the most famous statue in the world—was created between 1501 and 1504 by the Italian artist Michelangelo. The statue represents the Biblical hero David glaring off in the distance with a sling around his shoulder, perhaps a sign that he is intensely waiting for battle. This is in contrast to many depictions of David after he slayed Goliath. You can visit Florence as a trip extension on our The Tuscan Coast, Tuscan Hill Towns by Bike and Italy: The Quiet Pathways of Tuscany vacations.
"The Kiss" by Rodin (Museè Rodin, Paris)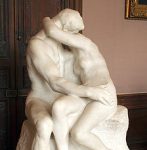 This marble work was inspired by the passionate love affair between Paolo Malatesta and Francesca da Rimini made famous in Dante's Divine Comedy. The sculpture depicts the 13th-century Italian noblewoman falling in love with her husband's younger brother, Paolo. The lovers' lips are not actually locked in the piece, suggesting that they were interrupted – and furthermore, killed - by Francesca's husband Giovanni, without their lips ever having touched. Visit Paris as a trip-extension on many of our vacations in France.
Bust of Nefertiti by Thutmose (Neues Museum, Berlin)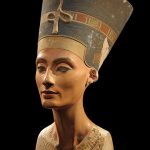 In 1912 German archaeologist Ludwig Borchardt found perhaps the most-famous example of Egyptian art—not still residing in Egypt—in the workshop of ancient sculptor, Thutmose. The limestone bust of Nefertiti, who was Queen and Great Royal Wife of Pharoah Akhenaten, is believed to be over 3,300 years old! It is known for its accurate depiction of the human face, its place in German national identity and perhaps lesser-known, as the inspiration for the hairstyle of the title character in the 1935 movie, "The Bride of Frankenstein." Visit Berlin on our Berlin to Dresden: Hidden Gems of Eastern Germany bicycling vacation.
"Venus de Milo" by Alexandros of Antioch (Louvre, Paris)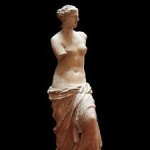 The "Aphrodite of Milos" better known as the "Venus de Milo", is an ancient Greek marble statue created sometime between 130 and 100 BC. The statue represents Aphrodite (Venus in Roman), the Greek goddess of love and beauty. The famously absent arms are believed to have shown the right arm lowered across her torso as to hold up the sliding drapery while the left remained outstretched, holding an apple.Visit Paris as a trip-extension on many of our vacations in France.
The Statues of "The Monument to the Discoveries" by Leopoldo de Almeida (Tagus River bank, Lisbon)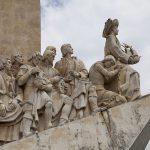 The only sculpture on our list not to be housed in a museum was designed by Leopoldo de Almeida in order to commemorate the golden age of Portuguese exploration in the 15th and 16th centuries. Found on ramps on either side of a larger monument, you'll find 33 statues of historical figures with their eyes all set on the river, which symbolizes the open waters of the Atlantic Ocean and beyond. You can visit Lisbon as a post-trip extension on our pathways of Portugal: Walking the Douro Valley tour.
"The Veiled Christ" by Giuseppe Sanmartino (Museo Cappella Sansevero in Naples)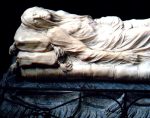 Sanmartino's Veiled Christ is one of the greatest sculptures of all time. Since the eighteenth century, travelers of all levels of distinction have come to contemplate this artistic miracle and the oft praised finesse of its veil. Legend has it that famed Venetian sculptor, Antonio Canova, once said he would have given ten years of his life to have been the sculptor. You'll spend time in Naples on our Amalfi Coast & Capri walking vacation.
"Sculptures of the Night Watch" by Alexander Taraynov (Rembrandtplein, Amsterdam)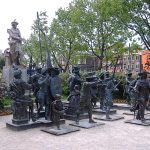 Although Amsterdam's Rijksmuseum houses Rembrandt's famous painting, The Night Watch, Russian artist Alexander Taratynov created a bronze-cast representation of the painting as part of the celebration of the artist's 400th birthday in 2006. In 2009 the sculptures traveled to New York City and Russia to be displayed before returning to the redesigned Amsterdam square where they serve today as a magnet for visitors. You can visit Amsterdam on any of our biking vacations in The Netherlands.
"Salt Celler" by Cellini (Kunsthistorisches Museum, Vienna)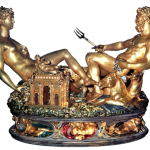 Cellini's Salt Cellar table sculpture is crafted from ivory, gold, and vitreous enamel and was completed in 1543 for Francis I of France. The piece depicts Neptune and Ceres - symbolizing their unity in producing salt, mined from the earth. It is sometimes referred to as the "Mona Lisa of Sculpture" due to its famous theft in 2003. It was recovered three years later. You can visit Vienna on our Czech Republic, Germany & Austria bicycling vacation.
"The Medusa Rondanini" by Unknown (Glyptothek, Munich)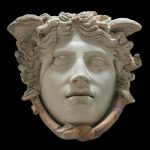 In the early 19th century, King Ludwig of Bavaria began purchasing Greek and Roman antiquities during a visit to Italy when he was a prince. Today, his collection can be found at the Glyptothek Museum in Munich. One of the most famous pieces is a 2,220 year-old Roman copy of Phidias' 5th-century BC sculpture of Medusa. This version was purchased by Ludwig from the Rondanini family and is widely regarded for being the first Greek example of humanizing (or even beautifying) the mythical snake-headed gorgon (but our favorite part is the irony of seeing her face set in stone for once!) You can visit Munich as a pre-trip extension on our Lake Constance bicycling vacation.
To learn more about how you can visit these destinations or any others that we offer throughout Europe please click here. To request a free VBT catalog, click here. If you would like to reserve a vacation or speak with one of our Tour Consultants, please call 800-245-3868 Monday-Friday from 8:30am to 6:30pm EST and Saturdays from 10:00am to 3:00pm EST.