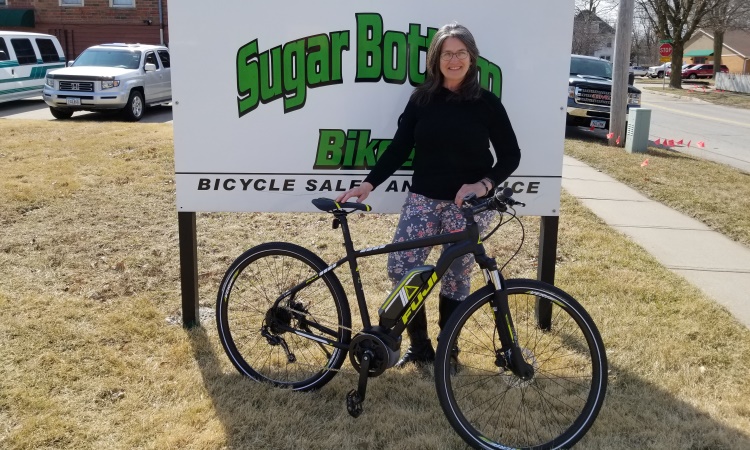 Earlier this year we asked our travelers to submit their favorite story from a VBT biking or walking vacation. Each person that wrote to us was entered into a drawing to win a brand new Fuji E-bike. Congratulations to 3-time VBT traveler Helen P. (pictured above with her brand new E-bike) who sent us an amazing tale from her Czech Republic, Germany & Austria biking vacation. Here is her story…
In the Fall of 2013, my husband and I experienced a VBT trip that went above my expectations of a biking vacation. We rode through three countries on this trip: the Czech Republic, Germany, and Austria. My connection to this part this part of the world begins with my grandparents, who emigrated from Austria during the early 1920's. My grandfather was afraid of the unrest with Hitler in Germany and in order to protect his family, moved to the United States to study as a butcher's apprentice, eventually saving enough money to send for his wife and family to join him.
I always dreamed of traveling to Austria, to walk the streets of Vienna where my grandmother walked and most importantly to visit the small village where they lived, Langenschonbichl, Austria.
Our week of cycling culminated with spending a couple days in Vienna, and our VBT Trip Leader researched how far it was from Vienna to Langenschonbichl. It turns out that my grandparents' hometown is only about 30 miles up the Danube from Vienna! During our free time on the last day, my husband and I set out on an afternoon adventure that I'll never forget. We got directions from our hotel's concierge and took the subway out of Vienna, then the train and finally a city bus. The last stop was at my grandparent's village.
With much anticipation we walked the street up to a little church and then noticed a tiny restaurant, Gasthaus Catering. We walked into the small café and we were greeted by a kind man who didn't speak English but did motion for his wife, Silva, to seat us and take our order. She asked where we were from and she also wondered what had brought us way out there!
I had some information from an email I had received from my aunt with me, and as I showed Silva the email with the information about my grandparents living in her small town, she noticed my grandfather's last name. She was taken aback because it was same as her grandmother's name. She immediately wanted to introduce me to her grandmother, Anna. So she took me by the hand and walked me over to her home—which was adjacent to the restaurant that we were in—because her grandmother lived with them.
When I walked in, Anna was sitting in the kitchen playing cards with her sisters who happened to be visiting her that day for a birthday celebration that evening. While Silva translated her Grandmother's German into English for us, we learned that the little restaurant used to be an old butcher shop with a barn connected in the back. My grandfather used to work there in the butcher shop. Anna was married to my grandfather's cousin!!! She remembered her husband talking about his cousin traveling to the United States to study to become an apprentice butcher. She had pictures to show me of her husband. Anna spoke of those days when so many people were moving, leaving their countries, and their families to travel abroad in pursuit of safety. Anna spoke of the Jewish people and remembered helping some that stopped at her home for food and water since they lived near the Danube River.
Needless to say, I thoroughly enjoyed the afternoon visiting. Never in my wildest dreams did I ever think I would meet my relatives, or be in the very building where my Grandfather worked. My dream was to just see the village, get a sense that this is where they called home. VBT opened a whole new experience for me and bridged a generational gap beyond my expectations. It's a story and a trip I will treasure always. Thank you VBT for the guidance of our Trip Leader. I feel that if he hadn't personally taken an interest in trying to help us that none of this would have happened. I feel that he went above and beyond to try to get me to my grandparents' tiny village near the Danube River. Thank you again for a most lovely trip!
Sincerely,
Helen P.