Looking for VBT Walking Vacations? All VBT Walking Vacations have moved to our sister company, Country Walkers. The same tours you know and love, plus exciting new itineraries, are available to book through their website.
In 2009, Ken and Peggy C. were an active couple that were asked by friends to join them on a bicycling vacation to the Tuscan Coast with us. Over the next 8 years they took biking vacations to in France, Spain and returned a couple times to they're favorite country, Italy. They were so inspired by their first vacation, that they took advantage of the benefits of our Group Travel Program and started to organize groups of friends and other VBT vets they've met along the way. Later this year they will return to Tuscany, the region where they had their first VBT experience. We had a chance to get to know them a little better and learn why they love to travel with VBT.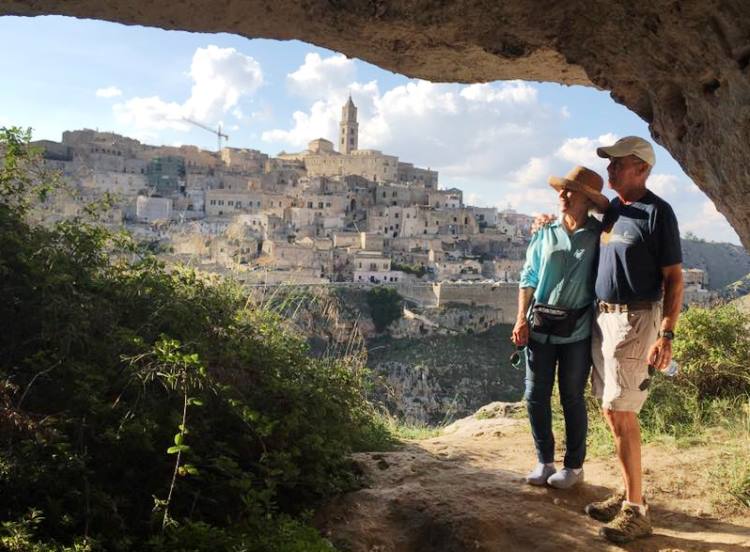 What about active travel appeals to you and how did you hear about VBT?
We are both retired and stay very active with snow & water skiing, mountain biking & road biking, travel, Zumba, gym workouts and water aerobics. A friend had been on the VBT New Zealand tour and recommended that four of us go on a VBT trip nine years ago. Since then we have been taken a trip with VBT to Europe every year! The beautiful villages, daily exercise, and incredibly fascinating and fun VBT guides are what keep bringing us back to the VBT experience.
You have been on VBT tours in the Loire Valley, Andalusia, Puglia and Tuscany. What is your favorite destination that you've been to with us so far?
The Tuscan Coast biking trip was both our first and our favorite with the jaw-dropping countryside and delightful guides. But we also loved the gorgeous Dolomites and the vacation in Puglia. If you go on the Puglia tour, be sure to take the pre-tour extension in Matera, it's a truly fascinating city. This September we are returning to our favorite country, Italy, on the Tuscany by the Sea tour.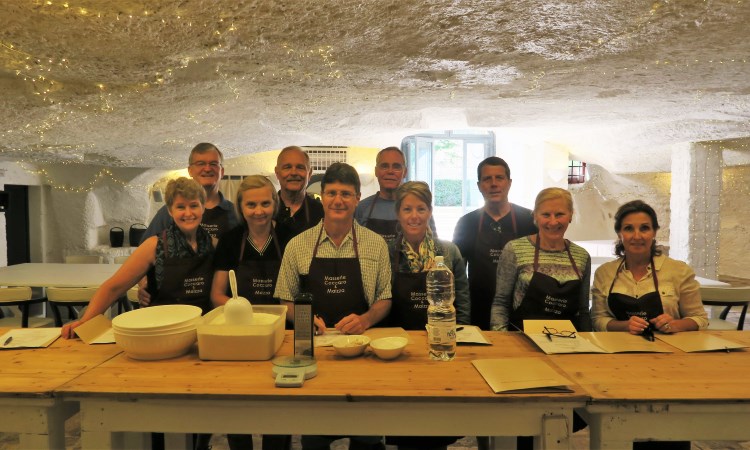 We like to incorporate fun and informative cultural activities into our itineraries (like home hosted meals, wine tastings, cooking classes, talks with local historians, etc.). What is your favorite cultural interaction that you've had during a VBT vacation?
We love all the above activities, but the two that stand out as favorites are the meal that we helped prepare in the home of a charming Tuscan woman (Chicca, from Cooking with Tuscany) and then dined on outside in a gorgeous olive grove. We also loved an unforgettable buffet lunch at an olive oil factory. On the historical side, we enjoyed the incredibly interesting and knowledgeable local guide during the guided walking tour of Cesky Krumlov in Czech Republic (on our Czech Republic, Germany & Austria biking tour). Oh, yes, and who could forget the most interesting evening tour of the trulli domed houses in Alberobello after a lovely day biking around Puglia. Also our Puglia pasta cooking class followed by devouring it at lunch by the pool was unforgettable.
You organized a group of travelers to join you on our Puglia bike tour last September under our Group Travel Program. What do you like about the program? Was it a good way to bring new friends or family along with you? Or was the group made up of other VBT vets?
The Puglia trip was our second self-organized group with VBT. Each included friends, friends of friends and VBT vets. We enjoy the Group program because we know we'll be traveling with people that all get along well and we always split the Group Discount equally among all riders in the group, a very popular move!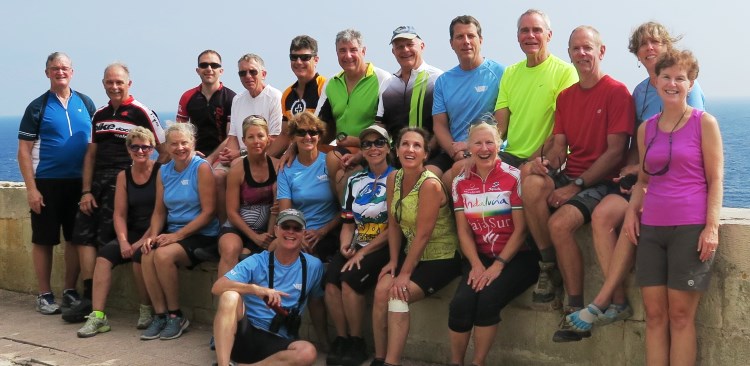 You are taking our Tuscany by the Sea vacation in 2017, what are you looking forward to most about returning to the Tuscany region with VBT?
First of all, Tuscany is gorgeous, and the food, wine, and gelato are incredible! Also, this easy/moderate trip will our first with e-bikes offered, and seven of us are looking forward to the uphill assist. Thirdly, we have heard from others that our pre-trip extension in Orvieto is beautiful.
What is the next country that you want to travel to that you've never been to before?
Funny you should mention it, but we are already planning to go on the VBT 2018 tour in Croatia with many of our fellow riders.
To learn more about our Group Travel Program click here. To request a full catalog with all of our vacations please click here.
If you would like to organize a group vacation with us, please call John Zelig, VBT Group Tour Manager at 800-245-3868, x3307.