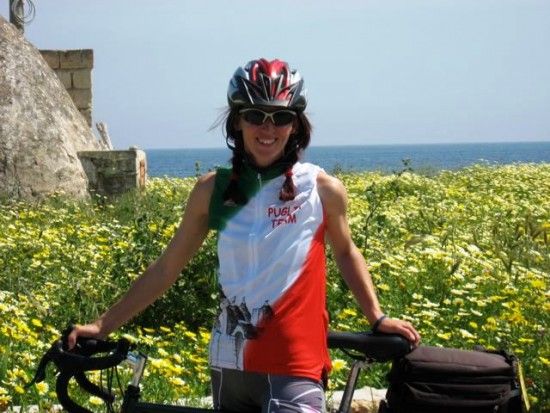 If you ask any traveler about their VBT vacation you'll undoubtedly hear praise of our expert, local Trip Leaders among their remarks, so it's no coincidence that 95% of our travelers rate their Trip Leaders "excellent ". You see, our Trip Leaders are more than just tour guides—they are friends, partners, caregivers, teachers, and bilingual residents of the region you are discovering. Since each leader is a resident of the country they lead in, they know the local customs and traditions, as well as inside information about reliable places to shop, eat, explore, and relax while on a VBT vacation. They'll also be able to answer any questions you may have about the history or native flora and fauna of your surroundings.
Last week, Debora, a native and Trip Leader on our Puglia: Italy's Undiscovered Coast ​ vacation sent us an email along with some pictures of a traveler swimming in Port Badisco Bay and also some wild cyclamens growing along the road. We thought we'd share some of her pictures as well as let you get to know her a little better with the following interview. We want to thank Debora for another great year of leading trips and we, like her, are looking forward to another great season in 2014!
What are some hobbies/interests of yours other than leading trips? I'm a swimming instructor and scuba diving fanatic who also loves free diving. I also enjoy painting and reading.
What are some of your favorite things? I believe music is the expression of the soul! And travel, travel, and travel because it helps to keep an open mind and always be learning something new. Oh and, gelato before everything!
Do you have any messages for people considering travel to your country? Come by bike to discover a genuine and still undiscovered region! Puglia is a tongue in the middle of the Mediterranean Sea where all cultures have left their trace over time…a treasure is waiting for you .
Anything you would say to convince a person to come join one of YOUR trips? I feel like an ambassador and will be happy to help you discover my region and all the "locals" adventures that you can have here!
Do you have any final words for our readers? Please continue to travel by bike. It helps our small planet to be less polluted and it's a perfect way to really discover another country and culture.