Looking for VBT Walking Vacations? All VBT Walking Vacations have moved to our sister company, Country Walkers. The same tours you know and love, plus exciting new itineraries, are available to book through their website.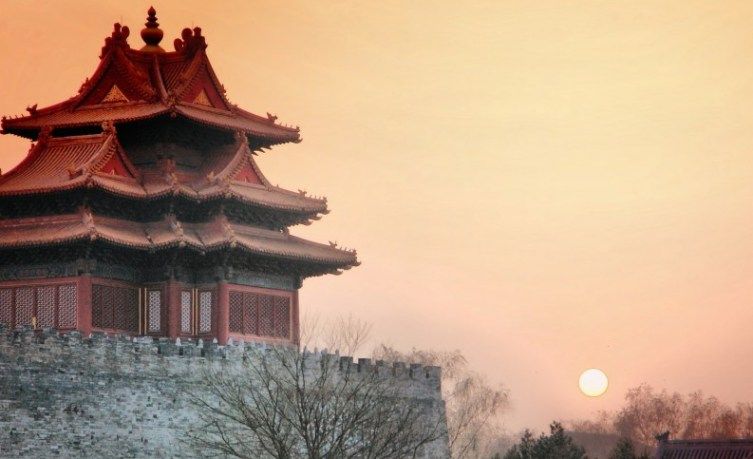 In 2015 VBT is launching our first ever active vacation in China, called Footpaths to Shangri-la. On this exciting 12-day sojourn, travelers will get a great introduction to a country with such fascinating traditions and incredible beauty. The tour begins in Beijing, then visits the scenic Guangxi and Yangshou provinces, and culminates in the world's largest city, Shanghai. To give you some more background and insight into this impressive new itinerary we sat down with VBT Product Manager—and former Olympian—Garrott Kuzzy, who developed the walking vacation.
In terms of geography, China is such a diverse country filled everything from deserts to lush river valleys to soaring, snow-capped mountains. Why did you decide to focus on the Gaungxi and Yunnan provinces for this new walking tour?
China's geography is actually surprisingly similar to the United States' both in total area and climate zones. Choosing which destinations to feature is like trying to tell a foreign friend where to go if they only had two weeks to spend in the US. Of course we visit highlights like the Forbidden City and the Great Wall in Beijing, and the Bund and the Yu Gardens in Shanghai, on the pre- and post-tours, but we also get off the beaten path and step into more authentic and rural traditional life in the Guangxi and Yunnan provinces.
Guangxi, in southern China, features Yangshuo and the surrounding karst mountains. Walking along the footpaths in Yangshuo is like strolling through a traditional Chinese watercolor scroll. In fact, the steep karst mountains and Li River are featured in Chinese currency on the 20 Yuan note. The food is special because most of it is produced locally, whether it be rice from the terraced fields, pomelo from the colorful orchards, or trout from the nearby mountain streams. Our groups will take a cooking class where we'll learn to turn the local ingredients into tasty dishes.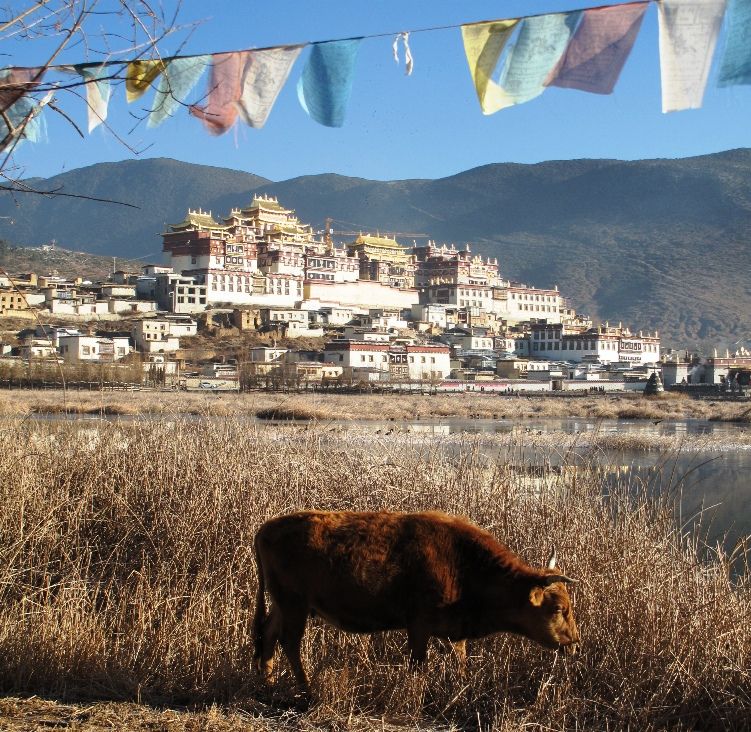 Yunnan, in southwestern China, is where the tropical region north of Vietnam and Laos transitions into the more arid Tibetan plateau. This creates a welcoming, dry climate with many beautiful, flat walks through the foothills of the Himalayas. The local culture is decidedly Tibetan, with the influence of local Yi and Naxi people offering an interesting contrast to China's Han ethnic majority. We'll get to know some natives when we enjoy lunch with a local family in their home and learn about how their ancestors have lived for centuries in their mountain village. We also visit the breathtaking Songzanlin Monastery in Shangri-la—the largest monastery east of the Tibetan capital of Lhasa—where our local guide shares the significance of the many shrines and sanctuaries in the temple.
VBT is known for always using expert Trip Leaders that are all residents of the country they lead in. What can you say about the leaders in China?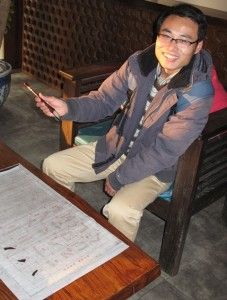 Yes, having local, expert trip leaders is really what makes any of our trips so special. China is no exception. In fact, guides in China are required to have university degrees in tourism, so they really are professionals. We have chosen the best from a strong pool of applicants and, combined with VBT's leader training program, they are some of our strongest leaders worldwide. Want to learn some simple Chinese phrases or try your hand at traditional calligraphy? Our leaders can teach you. Or if you are curious about the layout of your hotel room our leaders can explain the significance of the traditional feng shui design. I bet our guests will have a good laugh as they share the story of how Tiger Leaping Gorge got its name.
VBT is known for its culturally immersive active vacations. What are some of your favorites activities that you developed for our travelers to experience authentic Chinese culture and traditions first-hand.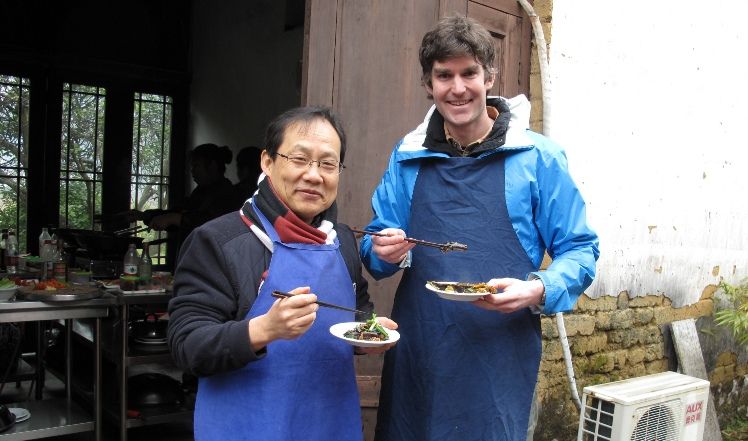 The cooking class in Yangshuo breaks down many myths about Chinese food and teaches us how a few simple ingredients can create some very delectable dishes. My favorites are duck with pickled ginger, cashew chicken on rice, and steamed stuffed vegetables.
The Yulong River, running right behind our first hotel, is home to traditional cormorant fishermen, who use the birds to catch fish at dusk and dawn from their bamboo rafts. We'll finish our walk at a boat dock and float down the river on the small rafts and end close to our hotel, seeing the area from a totally different perspective.
The Nixi village outside of Shangri-La is famous for its black clay pottery. We'll walk to the home of a family who has been producing this traditional pottery for generations. They'll share the process and let us explore their traditional timber frame home. Guests can even try some of the yak meat they cure over the small fireplace in their living room.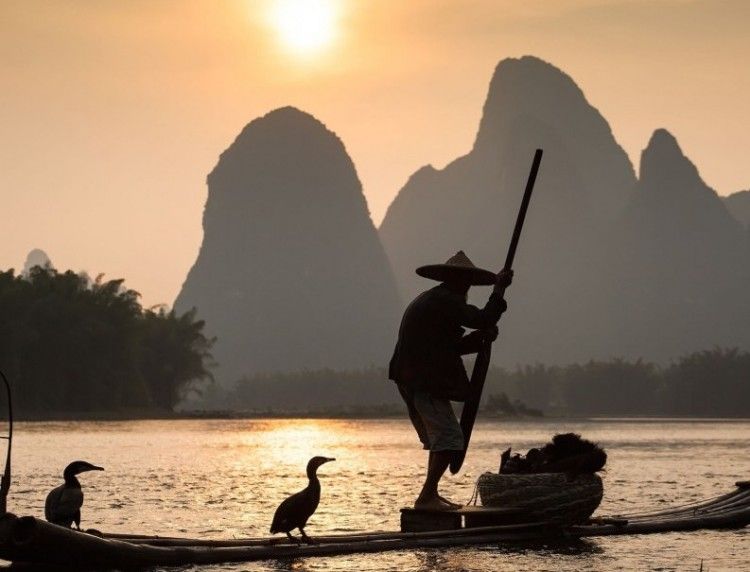 What hotel are you most excited for VBT travelers to stay at?
Wow, that's a tough question because they're all so unique. The Blossom Hill Inn Eminentland, located in the heart of the small village of Shuhe, is perhaps my favorite. Like all of our hotels in China, a warm cup of tea awaits our arrival. Guests can relax in the afternoon sun in the hotel's courtyard, looking up at the sacred Jade Dragon Snow Mountain. The rooms here are designed with traditional feng shui principals and the climate is so mild that you can sleep with the windows open and listen to the stream flowing by outside. Like all our hotels in China, the staff is very friendly and eager to help and the breakfast spread features a wide variety to suit western tastes, such as eggs cooked to order, fresh croissants, and hot coffee—as well as options for those adventurous enough to try a traditional Chinese breakfast of vegetable stir fry, dim sum, and tea.
This tour is rated "Easy / Moderate." Can travelers choose which options they want to do or does everyone do both easy and moderate walking routes throughout the trip?
Like all VBT tours, the day is yours to decide how much or little you'd like to walk. The walks on this tour are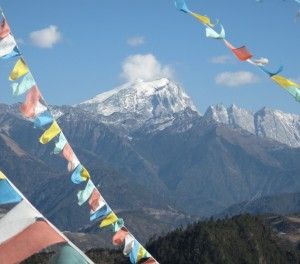 almost exclusively on flat paved or gravel paths, surrounded by beautiful mountain views. On this tour, especially in Lijiang and Shangri-La, the elevation can reach between 8,000 and 11,000 feet. For this reason, shorter walks on flatter paths have been planned to help acclimate and every day includes both short and long options. If the altitude doesn't take your breath away, the spectacular scenery certainly will.
To learn more about the upcoming departure dates for our Walking China: Footpaths to Shangri-La ​vacation, please click here. If you would like to reserve a vacation or speak with one of our Tour Consultants, please call 800-245-3868 or visit www.vbt.com. They are available Monday-Friday from 8:30am to 6:30pm EST and Saturdays from 10:00am to 3:00pm EST.