VBT's unique Slovenia, Austria & Italy biking vacation visits a geographical triangle where Romance, Germanic and Slavic Europe meet. Cultures extend across country borders and blend into one another in a diverse region like no other in Europe. There's plenty to discover in this enchanting pocket that is full of emerald valleys and dense forests in between snow-capped peaks. With VBT you'll visit enchanting alpine villages, meet charismatic locals and learn their traditions through cooking demonstrations, home-cooked meals, farm tours and wine tastings. To get your sense of wanderlust motivated, we've compiled a list of the top 3 places to visit in each of the three countries on this one-of-a-kind tour.
Slovenia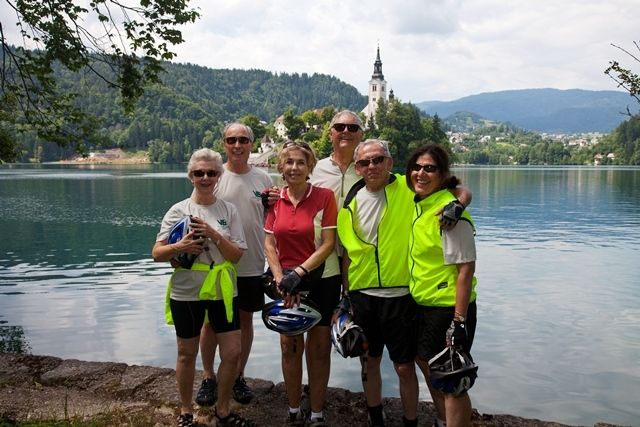 Ljubljana Castle–Perched high above the old town, this medieval castle can trace its beginnings back to 1200BC when the Celtics built a structure here. Today visitors are free to wander around the grounds free of charge but there is a small fee to climb the bell tower. Visit the castle on our optional Pre-trip extension during your 3 days in the Slovenian capital.
Kranska Gjora—This charming village located in the Julian Alps boasts a world-class ski resort that hosts the Vitranc Cup every year. In the summer you can marvel at the mountain views, as it is a peaceful retreat for nature lovers. Be sure to explore the village during your visit and perhaps find a quaint restaurant to enjoy a traditional Slovenian lunch.
Lake Bled (pictured)—This storybook setting is one of the most pristine alpine lakes in Europe. In fact, Travel + Leisure named the town of Bled as one of Europe's Most Beautiful Villages. During your visit, you may opt to circumnavigate the lake by bike or perhaps hop on a small boat to visit Slovenia's only natural island, which is also home to the Pilgrimage Church of the Assumption of Mary. Or walk up the hill to Bled Castle, the oldest castle in Slovenia, which offers amazing views over the lake.
The Canal Valley (pictured)—You'll find this tunnel valley in between the rugged peaks of the Carnic and Julian Alps. In 1919, the Treaty of Saint-Germain formally annexed this area to Italy from the Duchy of Carinthia. Today you may enjoy riding on its picturesque bike paths and enjoy a plethora of mountain vistas.
Tarvisio—This small commune is located in the aforementioned Canal Valley. Stroll through the town's quaint shops or treat yourself to some delicious Italian gelato after your day's ride. With VBT, you'll stay at The Hotel Edelhof, a charming family-run inn set between the surrounding forests and the town center.
Venzone—This picturesque commune was ravaged by a large earthquake in 1976 and has since come back to life via a huge reconstruction effort that took 14 years. One of the best examples of the reconstruction effort is the restoration of the Cathedral of St. Andrea, home to the mysterious Chapel of St. Michele with its famous mummies dating back to 1647. Prior to burial, these bodies were perfectly preserved and recognizable decades later, leading some people to periodically retrieve the bodies and commune with their dead ancestors.
Austria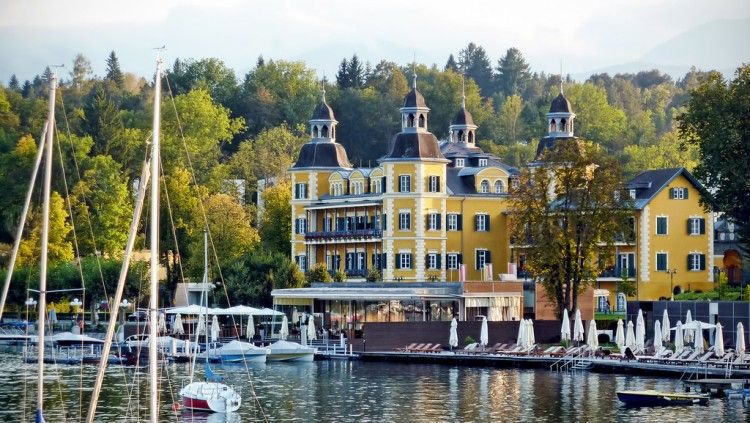 Wörthersee Lake (pictured)—VBT travelers will cycle around Austria's famed lake, known for the distinctive blue-green color of the water and the amazing views of the surrounding peaks, on day 8 of our tour. Although it was historically inhabited by peasants, Austrian nobility started to vacation here as a summer retreat once the Südbahn railway was completed turning the town into a lively tourist destination.
Velden—Known as the little "Monte Carlo" of Carinthia, Velden is a town of elegant mansions, colorful gardens and refined lakeside restaurants. While on tour with VBT you'll stay at the magnificent Falkensteiner Schlosshotel Velden, an ancient castle on the lake's banks. Condé Nast Traveler has featured it as a "Hot Hotel" making it one of the most luxurious and innovative hotels and resorts in the world.
Salzburg—Our tour concludes with a night in Salzburg, or you can stay longer if you opt for the Post-trip extension. The birthplace of Mozart, Salzburg has been a cultural center for centuries, offering a host of museums, concert venues, cathedrals and more to discover at your leisure.
For more information about the bike routes, accommodations and cultural highlights you'll experience while on our Slovenia, Austria & Italy biking tour, please visit our tour page. To request a full catalog with all of our vacations please click here. If you would like to reserve a vacation or speak with one of our Tour Consultants, please call 800-245-3868. They are available Monday-Friday from 8:30am to 6:30pm EST and on Saturdays from 10:00am to 3:00pm EST.