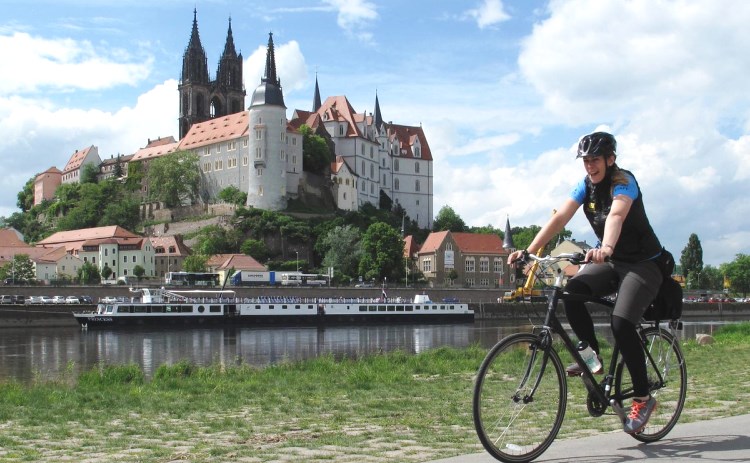 For many people visiting Germany, driving the famed speed limit-free Autobahn is certainly a thrill. But for cyclists, riding the bike paths of Germany is as exciting as it is safe, clean and downright fun. And with over 45,000 miles of bike paths to choose from, the possibilities are endless! Imagine a country the size of Montana linked from stem to stern with dedicated car-free bike trails! Many of the bike routes that our tours in Germany take travelers through half-timbered villages blooming with flowers; to grand palaces and castle ruins perched high above romantic rivers; through alpine meadows and bucolic dairy farmlands; through bustling vibrant cities with incredible histories like Berlin, Trier and Constance.
Germany is certainly a cycling dream, bar none! The infrastructure along the routes is heavenly… hotels, wine bars, beer gardens, bike shops, museums and art galleries. Relics from the Celts and Romans are never far from the surface. And even though Germany is nature lovers' paradise, you'll always be able to find a place to quench your thirst or satiate a sweet tooth during your invigorating ride.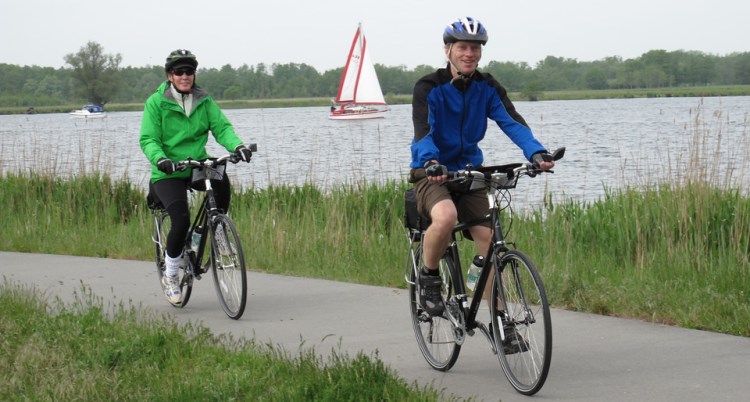 Although you'll find ample route notes on any of our 6 tours—that are either all or partially—in Germany, you'll be rest-assured that country's bike paths are well-marked with green and white signs. At every intersection, there is either a bike symbol or a sign showing the rider how far to the next towns. Exclusive bike maps exist for every region. Germans love cycling as a hobby and often connect with the General German Cycling Club online and select from dozens of maps and routes throughout the country. While biking in America has a long way to go in that regard, as more Americans experience the Dutch/Danish/Germanic systems, their feedback will hopefully shape the future of biking back home.
Another great benefit to the cycling climate in Germany is the assistance from the government—around 80 million Euros annually—for bike path maintenance and development of new routes. The cycling culture in Germany is recreational as well as functional as many Germans use their bikes to commute to work, school, or to shop at outdoor markets. Two out of every five German vacationers takes a bike trip each year. German tourists spend billions on bike travel within their own borders and they take both their children and pets along for the ride! Also worth mentioning is that most German car drivers bike too, so they have two-wheeled empathy and are very polite to VBT cyclists.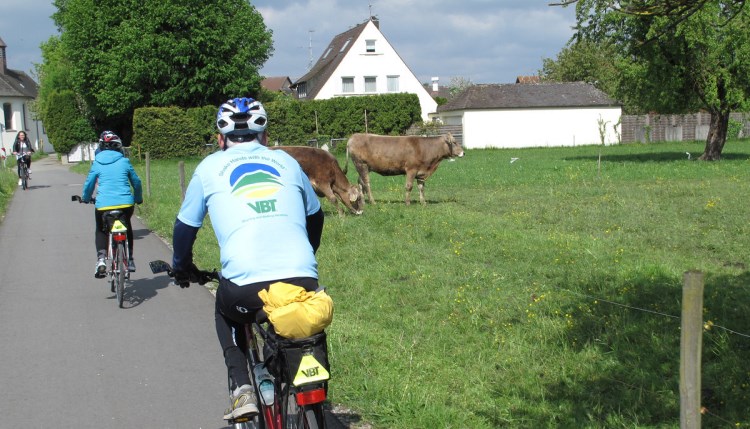 Germans begin their cycling career in in-utero and ride with confidence well into their 80s. These days, the e-bike has exploded in Germany—with around 2 million on the road—and now many people are able to ride with comfort and ease with their partners. Who knows how many marriages are now in a second bloom!
While it's true that Holland invests more money in their bike infrastructure and you can find excellent bike routes in Germany's neighbors—which are all VBT destinations as well—like Austria, Czech Republic, Hungary, Poland and Switzerland; the difference is the vast size and regional diversity that Germany offers in dedicated bike lanes compared to other countries. So come discover the magic of Germany by bike this year, I'll be waiting for you!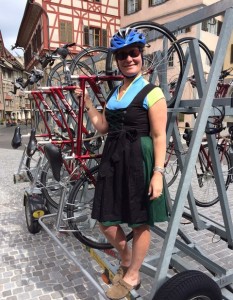 About the Author
Kristin C. has been a VBT leader 13 years. Travelers can find her on our both our Heart of Europe Bike & Barge and our Lake Constance: Germany, Austria & Switzerland bike tour. She considers herself an 11th generation Vermonter whose 2nd home is Germany—where she loves the biking culture in her adopted home.
To learn how you can visit Germany with VBT, click here. To request a free VBT catalog and learn more about any of VBT's other exciting destinations throughout the world, click here. If you would like to reserve a vacation or speak with one of our Tour Consultants, please call 800-245-3868. They are available Monday-Friday from 8:30am to 6:30pm EST and Saturday from 10:00am – 3:00pm.