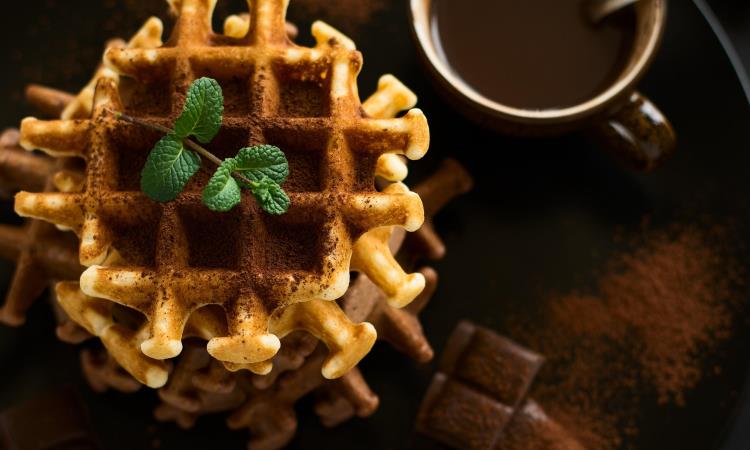 American waffles, meet your European counterpart: Belgian waffles.
Unlike waffles in the U.S., waffles in Belgium (and throughout Europe) are street food. With their denser dough, delectable sweetness, and sophisticated, minimalist approach to toppings, these sweet snacks are enjoyed on a lunch break or as fuel for running errands.
Let's take a closer look at the fascinating history of the Belgian waffle:
Waffles through the ages
The history of the Belgian waffle is incomplete without mention of the ancient origins of the waffle itself. In ancient Greece, chefs would cook flat cakes known as obelios, according to The Oxford Encyclopedia of Food and Drink in America. These flat cakes received religious ornamentation in the Middle Ages, when chefs would use honey and cinnamon to depict Bible scenes or family crests on these proto-waffles.
In the 18th century, waffles took on a sweeter quality, with more butter and sugar incorporated into their recipes. It was then that one of the two main types of Belgian waffles was created: the Liège waffle.
The Liège waffle
Legend has it that the Liège waffle was invented when the Prince-Bishop of Liège, a city in the Belgian region of Wallonia, asked his cook to create a pastry made with lots of sugar. The Prince-Bishop's sweet tooth paid off for the rest of us, because Liege waffles have become a mainstay of Belgian cuisine. Liège waffles are largely made with a special sugar, known as pearl sugar, which creates a perfectly chewy level of caramelization when cooked, according to HuffPost.
The Brussels waffle
The Liège waffle isn't the only waffle in the spotlight; Brussels waffles are also a crowd favorite. Fluffy and golden, Brussels waffles are what Americans refer to as Belgian waffles, according to Go UNESCO. They caught on stateside after the 1964 World's Fair in New York City, when Maurice Vermersch of Brussels set up a stand and doled out the sweet treats to visitors. He was going to name them Brussels waffles, but he switched to Belgian waffles because he figured most Americans didn't know where Brussels was on a map.
Waffle etiquette
Belgian waffles are different from their American counterparts in two main ways: toppings and mode of eating. Belgian waffles often feature minimal toppings: a swirl of whipped cream and sprinkle of sliced strawberries. There is certainly no maple syrup, which is a very foreign concept for us Vermonters! They're also preferred on-the-go as a quick and tasty way to get your sugar fix.
Enjoy Liège and Brussels waffles on our Holland and Belgium Bike & Barge tour. Discover for yourself how wonderful it can be to dig into a fresh-baked waffle in the middle of some of the most beautiful cities on earth.
To learn more about VBT Waterways vacations, click here. If you would like to speak with one of our Tour Consultants, please call 800-245-3868. They are available Monday through Friday from 8:30 a.m. – 6:30 p.m. EST and Saturday from 10:00 a.m. – 3:00 p.m.