One of the best features of any VBT vacation is the unique, local accommodations that we seek out for our travelers. We want you to have the most authentic experience as possible while on tour with us, and locally run hotels often provide just that. One of our favorites on our Sicily: Biking the Southern Coastal Villages vacation is the Hotel Borgo Pantano, located a few miles from downtown Syracuse. VBT guests will stay at this award winning accommodation—a Trip Advisor top ten hotel in Italy and ranked #22 in all of Europe— for two nights at the end of the tour. So, we thought we'd tell you a little bit more about what this fantastic hotel has to offer its guests.
One the 7th day of our biking vacation, we'll ride the flat, scenic road that lead us to our final destination of the day: Hotel Borgo Pantano—a tranquil 4-star boutique hotel located between the sea and the Ciane River, and surrounded by the Saline Nature Reserve. This old country estate—a former masseria—was restored in 2010 with artistic touches. The resulting décor mixes ancient and modern styles. One of its loveliest features is the large pool, which meanders like a lake along fragrant lemon and orange groves, lit at night by candles and lanterns. VBT guests can enjoy a soothing sit in the sauna, soak in the whirlpool, or perhaps treat themselves to a relaxing massage.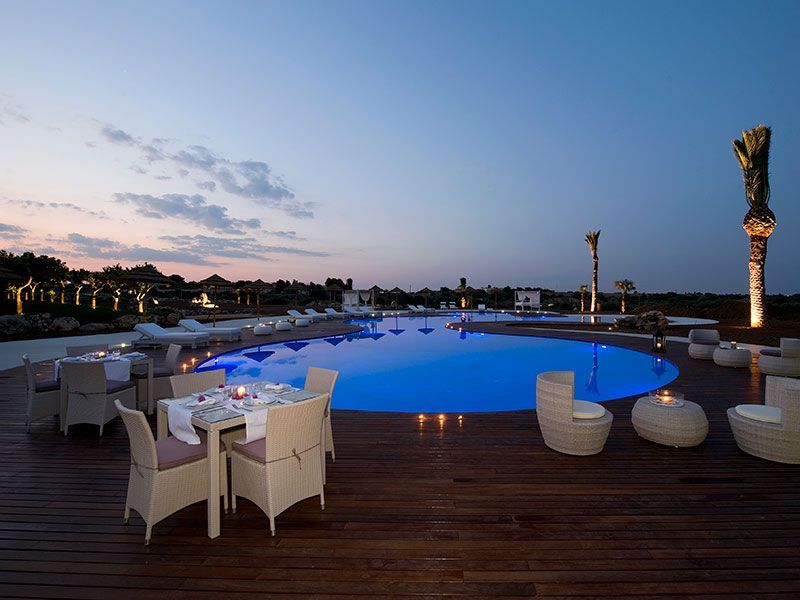 The Borgo Pantano also boasts a fully stocked bar and their restaurant serves outstanding Sicilian fare. After settling in and exploring the grounds, we'll meet for dinner at the hotel's restaurant. Chef Stefano bases the menu on the freshest ingredients he can find. A typical day for him starts with a morning visit to the local market where he searches for fresh fish, local meat and cheeses, and whichever fruits and vegetables are in season. While on tour with VBT, you'll also have the opportunity to enjoy a post-dinner lecture right on the hotel's grounds about Syracuse and the Greeks, followed by an orientation talk about Syracuse for VBT's post-trip extension guests.
This is just one example of the unique and charming accommodations that you'll stay at while on tour with VBT. To read more about our Sicily: Biking the Southern Coastal Villages vacation, please click here. If you would like to reserve a vacation or speak with one of our Tour Consultants, please call 800-245-3868, available Monday-Friday from 8:30am to 6:30pm EST and Saturday from 10:00am - 3:00pm EST