When it comes to Bicycling Vacations, one size definitely doesn't fit all. Some travelers favor the coast over the mountains, a guided tour over a self-guided experience, or an international trip over a stateside one. Likewise, many cyclists like to set a pace that suits them. Prefer a leisurely ride to one where you can kick it into high gear? Or maybe you'd like a little assistance as you pedal.
At VBT, we give cyclists options to ensure each trip is perfect for them. We rate all tours carefully so you can find one that aligns with your preferred activity level. Whenever possible, we give options for each day's ride, so you can tack on an extra 25 miles if you're feeling motivated and cut a ride short if you're not. And we give riders options for the right kind of bike for the experience they want to have. Whichever your style, we have a bike for that.
If You Love Leisurely Spins Through Inspiring Landscapes…
The upright handlebars of the Fuji Absolute Hybrid Bike keep you, well, upright. And when you're pedaling past magnificent vineyard-blanketed hills, among soaring alpine peaks, and into charming time-worn villages, you don't want to miss a thing. So "upright" is exactly what you want to be.
These wheels let the world know you're truly on holiday and in no rush for it to end. Back straight, chin held high, arms outstretched, and a breeze kissing your cheeks, it's impossible to welcome what's around the next bend with anything but a smile. Maybe it's the silvery sheen of a grove of olive trees. A lovely cottage garden in the English countryside. An unspoiled scallop-shaped bay. Or a colorful village-square market of fresh and fragrant fruits and vegetables.
Like we said. You're in no rush. So feel free to stop and admire the vistas and chat with farmers. It's not to say that you aren't getting your exercise. But when you go at your own easy pace, you can soak in your destination and feel that sense of accomplishment at day's end.
If You're in It for the Thrill AND the Discoveries…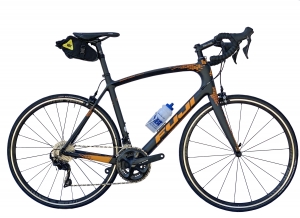 Maybe you're a tried-and-true pedal-pusher who fancies yourself riding in the Tour de France. Maybe you like to race around a 25-mile loop, then have at it again. Or you enjoy longer route options that both challenge you and let you marvel at more breathtaking panoramas.
If that's you, you'll want one of our road bikes: the Fuji Sportif or the Fuji Gran Fondo.
Drop handlebars let you really lean in and dream of earning that yellow jersey all you'd like. The high performance, tight handling, and precise gearing give you confidence on hills and flats. And the design is kind on the back and arms. It's the perfect ride for comfort and control when you want to go fast.
Imagine letting loose on the downhill coast through the wilderness corridor of the Bow Valley Parkway in Canada's Banff National Park. Thrilling to the descent into the Italian Dolomites' spectacular Ampezzan Valley.
But no pressure: the beauty of our road bikes is the freedom they give you to follow your own whims. Be they fast or slow.
If You'd Like a Little Help Now and Then (and Who Wouldn't?)…
Haven't been on a bike in a while? Want to enjoy a Bicycling Vacation without getting too tired? Well, here's our philosophy: The only thing that should take your breath away are the incredible landscapes you'll see and the inspiring people you'll meet.
If you agree, then our Fuji Traverse Bosch-Powered Electric-Assisted Bike is for you. Environmentally friendly and quiet, the best thing they have going is their "fun factor." Because they help you climb hills, fight headwinds, and ride more miles with less effort, they could be the secret to helping you have the most memorable, worry-free vacation.
Our E-Bikes have upright handlebars, giving you the same purview as our hybrid bikes described above. They also have similar gearing as non-electric bikes and disc brakes that let you stop on a dime. And the best part? They help you stay out in the open air and take in – okay, we'll say it – breathtaking scenery as long as you'd like, and they make those uphill climbs feel effortless. And at the close of each day, you'll feel accomplished for the miles you've logged, but you won't feel as fatigued. So you'll be ready for the evening … and for the next day of adventure.