After seeing how much fun they seem to have from the pictures they've kindly shared with us, we've wanted to hear more about a group of women known as "WE GO NOW" that have taken many VBT Group tours together over the years. We had a chance to sit down with Jane D., one of the group's organizer, and ask her some questions about why she loves active travel and how she came to choose VBT as the perfect vehicle in which to see the world with WE GO NOW.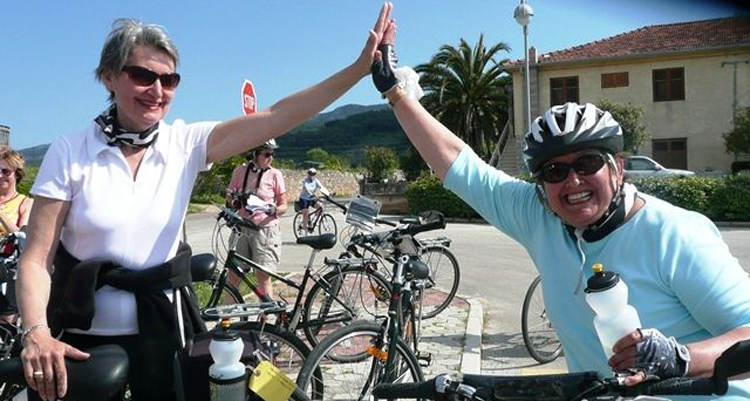 How long have you been a fan of active travel and when did you hear about VBT?
Before discovering VBT, I went on biking trips to Provence, Lake Constance, Italy, the Danube and the Elbe River (Berlin to Prague) with two other companies. In 2005, with my husband and another couple, I went on the VBT Banff & Yoho National Parks biking trip, I fell in love with EVERYTHING VBT!
You organize a group of women who travel together called "WE GO NOW" and have taken many group vacations with VBT in the past. Could you describe the inception of this group? Do the same members travel every time?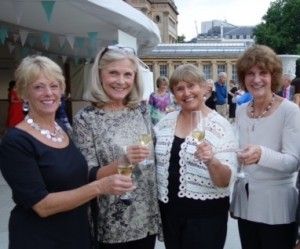 The aforementioned Banff trip left me wanting more so when our Trip Leaders recommended the VBT New Zealand vacation, we thought it would be the perfect place to travel with a private group of women...and thus, WE GO NOW was born! Since then, WE GO NOW has done one VBT trip a year and to date, we've been to New Zealand, Vietnam, Croatia, Heart of Europe Bike and Barge, Slovenia, Czech Republic, Italy's Po Valley, Heart of France Bike & Barge, Spain and Poland.
My dear friend Linda and I work together to plan our WE GO NOW trips and events. We have many return travelers on our private group trips and for our upcoming September trip; we have only one "Newbie." A month before our trips, Linda and I do a dinner party with appropriate national cuisine. The group shares tips, albums, memories from previous trips and we give each of them trip favors which have included visors, backpacks and purses emblazoned with the WE GO NOW logo.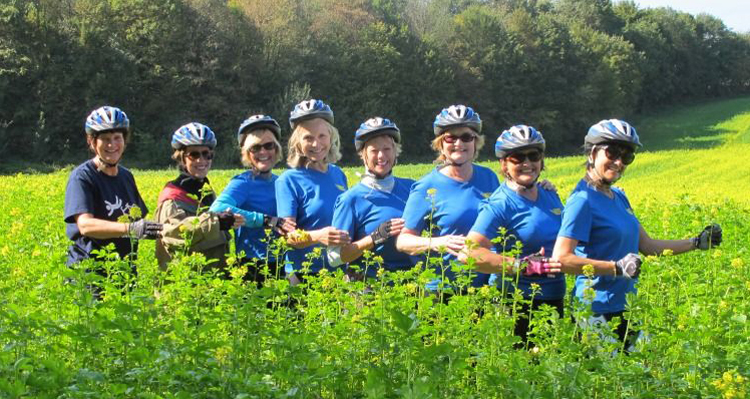 What is it about VBT's Group Travel Program that keeps you coming back year after year?
For me, biking is only a small part of a VBT trip. The incredible native VBT Trip Leaders, wonderful customer service, hotels that are offered, meals, special events, bikes and routes all join together to produce memorable experiences. The women who choose to do our trips are pretty darn awesome...we say, wining is allowed; but whining is not allowed. We call it the WE GO NOW spirit and believe it shows in how helpful and encouraging the women are with each other. Being good Americans is important to WE GO NOW. Our trips are never competitions and for us it's not about mileage or speed...it's about Vacation, Education and with just a little Libation.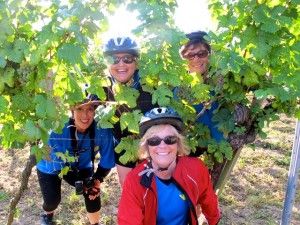 For our group, we often pre-book independent adventures for our pre- or post-trips with suggestions VBT's Group Manager. In Krakow, we enjoyed a private group dinner and Chopin concert and visited Auschwitz-Birkenau. In Croatia, we did private day tours of Bosnia and Montenegro. I recently booked a private group day trip to Normandy's WWII Landing Beaches for our upcoming pre-trip. VBT's office staff is always so helpful and cheerful. I also enjoy the amazing VBT Trip Leaders who really are the spark and the glue of our trips. We often wonder how and where VBT finds these incredible Leaders! They all have been encouraging, upbeat, safety conscious, patient, knowledgeable and always have a superb sense of humor!
You've been to Poland, Croatia, Italy, The Czech Republic and more with VBT over the years, what is your favorite destination that you've been to with us so far?
Favorite? It's a dilemma to choose one. Aspects of all of my VBT vacations stand out: the Vietnamese children calling "I love you" out to us, biking around Slovenia's gorgeous Lake Bled and around Italy's Lake Garda, home visits and meals, the views seen from Croatia's islands and biking along the Danube which is the best biking trail I've ever experienced. The pre- and post-trip cities have been lovely: Bellagio, Cinque Terre, Ljubljana, Vienna, Prague, Saigon, and Krakow. I must admit that New Zealand was total paradise and is my favorite VBT trip but, who knows, maybe our next trip will be my new favorite!
You've been on both our Heart of Europe and Heart of France Bike and Barge vacations, what do you like most about traveling by barge?
Traveling by barge is a complete joy - unpacking once and tucking the suitcase under the bed brings a smile to my face. Having our private barge, private staff, private dining room—what's not to love? Our Heart of France itinerary had us barging on the Seine into Paris, what's not to love about this? As our invitation stated: BIKE * BARGE * BLISS.
What is it about active travel that appeals to you most?
VBT trips lift my spirits and fill my soul. Much of travel is "drive by" travel from behind a bus or car windshield. VBT bike trips are what I like to call "immersion" travel. I enjoy all the senses you pick up on from the seat of one's bike like inhaling the lavender, hearing sheep, seeing for miles from the top of a hill, visiting with locals, learning history and culture from the VBT Trip Leaders—what a privilege it all is! Women sometimes cry at the end of our trips when we say goodbye to our bikes and Trip Leaders, but they are tears of joy, amazement and the wonderful sense of accomplishment!
To learn more about our Group Travel Program please click here. If you'd like to see some more pictures from WE GO NOW tours over the years check out their Spain: Andalusia gallery, Czech tour gallery and Po River Valley gallery.
If you would like to organize a group vacation with us, please call John Zelig, VBT Group Tour Manager at 800-245-3868, x3307.