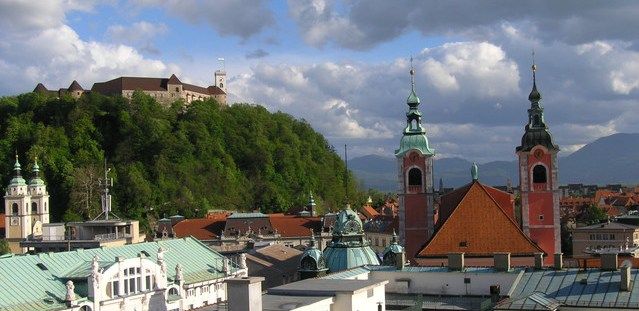 Ljubljana, the vibrant capital, is one of our favorite places to visit in Slovenia—located on the banks of the Ljubljanica River and perfectly situated between the Alps and the Adriatic Sea. Travelers who take the optional Pre-trip extension on our Slovenia, Austria & Italy biking vacation will get to explore this magical city's fountains, wide squares, and grand buildings, which are all decorated with the dragon motif—the city's symbol. During your stay be sure to take advantage of Ljubljana's vast network of walking, hiking and bike paths located just outside the city, including some in spectacular underground caves. Other attractions in Ljubljana include the Castle, the Stari Trg (Old Square) and Sv. Nikolaja Cathedral, as well many lovely bridges that lead to riverside cafes where you can mingle with the locals and watch the world go by.
Speaking of bridges, don't forget to bring a padlock if you stroll across the Butcher Bridge, which is located west of
the central Triple Bridge and open to pedestrians and cyclists. Completed in 2010, this footbridge over the Ljubljanica River connects the gorgeous sculptures—typically of figures from ancient Greek and Roman mythology and even one of Adam and Eve— found on the Petkovšek Embankment with the city's central market. Similar to the one found on Paris' Pont des Arts, a wall with locks that represents lovers eternal commitment to each other appeared on the bridge's steel cables shortly after opening. As Damjan, a Slovenian VBT Trip Leader always says, "Slovenia is the only country with LOVE in the name!"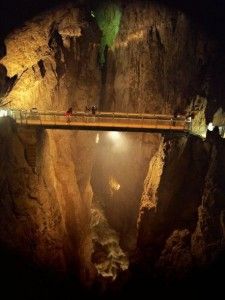 If you want to explore Ljubljana's surroundings during your trip extension, we recommend one of the country's most famous attractions, the Skocjanske Caves. Located just a short drive from the city, this network of caves consists of 11 interconnected chambers that are about 6 km long in total. A guided tour of the caves takes 90 minutes and includes stops at two of the main chambers: the Silent Cave and the Murmuring Cave. The highlight is Europe's largest cave hall, a gorge that is 480 feet high, 400 feet wide, and almost a thousand feet long and crossed by a narrow bridge that is lit up. Enjoy the great contrast of the gold and brown sleek gorge walls and the jade colored waters of the river that flows through it. Visiting the caves is a truly mesmerizing experience and a great ending to your stay in this beautiful city!
For more information about the rest of our Slovenia, Austria & Italy biking tour, please visit our click here. To request a full catalog with all of our vacations please click here. If you would like to reserve a vacation or speak with one of our Tour Consultants, please call 800-245-3868, available Monday-Friday from 8:30am to 6:30pm EST and Saturdays from 10:00am-3:00pm EST.