The geology of the Gulf of Maine makes it an ideal body of water for nurturing a natural abundance of sea life, as well as a perfect place for farming clams, salmon and oysters. The waters here are colder and more nutrient rich—due to the rugged coastline and Newfoundland current— than you might find more southward along the eastern seaboard, which is why the quality of Maine seafood is known throughout the world, especially the state's famed lobster. The American Lobster is even commonly called the Maine Lobster since the state commercially sells the most lobsters in the entire U.S. While on tour with VBT in Acadia National Park, travelers will have plenty of chances to feast on delicious seafood, visit fresh seafood markets and restaurants, and even learn about the local seafood industry from a lobsterwoman on Little Cranberry Island.
On the first night of our Maine Coast: Purely Acadia ​biking tour, guests will enjoy a welcome reception over a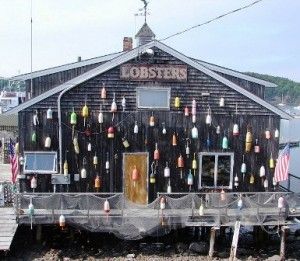 lobster bake dinner at the Bar Harbor Inn. A traditional lobster bake consists of taking fresh lobster and clams as well as potatoes, corn and other root vegetables and wrapping them in seaweed and cooking them together over a wood fire. If that sound like a lot of work, don't worry, our inn's chefs do the cooking and all you have to do is enjoy the sweeping views of Frenchman Bay, meet your fellow travelers, and enjoy the fresh taste of Maine seafood.
During your nights spent in Bar Harbor, you'll have plenty of time on your own to browse the town's charming gift shops and boutiques for books with delicious local seafood recipes and fun lobster-themed souvenirs. A delicious spot for a lobster dinner (or even a quick lobster roll) is Stewman's Lobster Pound, located on the water just a couple blocks from our inn. At Stewman's you can actually view the lobsters in their tanks before they're cooked up right on the spot for you to enjoy. If you'd like to take some lobsters home with you, local Maine fish markets like Parsons Lobster will pack the tasty crustaceans in an air-travel safe cooler for your flight home.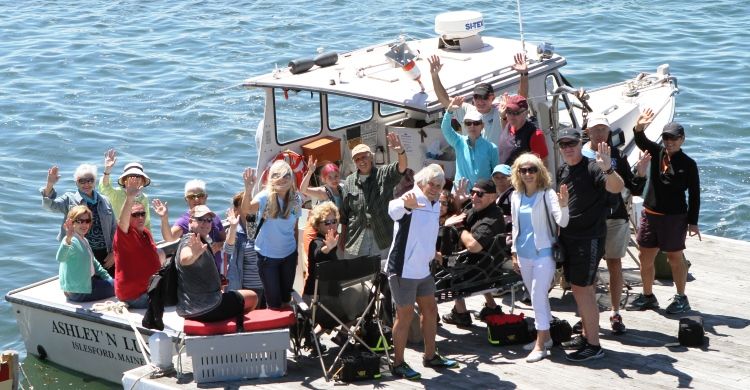 We'll also get to learn about the life of Maine fisherman first-hand when we visit Little Cranberry Island, a small community reached by ferry from Northeast Harbor. This pristine hamlet hosts a year-round community of lobstermen, boat builders, craftsmen, and "rusticators". We'll visit with a local lobsterwoman and learn about life on the ocean and then tour the Islesford Historical Museum before boarding the ferry back to Northeast Harbor.
For more information about VBT's Maine Coast: Purely Acadia​ biking tour please click here. To request a full catalog with all of our vacations please click here. If you would like to reserve a vacation or speak with one of our Tour Consultants, please call 800-245-3868, available Monday-Friday from 8:30am to 6:30pm EST and Saturdays from 10:00am-3:00pm EST.