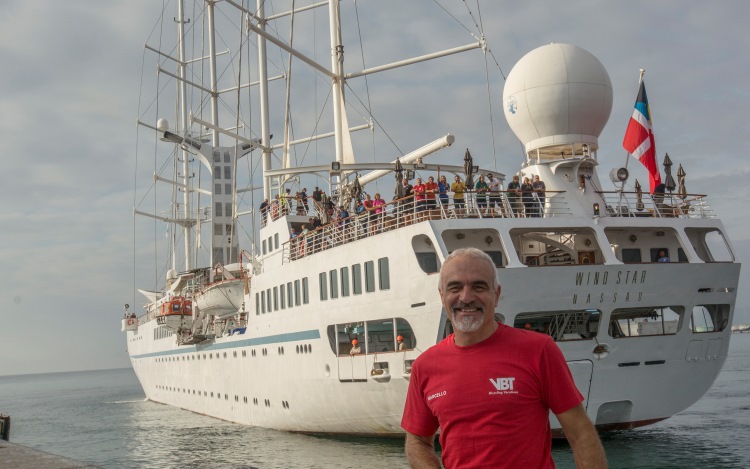 With the most coastline of any European nation on the mainland, Italy is a country that can be explored extensively by both land and sea, virtually nationwide. It also serves as a great starting point for an unforgettable Mediterranean adventure. Imagine spending a week cycling through medieval towns, scenic vineyards and beautiful rolling hills dotted with cypress trees; and then cruising to iconic Mediterranean ports like Portofino, Cannes, Mallorca and Monte Carlo aboard a luxurious yacht—all on the same vacation!
This seemingly fantastical trip-of-a-lifetime can now become a reality at a great value thanks to our partnership with award-winning small ship cruise line, and our sister company, Windstar Cruises. Travelers will have the opportunity to piggy-back a VBT biking tour in either Puglia or Tuscany—or a walking tour along the Amalfi Coast—with a variety Windstar Cruises that depart from Italy and set off throughout the Mediterranean. We'll even throw in two free hotel nights in Rome if you take advantage of our special package pricing.

If you are unfamiliar, Windstar has a fleet of small luxury cruise ships and are known their intimate yacht style experience and ability to dock in some of the world's best small ports and hidden harbors—where larger cruise ships cannot go. Every Windstar cruise includes a comfortable stateroom or suite that updated in a classic contemporary style and (much like VBT) they include handcrafted excursions in each port designed to bring you closer to local culture. Their legendary service that has been acclaimed the best on the seas and they were yet again named among the World's Best Small-Ship Cruise Lines by Travel + Leisure magazine in 2015. Because you can learn so much about VBT's Italian tours from these informative blogs, we thought we'd give you a little taste of the amazing destinations you can explore by joining a Windstar Cruise right after your VBT vacation concludes.
The Riverias
Unwind from your active vacation in Amalfi or Tuscany by visiting some of the Mediterranean's most enchanting ports in both the French and Italian Rivieras—from Monte Carlo to Cannes to Portoferraio. Follow the footsteps of many celebrities and aristocrats by exploring the charming medieval villages, secluded harbors, and immaculate beaches that you've read about time and time again.
West Mediterranean Islands
Travelers on the October 18, 2016 departure of our Tuscany Walking Tour will have the opportunity to extend their holiday by cruising to some of the Mediterranean's most beautiful islands like Elba, Corsica, Sardinia, and Mallorca. Relax onboard the Wind Star and take in the emerald landscapes, turquoise seas, pristine beaches, and trendsetting cities the western Mediterranean is known for.
Sicily & Greece
Extend your southern Italian VBT adventure to Puglia or Amalfi with a cruise that circumnavigates Sicily while you raise a glass of limoncello to another blissful day in the warm Mediterranean sunshine. Then you'll venture to Greece where idyllic islands, charming cobbled villages, spectacular scenery, intriguing history—including the ancient ruins of Sparta and Mystras to the pure indulgence of the Mediterranean lifestyle—await your arrival.
Dalmatia
While only combinable with our Puglia biking tour, this cruise takes you to Capri and Messina before sailing around Italy's boot, across the Adriatic, to sun-drenched shores of Croatia and Montenegro while stopping in busling seaside cities like Kotor, Split and Dubrovnik—which fans of HBO's Game of Thrones will recognize as the ancient walled-in Old Town has been used for both King's Landing and Qarth.
To learn more how you can combine your next VBT vacations in Italy with a Windstar cruise, click here. To request a free VBT catalog and learn more about any of VBT's other exciting destinations throughout the world, click here. If you would like to reserve a vacation or speak with one of our Tour Consultants, please call 800-245-3868. They are available Monday-Friday from 8:30am to 6:30pm EST and Saturday from 10:00am – 3:00pm.