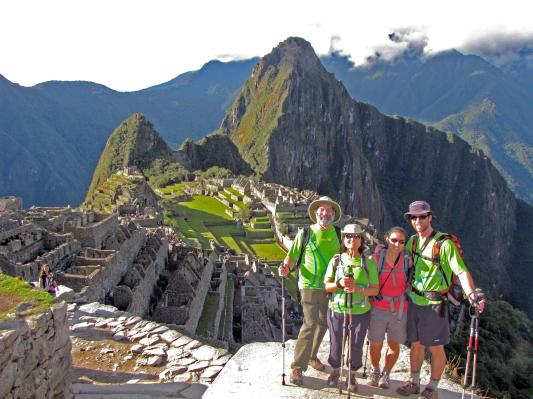 There are a variety of ways that travelers can approach the awe-inspiring ruins of the Incan city of Machu Picchu. The most popular—and most rewarding—is ascending to the famed site via walking the Inca trail, which culminates at Inti Punku or "Sun gate," which was the original entrance to the "Lost City." Once you've arrived, you'll be taken aback by the stunning view in front of you.
If you're have planned ahead enough to obtain a trail pass for the Inca trail—the Peruvian government limits access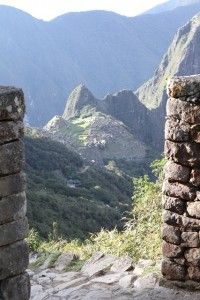 to 200 hikers per day—you'll depart the train en route to Machu Picchu at the "Km 104" marker at roughly 7,200 feet. From there, you'll begin a 6-hour ascent along the ancient trail for the last 2,000 vertical feet. Along the way hikers are treated to astonishing views of the nearby Andean peaks and mist-shrouded cloud forests. The Camino Inca as it is also known, was the Inca's original route up to Machu Picchu and was built some 600 years ago, so you can see why usage is limited. As you walk, you'll find that much of the trail maintains its original features like steep staircases and cobbled stone walking paths from its Incan construction. There are also some spectacular ruins—like the steep agri-terraces of Wiñay Wayna—and Incan tunnels to check out along the way.
All your effort is rewarded when you arrive at the Sun Gate and the most spectacular view of Machu Picchu is laid out before you from above. Ideally, your hike will be timed to conclude during sunset and you'll see the amazing colors of the surrounding scenery. Once you've reached the ruins, we encourage you to take some time to take it all in! VBT's hotel is located in nearby Aguas Calientes and you'll have another full day to explore the ruins more in depth both with you leaders and independently.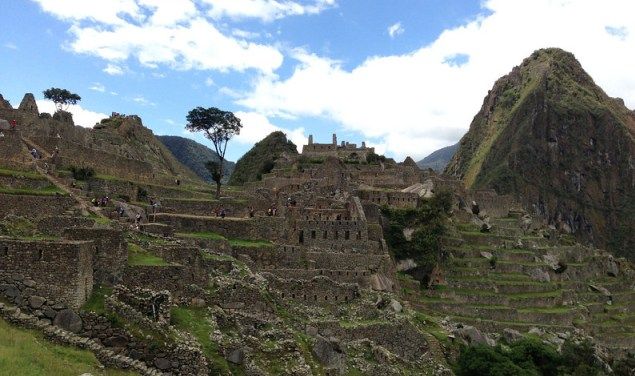 Check out what some of our travelers had to say about this iconic approach…
"We are experienced travelers, but we were both stunned by the sheer majesty of Machu Picchu. Perhaps only the Grand Canyon rivals it for sheer visual impact. In a single view, with a simple 90 degree turn of one's head, it is possible to see 7,000 ft high Machu Picchu, the valley floor 2,000 ft below, and 18,000 ft high snowcapped mountains on the horizon. The juxtaposition of blue sky, cottony clouds, green nearby peaks, and even higher peaks in the mist is simply jaw-dropping" — VBT Traveler Joe from Illinois
"My daughter and I just returned from this fabulous trip. I am still filled with the sights and sounds, the history and the culture of this beautiful diverse country. The hikes were challenging but wonderful and I am so glad that I did every one of them! The thrill of reaching the Sun Gate and seeing Machu Picchu for the first time will live with me forever." VBT Traveler Cole from Connecticut
"The hike to Machu Picchu was the best part of the trip for me especially when I arrived at the Sun Gate and took in my first panoramic view of the place; it is something I will never forget." – VBT Traveler Deb from Massachusetts
To learn more about how you can walk to Machu Picchu with VBT, please click here. If you would like to reserve a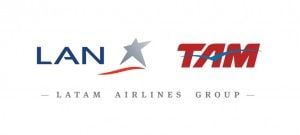 vacation or speak with one of our Tour Consultants, please call 800-245-3868. They are available Monday-Friday from 8:30am to 6:30pm EST and Saturdays from 10:00am to 3:00pm EST.