There is something so innately American about getting out on the road and discovering all the wonderfully diverse places across this great land; from its rolling foothills to its towering peaks, sandy beaches to lush forests, southern hospitality to Californian cool to New England charm—it's all a part of what makes America so unique. There's been a resurgence in bicycling throughout the country and thanks to the United States Bicycle Route System, there are more bike paths and converted rails trails in the USA than ever before. Travelers can explore everything from National Parks to bucolic towns to charming seaside locales to Californian wine country all with the ease of quiet roads or paths.
There's plenty to experience of the bikes as well, and that's where the beauty of a VBT vacation comes in. We handle all the details including route planning, equipment, expert guides, engaging cultural activities, included meals and top notch accommodations during your trip so that you can focus on discovering the region your visiting and leave all your logistical worries behind. Keep reading to learn 5 reasons why you should tour the USA by bike with us this year…
Fresh Seafood
Of course, you can enjoy great seafood in Spain, Italy and Croatia. But you don't need to go that far to taste some of the best seafood in the world.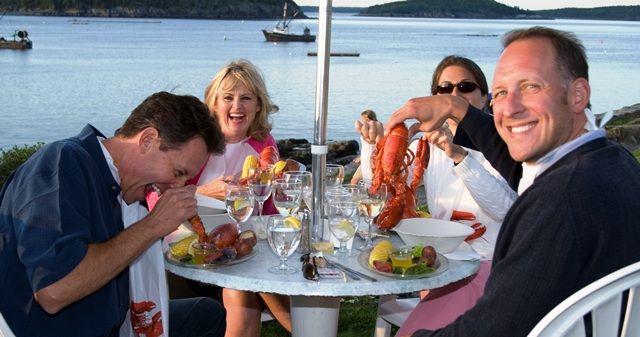 If lobster is to your liking, we've got just the biking tour in mind. In northern New England, our Maine biking vacation will treat you to tremendous views of a rugged coastline and you'll even enjoy an included lobster dinner in Bar Harbor where you can literally see the lobster boats coming in to unload their fresh catch every day.
Massachusetts is known for its chowder. But, surrounded by the Atlantic Ocean, Cape Cod and Martha's Vineyard have plenty of seafood options to satisfy your palate. Enjoy lobster, clams, cod and tuna all fresh as can be when you bike Cape Cod and Martha's Vineyard with VBT. If you have your heart set on chowder, though, don't worry—you certainly won't be disappointed.
The Green Mountains & Fall Foliage
Here at VBT, we don't like to brag, but the foliage in our backyard is pretty much as good as it gets. As fall rolls into Vermont our Green Mountains light up, blazing with gold, orange and red leaves. And the best way to take it all in? By bike of course! Join us this fall on one of our three Vermont vacations as we ride along farm roads, through our rolling Green Mountains and even take a rest at VBT headquarters in Bristol. We look forward to sharing our home-state with you. But enough from us trying to tell you how great our home state is, we'll let this video do the talking for us…
https://youtu.be/UBwqn9BRWhA
The History
We welcome the opportunity to cruise through low-traffic areas at an easy pace, especially when it comes with a side of history. A historic wayfarers' trail, The Natchez Trace is loaded with remnants of the past usage by Native Americans and pioneer settlers. Later, we'll cruise through Vicksburg National Military Park's hallowed battlefields and poignant monuments; and see Emerald Mound, one of the largest Native American ceremonial mounds on the continent which covers a total of eight acres and stands at over 35 feet.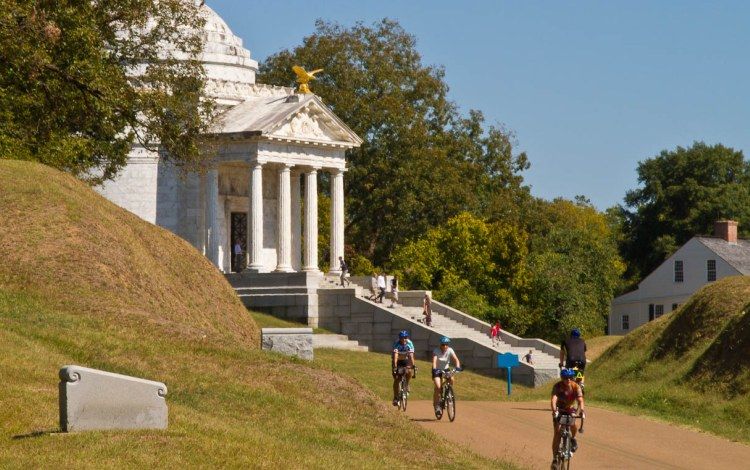 You might also consider riding the tree-lined boulevards and gentle byways of the South on our Charleston to Savannah Bike tour. We'll visit historic forts that played important strategic roles in the Revolutionary War and learn about local culture from Antebellum architecture to learning to dance the Virginia Reel and even get in touch with Gullah culture at the Penn Center on Day 4 of our adventure. And, of course, we'll take a tour of Savannah to explore one of America's most historic cities.
Travelers on our Colonial Virginia Bike tour will pedal along the scenic and quiet Colonial Parkway venture back in time and visit the Jamestown Settlement, Colonial Williamsburg and the Yorktown battlefields. Closer to home we'll visit historic sites like Marsh-Billings-Rockefeller National Historic Park to learn about sustainable farming and dairy production; and Fort Ticonderoga, an 18th century star fort on the shore of lake Champlain that played an integral role in both the Seven Years War and the American Revolutionary War.
The Wine


If you're a wine-lover, then make your way out west to join us in cycling California's Wine Country. We'll ride along the Pacific Ocean, into Armstrong Redwoods State Natural Reserve and we'll enjoy included wine tastings at two of the area's celebrated vineyards. The sampling doesn't end there, as on Day 3 of our California vacation we'll stop at an olive press for a tour of the facility and a tasting. From Pinot Noir to Chardonnay, sample your favorite California wines as you bike through the stunning scenery of central California. On the east coast, we'll visit the Williamsburg Winery in Virginia which makes some award winning wines and even enjoy a picnic and tasting on the ground of a family-run winery on our Maryland: Cycling the Chesapeake Bay tour.
It's so Easy!
The ease and convenience of traveling without the need of a passport, exchanging currency, or crossing oceans makes traveling within the USA a breeze. You'll still discover the unique cultures in the distinct regions of the United States as we ride off the beaten path and experience daily life at a relaxed pace. The best part is that minimal preparation and packing required for "close-to-home" itineraries and you'll still get the highest quality vacations all at the unsurpassed value we're known for. All of our US tours include stays at 4-and 5-star country inns and historic properties and complementary use of a custom VBT Fuji bicycle and helmet.
Want to learn more directly from out Trip Designers and Leaders? Watch this informative Webinar from last March.
https://youtu.be/9QqPdxZOwVw
For more information regarding, dates, prices and itineraries of VBT's bike tours in the United States please click here. If you would like to request a free VBT catalog, click here. To speak with one of our Tour Consultants, please call 800-245-3868. They are available from Monday-Friday (8:30am to 6:30pm EST) and Saturdays (10:00am to 3:00pm EST).