VBT's Holland and Belgium Bike & Barge Tour Receives Top Award for Guided Tours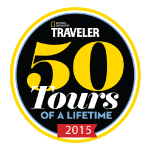 BRISTOL, VT— April 9, 2015 – VBT Bicycling and Walking Vacations has been selected as one of National Geographic Traveler Magazine's "50 Tours of a Lifetime," by the magazine's editors. The Holland and Belgium Bike and Barge: Amsterdam tour will be featured in the May issue along with a competitive array of tours from operators all over the world.
"We are honored to be recognized for our Holland and Belgium itinerary as one of the 50 Tours of a Lifetime for the first time," said Gregg Marston, President of VBT Bicycling and Walking Vacations. "The Holland and Belgium Bike & Barge trip is an extremely special tour within our broad portfolio of active vacations and truly reflects the immersive experience that travelers enjoy with VBT."
Only VBT provides the unique opportunity to see a destination from both the deck of your own private river barge and the seat of your complimentary bicycle. The Holland and Belgium Bike & Barge tour is the only itinerary that offers travelers cultural immersion into Dutch and Belgian daily life through home visits, an onboard tasting of Belgian beer and regional delicacies, and through spontaneous local encounters in medieval villages.
On this trip, travelers enjoy seven nights aboard an intimate, well-appointed, two-deck Dutch-owned barge. Staffed by Dutch locals, the barges are traditional vessels that have been converted from working barges into fully-serviced floating hotels, ideally suited to the shallow waterways of Holland and Belgium. The barge includes four bilingual crew members, who are an integral part of the experience. With the ease of only unpacking once, guests enjoy delicious meals that the onboard chef prepares using fresh, local ingredients often purchased daily at local markets and regional wines.
The National Geographic Traveler Tours of a Lifetime features the best tours and outfitters for travelers as part of the magazine's mission "to propel readers out of their armchairs and into the field." National Geographic Traveler has the largest audience of any travel magazine, with more than 8.5 million readers.
"This year marks 10 years of our editors selecting the world's best guided tours," said Norie Quintos, acting editor in chief of National Geographic Traveler. "In that time the types of immersive and experiential trips have only multiplied; tours are going farther and deeper than ever before. The trips and operators we selected are a model for the rest of the travel industry. They open the world to travelers and at the same time leave a positive impact on the destinations and its people."
All VBT Bicycling and Walking Vacations are led by local trip leaders who will provide insight into each region's customs and traditions, as well as help facilitate authentic cultural experiences. VBT unveiled five new tours for 2015 in destinations including South Africa, Colonial Virginia, Germany, Italy and the Czech Republic. Visit https://www.vbt.com/tourpage/new-tours/ to view all new tours for this year.
To learn more about VBT's vast array of itineraries request a catalog or reserve a vacation, visit VBT.com or call VBT's Tour Consultants at 877-395-5290. They are available from Monday thru Friday 8:30 a.m. to 6:30 p.m. and Saturday 10:00 a.m. to 3:00 p.m. EST.
About VBT Bicycling and Walking Vacations
VBT offers deluxe, small group bicycling and walking tours worldwide, including destinations throughout Europe, Costa Rica, New Zealand, Vietnam, Peru, South Africa, and the United States. Each trip includes all accommodations, many meals, two expert local Trip Leaders, unique sightseeing and cultural activities and on-tour vehicle support. Unlike other companies, VBT also includes roundtrip international airfare from over 30 U.S. cities and select Canadian cities for all overseas vacations. www.vbt.com.
About National Geographic Travel
National Geographic Travel is the travel arm of the National Geographic Society, one of the world's largest nonprofit scientific and educational organizations, founded in 1888. National Geographic Travel creates, discovers and showcases meaningful and engaging travel experiences through National Geographic Traveler magazine; National Geographic Expeditions; travel books; maps; apps; digital travel content; the Adventure website; and travel photography programs. National Geographic Traveler (eight issues per year) is the world's most widely read travel magazine and has 14 international editions. It is available by subscription, on newsstands in the United States and Canada, and digitally for tablets. National Geographic Expeditions, the travel program of the Society, offers a variety of unique travel experiences led by top experts to more than 60 destinations across all seven continents. Travel opportunities include family and student expeditions, active adventures, private jet trips and voyages on the six expedition ships in the National Geographic-Lindblad fleet, as well as photography workshops, expeditions and seminars. The National Geographic Travel digital group offers inspiring and authoritative digital travel and adventure content such as trip ideas, photo galleries, blogs and apps. National Geographic Travel Books bring readers curated travel advice and inspiration. Follow National Geographic Travel on Twitter, Facebook and Instagram.
MEDIA CONTACT
Gianna Wyatt, Quinn
212-868-1900 ext. 278
[email protected]