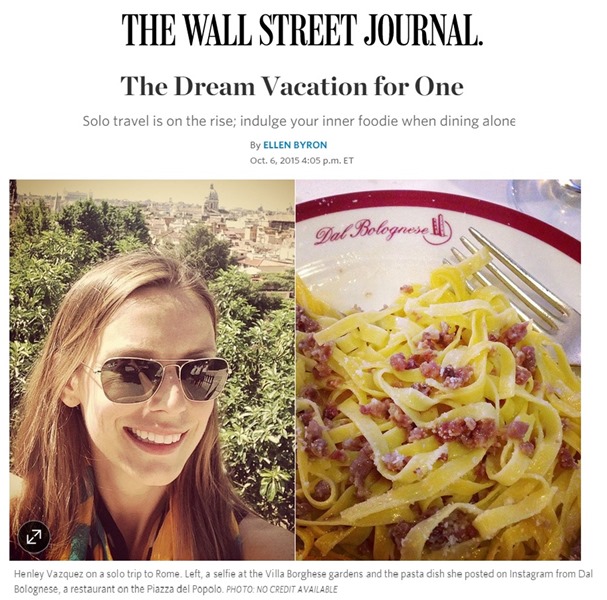 Getaways now include getting away from your family and friends.
Amid the rise of activity-specific trips, busy work schedules and mobile devices that make it easy to keep in touch, more vacationers are choosing to go alone, leaving significant others and friends behind.
"People are definitely saying, 'You know what, honey, I don't care if you want to go—I'm going,'" says Gregg Marston, president of VBT Bicycling and Walking Vacations, a unit of Xanterra Parks & Resorts Inc. Solo travelers now comprise about a quarter of each VBT tour group, especially to destinations, such as Machu Picchu, Tuscany and the Czech Republic.
Overall, solo travelers comprise about 23% of all leisure travelers, according to trade group U.S. Travel Association. Nearly 40% of travelers say they would take a vacation by themselves if given the opportunity, according to a survey by marketing and research firm MMGY Global of Kansas City, Mo.
Solo trips are different from business travel and both men and women take them, travel industry executives say. "It's a conscious decision with couples now that you go do this and I'll do that," says Richard Harris, senior vice president of product development for tour operator Abercrombie & Kent. The most adventurous or interest-specific trips tend to draw more solo travelers, he says. "When you go trekking to spot a gorilla, you have to spend the day in a very hot rain forest to at best see a flash of black fur amid the greenery—you have to be pretty excited about that to want to go."
Katherine Wintsch, chief executive of a consulting firm, recently spent four days at a yoga retreat in Virginia, leaving her two children in the care of her husband, who has taken golf trips on his own. "I came back relaxed and refreshed," says Ms. Wintsch. "We see it as our divide-and-conquer system."
Often solo trips revolve around wellness or a new activity. "It's not about the fly-and-flop vacation," says Henley Vazquez, chief executive of Passported, a family-focused travel website that recently started offering options for parents wanting solo getaways. "If they're away from their family, they want to come back better than they were."
Solo travelers don't stick to room service, says Jason Moskal, vice president of lifestyle brands for InterContinental Hotels Group. The number of solo guests at the company's luxury InterContinental and Hotel Indigo chains has risen by a double-digit rate in the past 18 months. Staffers take care to stay up on local hot spots since independent travelers rely more on the concierge desk than couples do, Mr. Moskal says.
Most U.S. solo travelers say the purpose of their trip is to "relax and get away from it all," according to a recent survey of 4,115 travelers conducted by Hilton Worldwide. Independent leisure travelers comprise just 11% of U.S. hotel guests but Jim Holthouser, executive vice president of the company's global brands, says he anticipates more to come.
"People are getting married later, so the idea that you might be traveling by yourself probably increases," he says. Americans' tendency not to take all of their vacation time contributes, too. "Your partner might not be able to get away, so you go off on your own," says Mr. Holthouser.
Dinner reservations for one are the fastest-growing party size, up 62% in two years according to new research from OpenTable, the online reservation service owned by Priceline Group. The trend reaches across the U.S., with the biggest gains in cities, including Dallas, Miami and Denver.
"If you're dining solo, you can really indulge your inner foodie behaviors--you can go deep on the menu with the server and geek out with the sommelier," says Caroline Potter, OpenTable's chief dining officer. "You don't feel you're being rude by taking out your phone to Instagram, Facebook and live-tweet your meal."
Often the restaurant industry views an empty chair at a table-for-two as lost revenue. But staffers at the three Founding Farmers restaurants in the Washington, D.C. area take particular steps to accommodate the rising number of guests who visit alone, sometimes offering free samples of popular appetizers and cocktails.
"I'll forego the revenue of their dining companion for the opportunity to really bond with someone and get positive word-of-mouth and maybe a long-term relationship," says Dan Simons, a Founding Farmers co-owner. Founding Farmers' hosts are coached to convey ease to solo diners when they arrive, never pity. Then waiters determine whether a solo diner wants to chat. "We look for the personality in their eyes- someone who is there to engage will give you those cues," says Mr. Simons.
Still, solo dining remains a foreign notion at some vacation hot spots. Lilianna Husseini, a public-relations executive in New York, relishes her annual three-week solo trip as a way to recharge and explore new places on her own terms and time. Dining alone is one of her favorite ways to chat with locals and savor great meals, as she did while in Rome and Florence this summer. But in Capri, maître d's at multiple restaurants were perplexed by her solitude and sat her at undesirable tables, even though she made reservations via her hotel concierge and the restaurants weren't full.
Frustrated, she skipped dinner for the rest of her Capri stay and enjoyed late lunches and early breakfasts instead. "When you're in bigger cities, you don't have this issue," says Ms. Husseini.
Be on guard about room assignments, too, travel-industry executives say. "Single rooms in historic hotels in Europe tend to be up in the roof and originally designed for servants," says Mr. Harris of Abercrombie & Kent. Solo traveling on its tours is rising at a double-digit rate, so the company now closely scrutinizes the single rooms of the luxury hotels it includes, sometimes substituting them with double rooms instead.
Then there is the dreaded "single-supplement" charge. Since many hotel room prices are based on double-occupancy, vacation packages often pass the extra cost along to the solo traveler.
"By far, the biggest gripe I've heard is 'why should I have to pay more?'" says Jamen Yeaton-Masi, vice president of product and operations for Country Walkers, a unit of Xanterra. Solo travelers can be as much as half of its hiking groups, so it has upped how many hotel rooms it reserves for each trip and added single-supplement promotions, including waiving it if the traveler is willing to have a roommate but the trip organizers can't find one.
Country Walkers avoids using "romantic" to describe its trips, lest it turn off solo travelers. "Solo travelers are usually not single," says Ms. Yeaton-Masi. "They might be married but they want a fun experience to do on their own."
Norwegian Cruise Line says it never uses "single" when describing the new studio rooms and the private, adjoining lounges it is adding to ships to better cater to travelers boarding alone.
"Our research told us it was important for the solo traveler to have comfortable spaces to engage with other people, but not have it presented as a hook up," says Andy Stuart, Norwegian Cruise Line's president and chief operating officer. "A cruise ship is a comfortable place to be alone."
This article was originally printed in the Wall Street Journal on 10/6/15