Adding a Penguin Rescue to the highlights of their New Zealand Biking Vacation
BRISTOL, VT — On a recent biking vacation through New Zealand's South Island, while staying at Wilderness Lodge Lake Moeraki, four VBT guests pitched in to help return a disoriented Tawaki penguin to the sea.
Tawaki penguins generally leave the ocean for the rainforest as they molt throughout January and February. The penguin in question was prepared to return to Tasman Sea. However, hunger and fatigue caused him to lose his way and he ended up dodging traffic at Knights Point Lookout on Highway 6 in Haast. The penguin was also quite distracted by clusters of animated tourists snapping pictures.
After alerting authorities, the proprietor of the Wilderness Lodge, Dr. Gerry McSweeney removed the dazed Tawaki from traffic, transporting the bird safely to the lodge in a cardboard wine box. Four VBT travelers then accompanied Wilderness Lodge guide, Niall Mugan, on a trek to return the rare penguin back to the ocean. With a population of only 5,000 to 6,000 in existence, all residing in this region of New Zealand, the travelers and lodge staff were eager to get the penguin out of harm's way. Upon reaching the beach, the Tawaki got his bearings and proceeded to the safety of the Tasman, briskly paddling out to sea.
Though unexpected, the penguin rescue certainly ranks among the memorable moments of this VBT biking vacation through New Zealand. "We're happy that our guests got to lend a hand in getting the Tawaki safely back to his natural environment. It just goes to show that with a VBT bicycling or walking vacation you never know what to expect – you just know it will be great," says Gregg Marston, VBT's President.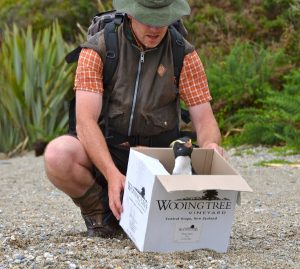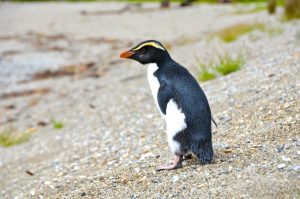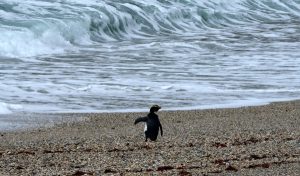 Founded in 1971 by a Middlebury College professor, VBT offers deluxe, small group bicycling and walking tours worldwide, including destinations in Europe, Costa Rica, New Zealand, Vietnam, Chile, Peru, South Africa and the U.S.A. Each trip includes all accommodations, many meals, two expert local Trip Leaders, unique sightseeing and cultural activities, and full vehicle support. Unlike other companies, VBT also includes international airfare in its trip cost.
For reservations or more information, and to receive the new catalog, call 1-800-245-3868 or log on to the company's website at www.vbt.com.