The Benefits of an Active Body and Mind
For better health and happiness, the professionals' advice is active travel
From the pages of medical journals to the offices of doctors all over the country, the many benefits of active travel are being heralded as significant contributors to physical health, mental well-being, and personal growth. It's not surprising. VBT travelers tell us year after year that their active bicycling vacation has helped keep them physically fit, encouraged their curiosity, and enabled new friendships. Keeping the body and brain active and engaged—through physical exercise and stimulating new experiences—are essential to health and happiness.
Encounters that Keep the Mind Refreshed and Engaged
As a cyclist, you know well that physical activity clears thoughts, calms emotions, and enhances a relaxed awareness. This state of mind makes us especially receptive to cultural interaction and personal encounters in our destination. So when you share a picnic lunch at the home of a Spanish family on the way to Cordoba or join in song with musicians at a cozy Irish pub, your immersion in local life and culture is authentic, enriching, and unforgettable. Vital cultural interactions like these enliven every VBT active vacation—and engage your open mind.
Personal Connections that Enliven the Spirit
Traveling with a small group not only means your encounters with local people are more personal—it also means you'll get to know your fellow travelers much better. A
fellowship develops that lingers long after the last farewell toast. So many of our travelers tell us they have made lifelong friends on their active vacations, and some choose to travel together again. The group dynamic that develops during an active vacation builds social ties and helps nurture an interest in lifelong learning, according to experts on aging.
"The mixture of exercise, history, wonderful food, and informative visits to sites made you 'feel' the country. I was originally hesitant about group travel, but our fellow travelers were like-minded people who enjoyed the shared experience. Informative, delightful, and a top-notch value tour!"
–Recent VBT Traveler, Slovenia, Austria & Italy
Engage all of your senses
When you travel with VBT, you'll find that cycling or walking in the fullness of nature is only part of your vacation. We customize each of our vacations to immerse you in the daily life of your destination engaging your mind, body, and spirit. Of course, you'll invigorate your body by being active. But through warm encounters with local people and by experiencing their heritage and traditions as they do, you'll be rewarded with an understanding of their history and environment. You're not glimpsing a locale behind a bus window. You're using your senses to see with your heart. So when you share a picnic lunch at the home of Spanish family on the way to Cordoba, or discover Ireland's spectacular glacial valley at Dunloe from a horse-drawn jaunting cart, your immersion in local life and culture is authentic and unforgettable.
Mind: learning comes more naturally
An invigorating bike ride, walk, or swim does more than exercise the body. Physical activity clears and refreshes the mind and calms the emotions, enhancing one's mental state. Consider how refreshed we feel after a good walk around the neighborhood or working in the garden. That's why a VBT vacation deftly blends physical activity with cultural interaction and hands-on discovery, rewarding you in many ways. We'll introduce you to local persons of interest, teach you a bit of the language, provide colorful historical background, and help you fully experience local life and culture.
"Breathtaking views everywhere you look, combined with fascinating old cities and towns, and warm, friendly people. Cycling doesn't get much better than this. Very little traffic on the roads. Great leaders who love their country and strive to share that love with their guests." VBT Traveler–Croatia: The Dalmatian Islands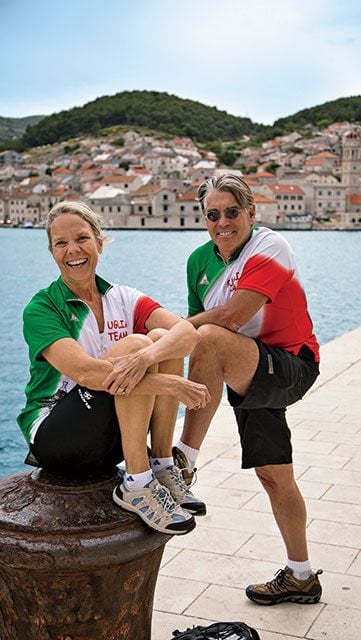 You Set the Pace that's Right for You
On your VBT active vacation, you'll bike roadways and paths designed to exhilarate you, not wear you out. You set your own pace, choosing from daily route options that vary in distance and degree of challenge. Enjoy a slow ride, if you like. But if you wish to pound the pedals and get a real workout on the hills, go ahead. We've designed flexibility into each day's itinerary so the route and duration are your choice—the choice that's right for you.
"Our Trip Leaders' charm, sense of humor, and in-depth knowledge of Sicilian culture contributed to a wonderful cycling trip. Everyday our leaders provided close-up and personal interactions with Sicilian culture: the people, the food, the architecture, archaeology, and landscape." VBT Traveler—Sicily: Biking the Southern Coastal Villages