Cuisine Is Culture with VBT
Culinary discoveries from garden, pasture, sea, and stream
When you travel with VBT, your dining experience is an essential feature of regional heritage and local tradition. So unfold your napkin and settle in for fresh, locally sourced ingredients and time-honored recipes. And remember: At each meal, we guarantee a vegetarian option.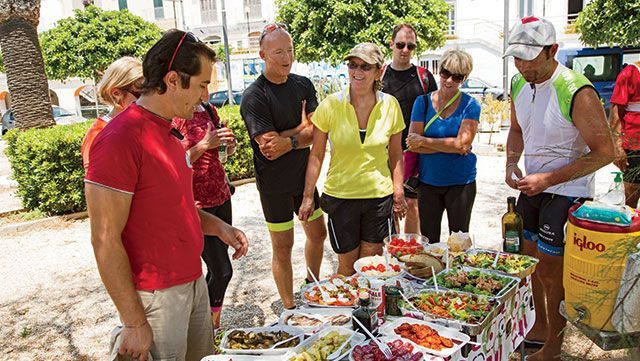 Immersion in regional culture always includes fine cuisine
From the unique Basque region that straddles Spain and France to the rural hamlets of Vietnam and China, your adventures in "immersion travel" always include the most revealing and characteristic aspects of local ingredients and methods of preparation. You'll find that in your glass as well, whether the wine is from the Loire or Napa Valley.
"Really enjoyed the combination of gastronomy and activity. I tell my friends that VBT vacations are a great way to combine activity and indulgence." VBT Traveler—Burgundy: The Wine Route
Most meals are included
All of our vacations include daily breakfast, many lunches, and most dinners. A good hearty breakfast gets you off to a great start, we usually enjoy lunch en route, and our included dinners provide a splendid opportunity to develop camaraderie. We vary the venues as well as the menus, so along with new taste sensations you'll enjoy a delightful ambiance.
"This trip was everything I wanted it to be: biking in Southern Spain with other awesome bikers, and then sightseeing, learning about the culture, and relaxing. The food was amazing. We stayed in unique and interesting hotels. The Trip Leaders were over the top fantastic." VBT Traveler—Spain: Under the Andalusian Sky
Travel globally, eat locally
Count on freshness and variety, including a guaranteed vegetarian option at each meal. You'll dine only at establishments that serve fresh, locally sourced ingredients, skillfully prepared. Many of the ingredients are organic and are often cultivated right on the premises.
"You can't go wrong with this wonderful combination of breathtaking scenery, Italian/Austrian people and architecture, great food, and enjoyable biking." VBT Traveler—Italy: Cycling the Dolomite Valleys
VBT's signature picnics
Many of our active vacations feature delightful picnic lunches that highlight local cuisine. You may be welcomed for a picnic in the garden of a French artist, in a German village by a medieval castle, or at a lovely outdoor spot selected by your Trip Leaders.
"VBT organized the perfect trip to Sicily. Attention to every detail made the trip the most pleasurable experience I could imagine. Our guides were helpful, friendly and knowledgeable. The food could not have been better and our accommodations were first-class and spotless. In a single word? WOW!" VBT Traveler—Sicily: Biking the Southern Coastal Villages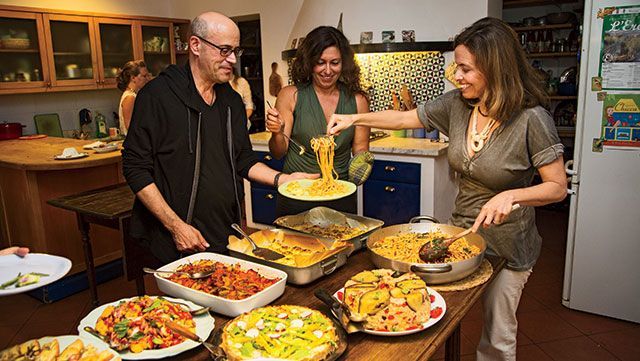 Savor distinctive wines
From the Chianti region of Tuscany to the Russian River Valley of Sonoma, VBT brings you to some of the world's great winegrowing locales. You'll enjoy local vintages during included winery tours and private tastings, and during some meals, as well.
"What more can one ask for? Great food, great wine, and beautiful rides every day. I never experienced the food, wine, and scenery in such a wonderful manner as biking through this beautiful country." VBT Traveler—Tuscany by the Sea
Join our special culinary vacations
While each VBT vacation is a culinary treat, on select dates we make food a greater focus, with special tastings, cooking classes and demonstrations, market visits, and much more. Visit our Special Culinary Vacations for all of the details
"And then there was the incredible food and wine of Provence: sample the numerous cheeses from the region, the herb-seasoned meals, and the wonderful Provençal wines and you will understand how the sun, land, and the passion & knowledge of the locals combine to give the traveler the unique essence of this magical region." VBT Traveler—Provence: The Alpilles