Local Cuisine — An Essential Part of Cultural Immersion
From farm to kitchen to table, VBT provides meals that
reflect your destination's rich heritage.
Savoring a region's approach to ingredients, food preparation, and presentation is a wonderful part of your travel discoveries. You learn so much about your destination's people as you experience their respect for the kitchen and for their guests. All VBT active vacations prize culinary delights highly. In Italy, you'll gather at a chic country retreat in Mombaruzzo and learn how to make and cook pizza in a wood-fired oven. In Portugal, you'll dine at a vineyard estate and sample its exquisite ports. In Chile, you'll gather for a traditional asado barbecue on the lovely patio of your relaxing casa.
Culinary discoveries from garden, pasture, sea, and stream
When you travel with VBT, your dining experience is an essential feature of regional heritage and local tradition. So unfold your napkin and settle in for fresh, locally sourced ingredients and time-honored recipes. And remember: At each meal, we guarantee a vegetarian option.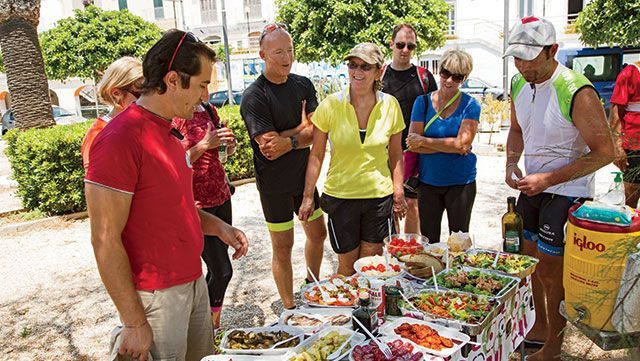 Immersion in regional culture always includes fine cuisine
From the unique Basque region that straddles Spain and France to the rural hamlets of Vietnam and Myanmar, your adventures in "immersion travel" always include the most revealing and characteristic aspects of local ingredients and methods of preparation. You'll find that in your glass as well, whether the wine is from the Loire or Napa Valley.
"Really enjoyed the combination of gastronomy and activity. I tell my friends that VBT vacations are a great way to combine activity and indulgence." VBT Traveler—Burgundy: The Wine Route
Most of Your Meals Are Included
All VBT active vacations include a hearty daily breakfast, many lunches, and most dinners. You'll see that we vary both the menu and the dining place, making sure that both embody the best of your destination's distinctive approach to cooking and presenting meals. You'll dine in small, family-owned bistros, in the homes of welcoming hosts, and in restaurants whose menus feature dishes seasoned with tradition and pride.
"This trip was everything I wanted it to be: biking in Southern Spain with other awesome bikers, and then sightseeing, learning about the culture, and relaxing. The food was amazing. We stayed in unique and interesting hotels. The Trip Leaders were over the top fantastic." VBT Traveler—Spain: Under the Andalusian Sky
Travel Globally, Eat Locally
VBT chooses restaurants and cafés that are locally owned by families with strong ties to the community. That's important to us. You'll dine only at establishments that serve fresh, locally sourced ingredients, always skillfully prepared. Many of the ingredients are organic and are often cultivated right on the premises. You can count on freshness and variety, including a guaranteed vegetarian option at each meal.
"You can't go wrong with this wonderful combination of breathtaking scenery, Italian/Austrian people and architecture, great food, and enjoyable biking." VBT Traveler—Italy: Cycling the Dolomite Valleys
Picnic Lunches Featuring Local Foods
Many VBT active vacations feature delightful picnic lunches that showcase local ingredients and traditional recipes. Some are put together by your Trip Leaders, others by the owners or chefs of the farmhouses and vineyards you'll visit. You might gather for a picnic lunch at a welcoming spot on a family-owned farm by the Amalfi Coast, by a sparkling beach on Croatia's Dalmatian Islands, or on the manicured grounds of an Italian villa near Lake Massaciuccoli.
"VBT organized the perfect trip to Sicily. Attention to every detail made the trip the most pleasurable experience I could imagine. Our guides were helpful, friendly and knowledgeable. The food could not have been better and our accommodations were first-class and spotless. In a single word? WOW!" VBT Traveler—Sicily: Biking the Southern Coastal Villages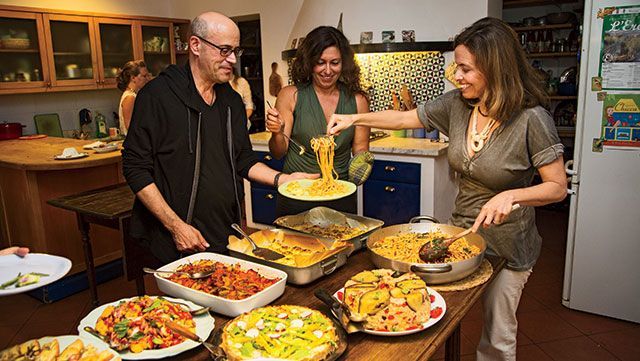 Savor distinctive wines
From the Chianti region of Tuscany to the Russian River Valley of Sonoma, VBT brings you to some of the world's great winegrowing locales. You'll enjoy local vintages during included winery tours and private tastings, and during some meals, as well.
"What more can one ask for? Great food, great wine, and beautiful rides every day. I never experienced the food, wine, and scenery in such a wonderful manner as biking through this beautiful country." VBT Traveler—Tuscany by the Sea
"And then there was the incredible food and wine of Provence: sample the numerous cheeses from the region, the herb-seasoned meals, and the wonderful Provençal wines and you will understand how the sun, land, and the passion & knowledge of the locals combine to give the traveler the unique essence of this magical region." VBT Traveler—Provence: The Alpilles