if you've ever been to Germany or it's neighboring countries in the springtime, you may have noticed a particular vegetable making it's way into many delicious dishes. White Asparagus—or spargel as its known in Germany—is the wildly popular cousin to the green asparagus we grow in the United States. Asparagus is somewhat of a "super food" with all the health benefits that comes with eating it—including bone health, anti-inflammation, blood-sugar regulation and more.
The "white" part of its name comes from being grown entirely underground, without ever developing color due to the lack of photosynthesis in its subterranean shelter. Spargel is so popular in Germany that the 82,000 tons produced every year only meets a little more than half the demand! To help you bring spargel into your kitchen, longtime VBT Leader Andreas A.—who guides both our The Czech Republic, Germany & Austria and Lake Constance: Germany, Austria & Switzerland biking tours—has offered up this traditional German recipe.
Traditional Asparagus Dinner
German white asparagus is quick and easy to make. Boiled new potatoes are a must. Drizzle spargel and your steaming peeled potatoes with melted butter. Add deli ham or Prosciutto. A dry white wine or beer rounds out the meal.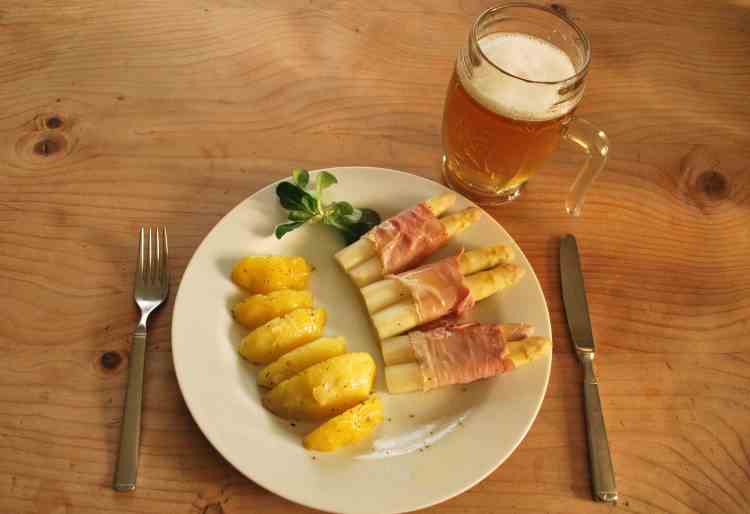 Ingredients
1 lb. white asparagus per person, cleaned and peeled
2 tsp. salt
2 tsp. sugar
Prep Time: 30 minutes
Peeling: VERY IMPORTANT Unlike the green version, White Asparagus must be peeled or you will be chewing on woody strings. Also, cut the ends off about a inch from the stalk end. Peel downward from the top, just below the floret down the stem. This is a gentle motion that might take some time to master. It's easy to break the spargel. The thicker the skin is, the more of it must be peeled away. Use a potato peeler, paring knife, or a special Spargel peeler.
Prep:
Use a pot (never aluminum) wide enough to hold the PEELED asparagus lying down. Fill pot three-quarters with water. Add the salt and sugar and bring the water to a gentle boil. Turn down heat so that water is simmering. Close the pan with the lid.
Boil the asparagus 8 to 10 minutes or until soft enough to your liking. Remove from pan, drain and place on a preheated serving tray. Serve immediately with ham, melted butter and new, boiled potatoes. Remember: the Germans always peel the skins off their boiled potatoes. Guten Apetit!
To learn more about the many benefits of eating asparagus, check out this great article from Well-being Secrets: 31 Science-backed Health Benefits of Asparagus.