Looking for VBT Walking Vacations? All VBT Walking Vacations have moved to our sister company, Country Walkers. The same tours you know and love, plus exciting new itineraries, are available to book through their website.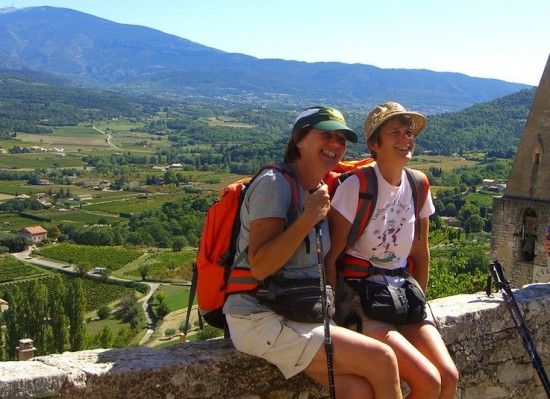 The Provence region of southeastern France is a scenic and historic area that is perfect for discovering on foot. Travelers on our France: Slow Road Through Provence vacation will discover the region's timeless beauty—from ancient hilltop villages to bustling outdoor markets to verdant vineyards that line the foothills of the Alpilles—at a slow pace, which allows you to fully take it all in. With so many amazing sites, friendly locals, delicious meals and scenic walking routes offered on this week-long walking tour, there is so much to discover. Here are our top reasons why you should take a walking tour of Provence with VBT.
Strolling in St. Remy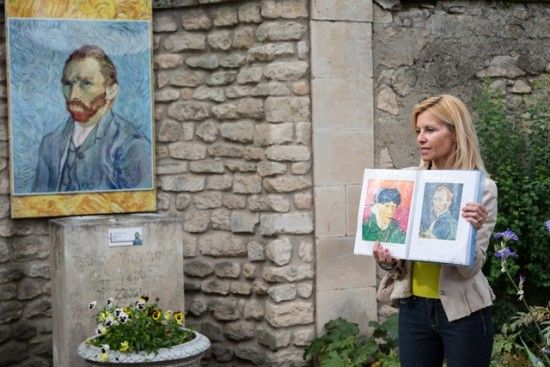 Upon our arrival to the historic commune of St. Remy, we'll learn about the last years of van Gogh's life and his most famous painting, The Starry Night—which was inspired from his window view in St. Remy—on a guided tour of the village with a local historian. After our informative and inspirational tour, the afternoon is free for you to set out to explore St. Remy on your own. What it lacks in size, it certainly makes up for in atmosphere. It's convenient, horseshoe-like center invites a delicious stroll around town. Luckily, there are plenty of cafes and restaurants to indulge in when you'd like a rest.
Explore Avignon, the fortified "City of the Popes"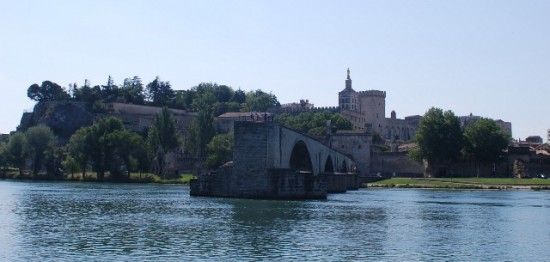 We'll meet with a local friend for an enlightening guided tour of the famed "City of Popes," which served as the Papal seat for almost seven decades during the 14th century when seven popes—beginning with Clement V—abandoned Rome and made the city their permanent residence. During our stroll, we'll tour Avignon's historical center, a UNESCO World Heritage Site, and view the Palais de Papes—the magnificent Gothic complex in which the holy men once lived.
Marvel at one of the Most Beautiful Villages in France: Gordes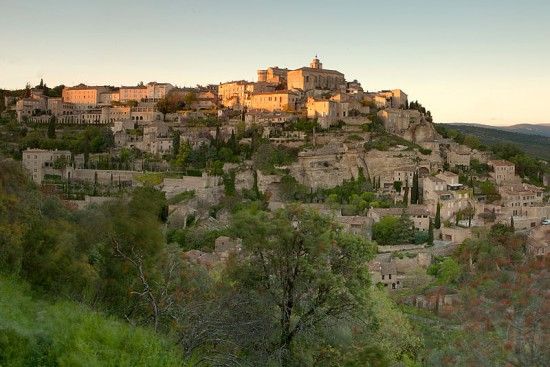 On Day 4 of our adventure in Provence, we'll take in the cobblestone streets of Gordes, which is included in the listing of "The Most Beautiful Villages in France." Take your time exploring before ambling just outside of the village among Provence's iconic lavender fields en route to Senanque Abbey. Here, we'll learn how the lavender is cultivated by the Benedictine monks that still work and reside in this peaceful hamlet.
Mingling at le Marche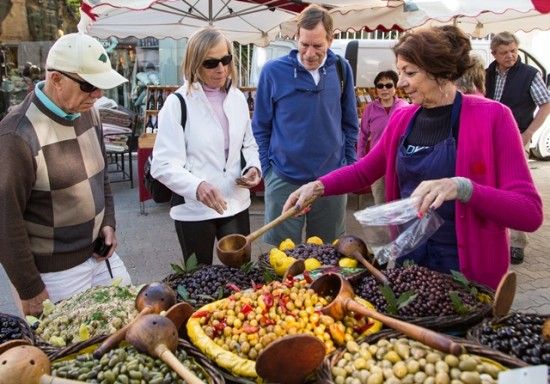 Cultural immersion is a huge part of any VBT tour. On Day 5 of our walking tour of Provence we'll combine a cultural experience with lots and lots of local food, visiting the market of Vaison la Romaine. Take in the sights, sounds and smells of local life here and maybe pick up a few of the most tempting items to enjoy for lunch.
Hotel Aquabella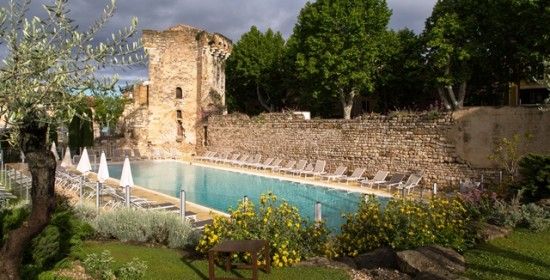 A night in this wonderful hotel situated in the heart of the old town of Aix-en-Provence both begins and ends our tour. After a lovely evening of exploring the lively city of Aix, guests may relax in the hotel's spa or heated pool. The guest rooms are decorated in Provençal style and all are fully equipped with air-conditioning, satellite TV, direct telephone, mini-bar and furnished with bathrobes and slippers.
The Food of France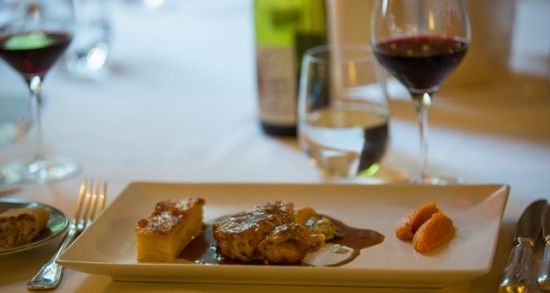 On top of all the wonderful experiences that we've built into our Walking Tour of Provence, we've also left some time for you to wander on your own. Exploring in France is often best done by way of your taste buds. Enjoy free afternoons and evenings to find a perfect bistro to reward your day's discovery. Best of all, our native Trip Leaders can fill you in on all the local secrets and spots that only residents know about. So you're guaranteed to find a culinary highlight or two on your VBT Provence vacation.
These are just some examples of the unique accommodations you'll stay at on our France: Slow Road Through Provence​ walking vacation. If you would like to reserve a vacation or speak with one of our Tour Consultants, please call 800-245-3868 or visit www.vbt.com . They are available Monday-Friday from 8:30am to 6:30pm EST and Saturdays from 10:00am to 3:00pm EST.