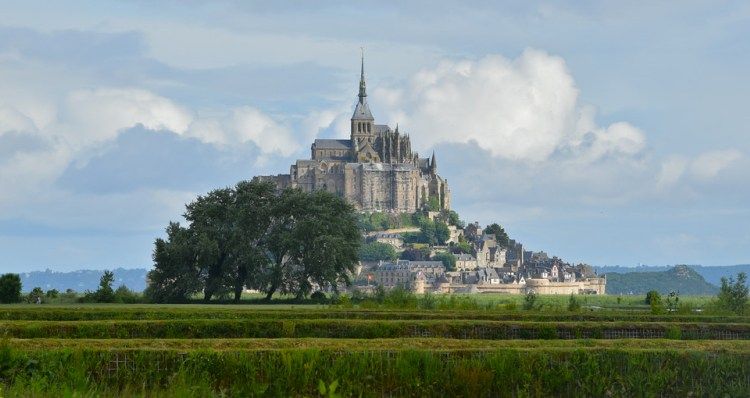 On the final day of VBT's "Bicycling France: Normandy & Brittany" vacation travelers will tour one of the most visited monuments in France: Le Mont Saint-Michel. A UNESCO World Heritage Site, the island is best known for the spectacular and well-preserved Benedictine abbey which sits at its peak—as well as the extreme tidal changes along that part of the Normandy coast which have changed the areas landscape through the years.
While thousands of years ago the commune was a true island, years of erosion has made Mont Saint-Michel a tidal island that can see up to a 46 feet differential in sea level height depending on the tide. In 1879 a dry causeway was constructed to replace the temporary tidal causeway to enable access the commune at all times. Upon arrival on tour with VBT, you'll meet our local guide, who will accompany you across to the cone-shaped islet in the Gulf of Saint-Malo to Mont Saint-Michel to begin your tour.
The highlight of the tour is the Mont Saint-Michel Abbey which soars about 92 meters (roughly 240 feet) above sea level. It was completed in 1523 and is well-known for its beautiful Gothic architecture. The placement of the abbey within the town is in direct relation to the social hierarchy of the times—with God at the top, followed by the housing for nobles and then the peasant's quarters at the bottom of the hill. The abbey is surrounded by winding streets and architecture characteristic of a medieval town. Small houses, shops and street stalls are found on its lowest level. Above these stand the monastic buildings, many of which date to the 13th century.
This is just one example of the many historical and cultural highlights you'll find on this exciting biking tour of France's northern coast. To read more about our Bicycling France: Normandy & Brittany vacation, please click here. If you would like to reserve a vacation or speak with one of our Tour Consultants, please call 800-245-3868, available Monday-Friday from 8:30am to 6:30pm EST.