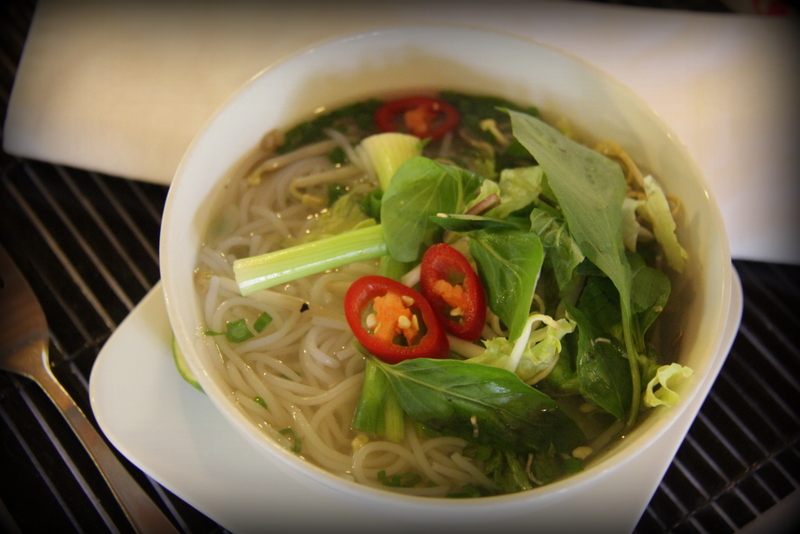 Vietnamese cuisine is often praised for its health benefits as well as its emphasis on fresh, nutritious ingredients. During our Journey through Vietnam biking tour you'll dine on traditional cuisine, so we thought it appropriate to offer up a classic Vietnamese recipe, Pho Bo, or Hanoi Beef Noodle Soup. Set aside a bit of time and savor an inspired take on an easy Vietnamese recipe.
Ingredients: Serves 8
2 onions unpeeled, halved and studded with 8 whole cloves
3 shallots, unpeeled
2 inches fresh ginger, unpeeled
12 cups cold water
4 lbs. oxtail
1 lb. beef shank
2 pieces star anise
1 ½ sticks cinnamon
1 teaspoon crushed peppercorns
1 tablespoon salt
4 cups rice stick noodles (yields 7 cups)
1/4 cup fish sauce
1 lb Beef sirloin or flank steak
2 large onions, peeled and thinly sliced
4 cups bean sprouts, blanched
2 limes or lemons, cut into 8 sections
4 chili peppers, sliced
6 sprigs fresh cilantro, chopped coarsely
1 lime
2/3 cup fresh Thai basil leaves
Preparation
Char the onions, shallots and ginger under the grill until fragrant, 2 to 3 minutes. Place into a large stockpot. Add the water, oxtail, beef shank, star anise, cinnamon, peppercorns and salt to the stockpot. Bring the mixture to a boil over medium heat, skim the solid surface and reduce the heat to low. Cook for 2 hours.
Meanwhile, soak the noodles in warm water for 30 minutes. Drain and set aside. In a large saucepan, bring water to a boil and add the noodles, stirring for one minute. Drain, rinse with cold water and portion the noodles among 8 large soup bowls.
Remove the beef shank and oxtail from the stock, making sure these are tender. Thinly slice the sirloin or flank steak into strips 1 x 2 x 1/8 in and set aside.
Season the soup with fish sauce and continue to cook over low heat. When the meat is cool enough to handle, slice the beef shank into uniform slices the same size as the sliced sirloin or flank steak. Discard the bones.
Add the sliced steak into the broth. Cook for 3 minutes and remove.
To serve, place a portion of noodles in a soup bowl and layer the cooked shank and sliced steak on top of the noodles. Then place onion slices and bean sprouts on top of the meat. Ladle the hot broth over the ingredients.
Garnish with several slices of chili peppers and fresh cilantro. Repeat process for each serving. Pass the extra onions, bean sprouts, fresh chilies, lime sections and basil on a platter.
Season with additional fish sauce, if needed and enjoy.
Note: Recipe serves 8, but soup may be frozen up to 4 months. To reheat, place frozen soup in a saucepan and heat slowly at medium heat for about 20 minutes, or until simmering and hot throughout. Garnish and enjoy immediately.