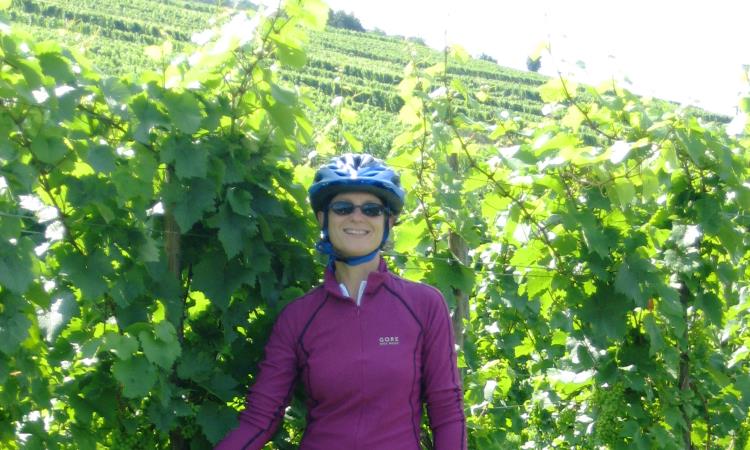 Here at VBT we make it a priority to use Trip Leaders that are from, or live in, the destinations we operate in because they are so familiar with the local customs and traditions. While our Trip Leaders are always there to lend a hand, change a flat tire, or offer a lift in the support van—they also go above and beyond and are able to make recommendations on shops to visit during free time, act as translators during cultural activities and give our guests an insider's perspective of a region that you simply cannot get on your own. We sat down with one of our longest tenured Trip Leaders, Veronique, who hails from the Provence region of France and guides both our France: Slow Road through Provence walking vacation and Provence: The Alpilles biking vacation to learn a little bit more about who she is and why she loves to lead VBT tours.
Where did you grow up in France?
I was born in the northern part of France (Beauvais), 50 miles north of Paris. When I was a child, I spent a lot of time in Normandy because my grandparents had a house on the cliff there, next to the channel. I've also spent time in the Loire Valley—my father's family is from there and it's where my parents currently live. I enjoy the countryside and rural beauty there. But my favorite would have to be Provence, which is where I've lived since I was 29 (and dreamt of living here since I was 11 years old) and am nowhere close to being tired of it. The culture is strong, it's very cosmopolitan, the food is fresh and tasty, you can meet all kinds of people, and I feel that it's one of the nicest parts of the world—come and visit!
What are your passions, hobbies, and interests?
I have many hobbies and interests including cooking, knitting, sewing, gardening, and furniture repair. And I'm currently taking lessons on book binding, calligraphy, and ballet. The one I love the most is cooking but knitting would be a close second. Both hobbies come from my grandmothers and my parents. Everyone in my family likes to cook and my parents are still obsessed by food! I started to cook at the age of 12 by learning to bake cakes. When I travel, I love to take pictures and notes about what I eat. 12 years ago I attended cooking school to gain more professional knowledge and even received a degree, though I didn't want to pursue it as a profession—I like my job too much! I enjoy cooking for my friends and family, and making preserves, especially jams. I have a huge closet full of jars of jam that I've made—a gift that I always give when friends and family visit me.
What does being a VBT Trip Leader mean to you?
Being a VBT Trip Leader fosters a lot of wonderful relationships and team work—for me, it's been almost 20 years of a very rich life!
What do you enjoy most about leading VBT tours?
Working outdoors and moving my body, meeting different people all the time and learning about their country and culture. For me, listening to people's experiences is like reading a novel or watching a movie.
What do you love about exploring somewhere new by bike or walking?
Life is an adventure and biking and walking make it this way. Exploring new places corresponds with my life goals: avoid routine, have new experiences, and embrace change from what I'm used to.
What are your favorite moments while on tour?
I love sharing Provence's unique customs and overall French culture, and leading French language lessons. The excitement, fascination, and questions that arise during these talks create some truly special and fun moments. I really enjoy getting to know our guests—we're in an environment where people can really express themselves.
For more information about VBT's tours in France, please click here. If you would like to reserve a vacation or speak with one of our Tour Consultants, please call 800-245-3868. They are available Monday-Friday from 8:30am to 6:30pm EST and Saturdays from 10:00am to 3:00pm EST.