As is true of all of Italy, there are great markets, shops and craftsmen throughout the towns of the Amalfi Coast. Here, there are an abundance of artists and craftsmen who have continued family traditions for generations and their works are remarkable. Wandering through the streets of Sorrento, for instance, you can find shops where exquisite wood inlay is created before your eyes. You are welcome to stay and watch. Similarly, you are invited to view artists in family-run shops where they hand-carve shells (and carved coral, too) into beautiful cameos, which are mounted in gold settings. These are rare opportunities to speak directly with the artisan who is creating this delightful item.
And what makes this special is that you bring home great stories in addition to an heirloom-quality piece. The skills needed to create such wonders are passed down through generations, and you, too, can pass on your beautiful purchases through your family's generations.
Cameos
In Sorrento there are traditional methods and materials used in the creation of cameos. The most popular are shell cameos where the top portion is white and the lower/background is reddish-brown. These are commonly called carnelian shell cameos and the carvings are typically profiles of women or goddesses. All of these shops set their cameos in gold - usually 18 karat. For a great selection, visit Bimonte located on Via P. R. Giuliani, 62
Limoncello
Italians are very creative in the making of after dinner drinks. Commonly used are walnuts for Nocino, myrtle berries for Mirto and lemons in the most popular, Limoncello. The lemons of the Amalifi Coast are unique due to the quality of the soil. Limoncello is served prior to dinner to cleanse the palate, or as an after dinner drink. Virtually all coastal towns have shops where you can taste this delightful drink and most are made right there by local craftsmen. Usually they can be bought in a wide variety of creative bottles, which are themselves worth the price. In Ravello, these items can be found at Ravello Gusti & Delizie on Via Roma. In Sorrento, there are many small Limoncello factories both on Via San Cesareo, the main shopping street and on the side streets in this historic neighborhood.
Inlay wood Art
Again, the skills to create these works of art are handed down through generations. Often they reproduce recognizable artistic masterpieces. These inlays are all produced by hand and it takes the skills of a fine wood-maker, plus the eyes of an artist to create these masterpieces from many different wood types and shades. One of the finest shops is also the factory where you can see inlay boxes being made. It is A. Gargiulo & Jannuzzi and was founded in 1863. It is located right on Piazza Tasso, the main square in Sorrento.
Ceramics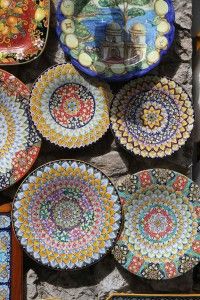 Italy ceramics are famous and many shops provide fast, secure shipping to the U.S. Two of the best are in the small town of Ravello, where you can meet the artists and negotiate your best price with them. Pasquale, the owner of Ceramiche D'Arte is remarkable and highly recommended. Brightly colored and heavy, most popular are the serving bowls and pitchers. You can quickly imagine yourself serving a pasta feast with wine to your family and friends. Also available are smaller items you can bring home for gifts, such as ceramic-topped wine stoppers and ceramic coasters. These are also a great value.
To learn more about this popular walking vacation—which includes visits to Pompeii, Capri and Sorrento— and to see traveler reviews and available departure dates, please click here. If you would like to reserve a vacation or speak with one of our Tour Consultants, please call 800-245-3868. They are available Monday-Friday from 8:30am to 6:30pm EST and Saturdays from 10:00am to 3:00pm EST.