---
If you want to fit in while visiting Vietnam, traveling by bike is a great way to start.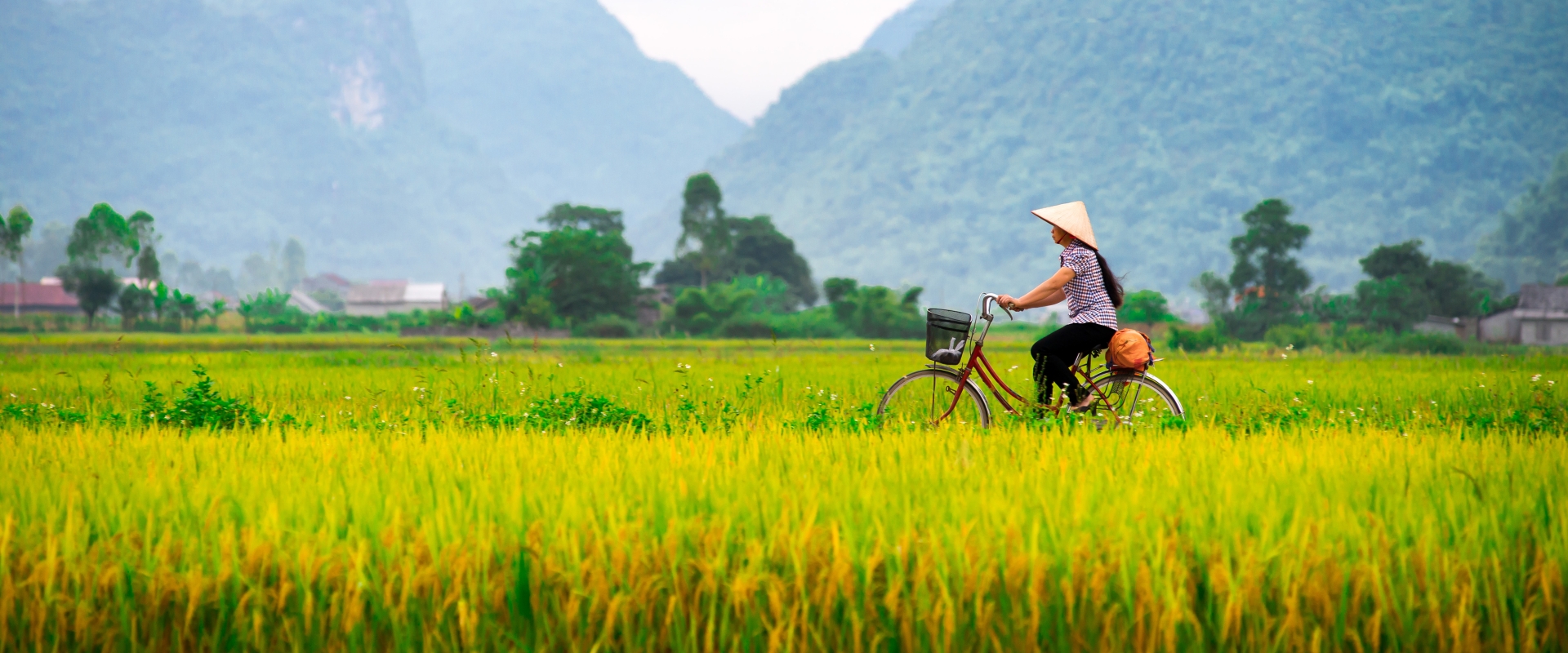 In Vietnam, Cycling is a Way of Life
If you want to fit in while visiting Vietnam, traveling by bike is a great way to start. Everyone is doing it, and gradually, you'll find yourself spinning along with the pace of daily life. Bicycles are everywhere you look—on city streets, country lanes and major thoroughfares. It's not uncommon to spot an elderly bicycle sporting a basket packed with brightly hued fruits and vegetables plus a rear fender straining beneath a precariously-balanced cascade of woven baskets—or perhaps even a cacophony of live chickens. Everyone can pile on—it's not uncommon to see a stalwart cycle pedaling bravely under the weight of two or more riders. In Vietnam, bikes are a way of life.
As you pedal past a busy market town, there are all sorts of opportunities to say hello. You might stop for a neighborly chat with local farmers on bicycles cheerfully laden with baskets of fragrant jackfruit and orderly bunches of crisp green onion bundled neatly along the rear fender. Perhaps you'll pause for a snack of juicy local mangoes and kumquats sold from a bicycle converted with some ingenuity—and the aid of a kickstand and plywood plank—into a makeshift farm stand. The bright sounds of laughter and bell chimes fill the air. It's easy enough to make friends when everyone's on a bike.
Tranquil Travel on Cycling Paths
In Vietnam, the roads are made for cyclists. Traffic is light in the countryside and many of the paths are designed for cyclists and pedestrians only. You'll have plenty of local cycling company while spinning along the banks of the fabled Perfume River or pedaling past symmetrical rows of green rice shoots lining valleys and hillside terraces. You may pause from time to time to make way for a gaggle of ducks waddling along the river path, or a pair of mellow water buffalo on their way to work in a local field. Rolling up to the covered bridge at Cau Ngoi Thanh Toan, you may pause to inhale the delicate fragrance of water lilies and hang out with local school children playing beneath the shade of its ancient stone dragon carvings. It's Vietnam, moving you along at its own gentle pace.
Cycling Moves the Wheels of Commerce
No trip to Vietnam is complete without exploring the outdoor markets. There's one in nearly every town—rows of colorful tents covering baskets of local fruits and vegetables, fragrant fresh-cut flowers, woven rattan baskets, meats, clothing and importantly, street food. In the rhythm of daily life, the outdoor market is a convenient place to pedal for a quick lunch or snack on the go—including local delicacies such as grilled banana, bánh cuốn dumplings, or a bowl of phở bò noodle soup. It's an experience not to be missed!
Vietnamese cuisine is valued the world over, and you can't pass up an opportunity to learn its culinary secrets first-hand from a local chef from the Red Bridge Cooking School in Hoi An. Your lesson will start with a market tour of the city—stopping at local stalls where you'll learn expert techniques to select the best ingredients for the evening's class. As you tour the market with your chef, you'll learn of the French culinary influences in Vietnamese cooking—then go back to the cooking school to try your hand at creating a delicate fusion that tantalizes your senses. You'll enjoy the results of your Vietnamese home-cooked meal in a picturesque restaurant overlooking the Thu Bon River.
Experience Life on the Water—Vietnamese Style
Many Vietnamese cycling paths follow the flow of local rivers and canals, giving you an excellent perspective on another favorite local pastime—boating. Vietnam's rivers, lagoons and vibrant coast are peppered with all manner of floating vessels—from vivid, carved dragon boats to sturdy wooden canoes. As you cycle along the shores of the Perfume River, you'll notice the scarlet sails of sampan unfurling across the water like the spiked fins of a mythical water dragon. Wooden rowboats laden with local bananas and sweet, ripe lychees paddle gently towards the outdoor markets. Local farmers often pause to chat on the water, pass the time of day and exchange pleasantries on their way to and from the busy market centers. To truly immerse yourself in the river culture of Vietnam, nothing beats a boat ride. A leisurely lunch on a dragon boat gives you the perfect opportunity to experience the Perfume River and immerse yourself in the ebb and flow of Vietnamese life on the water.
If cycling in Vietnam is on your bucket list of Big Trip destinations, our VBT Tour Consultants are eager to help! We'll answer questions, point you in the right direction with optional activities, sight-seeing, or Tour Extensions that will help you reach your goals. Just a quick call to 800-245-3868 will put you in touch with an expert Tour Consultant who will be happy to help you build a plan that ticks every box.