For over a century the Tour de France has been cycling's most celebrated event. And while biking in France in the renowned race is the ultimate honor for a cyclist, you have to admit, it's kind of a shame that the bikers zip through some of France's most amazing landscapes without getting to enjoy the scenery, let alone hop off their bikes to snap a photo. That's the attitude that VBT Trip Leader, Sophie, took with her when she decided she would bike her own personal Tour de France in the spring of 2012, summer and fall as a 50th birthday present to herself. What a way to celebrate a milestone!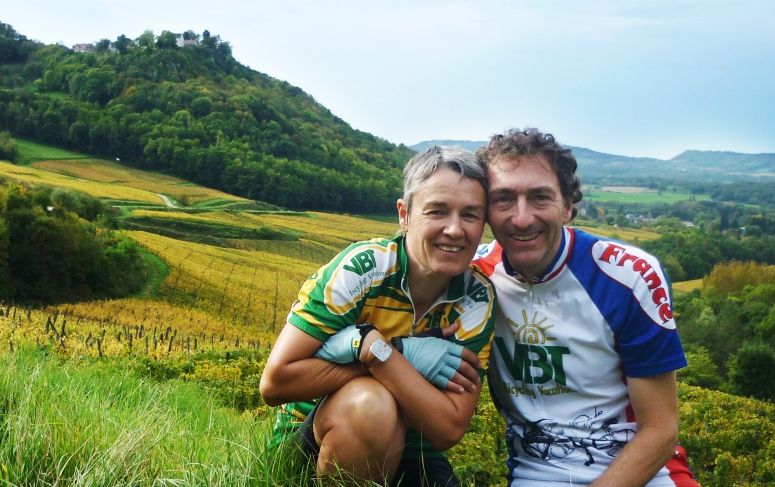 Sophie's husband, Bruno, couldn't resist the opportunity to join in and together the two biked over 3,000 miles of beautiful, French countryside. Sophie explained that she decided to set off on this adventure, "For the small physical challenge of biking 3,000 miles, but also to see things I have not seen." For most of us this type of mileage would present a pretty hefty challenge. However, Sophie has been leading bike tours in France for VBT for 13 seasons and Bruno has been a VBT Trip Leader for 15 seasons. Clearly, they're pretty experienced when it comes to biking in France.
The journey began in the southeast of the country and gradually, Sophie and Bruno made their way north. Along the way they had their first encounter with the Canal du Midi, a 17th Century waterway that was constructed to link the Mediterranean Sea to the Atlantic Ocean. Though it's over three hundred years old, the canal remains a vital waterway and it also offers a peaceful, tree-lined backdrop for a nice long ride. Sophie and Bruno took the opportunity to explore a relatively familiar setting from a different perspective when they biked through the French Riviera. They had both experienced the bustle of the popular vacation-spot, but had yet to ride along the southern coast of France.
As the couple moved north, they encountered very different terrain in the form of rolling hills, and even steep mountain passes. Originally from Quebec, Bruno explains, "I choose to make my home in France because it has such diversity in such a small size." He added with a chuckle, "Being with my wife is also a good reason to live in France." Perhaps Bruno and Sophie slightly underestimated the extent of that variety when, late in the season, they ascended a mountain pass in Alsace. As they climbed they encountered, first, dry leaves, then hard, cold rain and finally, snow at the top of the pass. They descended, thankful to get back to cruising along rural country roads at lower elevations.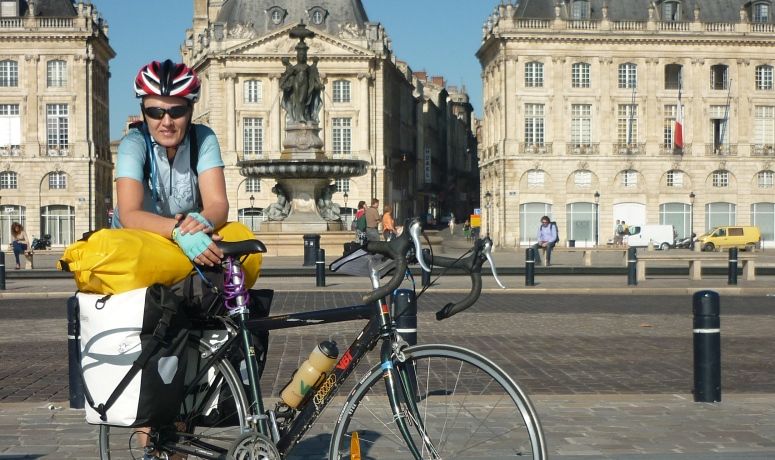 After wrapping up their very own Tour de France, Sophie and Bruno are even more confident that, for them, France is the best country to cycle in. However, they did recognize that with vacations from Vietnam to Eastern Europe, it's really hard to pick a favorite destination out of all of VBT's Bicycling and Walking Vacations. Bruno put it best when he said, "If VBT goes somewhere, it's because it's worth seeing."
Join Sophie or Bruno, biking in France with VBT this year. But don't let their 3,000 mile journey worry you; when you travel with VBT, you can ride as much or as little as you like! Click HERE to request your FREE VBT Catalog today.