Vermont is the largest producer of maple syrup in the United States. With a staggering volume of almost 900,000 gallons harvested every season; the second least populous state is responsible for 6% of the world's supply of this sweet commodity. While it's common to see local general stores selling maple candy, maple creemees (Vermont-speak for soft-serve ice cream) and maple-infused liquor; one of our favorite treats is Vermont Maple Cream Pie.
You can enjoy a little slice of Vermont wherever you live with this delicious recipe for Vermont Maple Cream Pie from the baking connoisseurs at King Arthur Flour—whose King Arthur Flour Baker's Companion won the James Beard award for Best Cookbook of the Year in 2003. Travelers on our Bicycling Southern Vermont: A New England Idyll can visit King Arthur Flour's famed visitor's and education center during the pre-trip extension in the bucolic town of Norwich.
What you'll need...
To make your own crust:
- 6 tablespoons unsalted butter, softened
- 3 ounces cream cheese, softened
- 1 1/4 cups King Arthur Unbleached All-Purpose Flour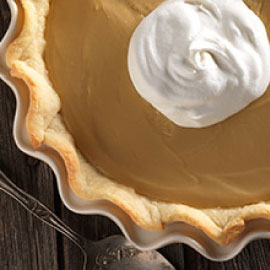 - 2 teaspoons granulated sugar
- 1/8 teaspoon salt
To make the pie filling:
- 3 cups half & half
- 1/2 cup Vermont maple syrup
- 4 large egg yolks
- 1 cup brown sugar
- 1/3 cup cornstarch, sifted
- 1/4 teaspoon salt
- 1 teaspoon vanilla extract
- 1/4 teaspoon maple flavor, optional
Instructions
To make the crust: Mix the butter and cream cheese until well blended. Add the flour, sugar, and salt; mix until just blended. Pat into a disk, wrap, and refrigerate for at least 30 minutes.
Preheat the oven to 375°F.
Roll the dough on a floured surface until it's 12" in diameter. Place it into a 9" pie pan. Shape and crimp the crust.
Line the crust with aluminum foil and pie weights or uncooked beans. Bake it until the bottom inside surface is light brown, approximately 20 minutes. remove the crust from the oven, carefully lift the foil and weights out, and allow it to cool while you make the filling.
To make the filling: Mix the half & half, maple syrup, egg yolks, brown sugar, cornstarch, and salt in a medium saucepan. Cook over medium heat, stirring constantly, until the mixture boils and thickens, about 10 to 12 minutes.
Remove from the heat and add the maple flavor and vanilla.
Pour the filling into the cooled pie shell. Cover and refrigerate for at least 4 hours, preferably overnight.
Generously dollop whipped on to individual slices of pie for serving.