Caroline J, a longtime associate who seemingly worked in every department at VBT over the years has shared one of her favorite recipes to make a delicious and healthy Salade Nicoise. Caroline is an avid gardener and supporter of Vermont's renowned farm-to-table movement and loves making this dish in the summer time when her garden is bursting with fresh veggies, and Farmers Markets bring small towns together on a weekly basis to share in nature's bounty.
Ingredients:
- 6 baby beets, greens removed and washed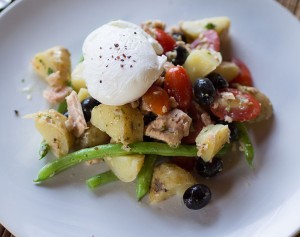 - 2-1⁄2 Tbs. red-wine vinegar; more as needed
- 1 lemon, halved, plus 1 Tbs. freshly squeezed lemon juice
- 8 baby artichokes
- 1 cup plus 4 Tbs. extra-virgin olive oil
- 1⁄4 cup dry white wine
- Spices: 2 sprigs fresh thyme, Red pepper flakes, Kosher salt, fresh ground black pepper
- 3⁄4 lb. new potatoes
- 1 clove garlic, pounded to a smooth paste with a pinch of salt
- 1 Tbs. Dijon mustard
- 1 large egg yolk
- 2 not-so-hard-cooked eggs, peeled
- 1 handful arugula, preferably wild, or young dandelion (about 1 oz. total), washed and dried
Optional: - 1 lb. tuna, such as yellowfin or ahi, cut into even slices about 1 inch thick
Preparation
Please refer to the cooking instructions from Finecooking.com here.