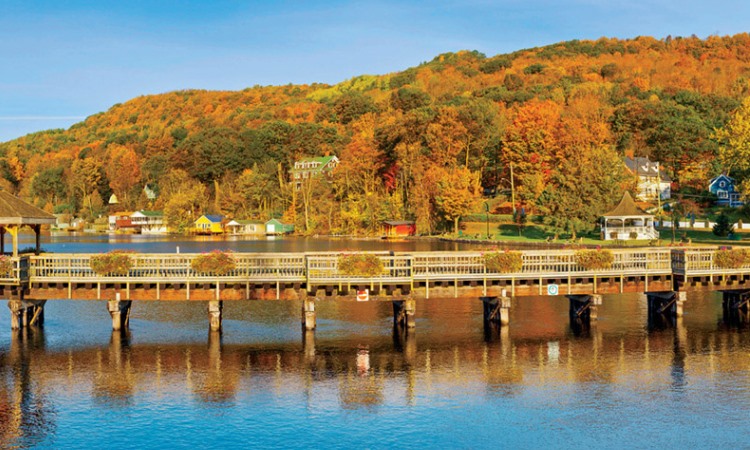 Québec is best known to the world for its busy, bustling cities - particularly Québec City and the ultra-cosmopolitan Montreal. But metropolises like these can sometimes overwhelm visitors and make them long for peace and quiet. Fortunately, Canada's bicultural province also contains the Eastern Townships, a cluster of towns surrounded by breathtaking scenery and countless opportunities for communing with Mère Nature.
Let's check out three reasons to visit Québec's oh-so-appealing Eastern Townships, accessible through our Bicycling Québec: Best of the Eastern Townships biking tour.
1. Culinary Delight at Domaine du Ridge
Québec represents the height of French sociocultural influence on Canadian society. As such, it's no surprise that the province is home to a fairly distinguished winery. At Domaine du Ridge in the southern area of the Eastern Townships, you can explore the vineyards, taste the wines (mostly whites, but there are a few reds to match the changing leaves) and enjoy the beauty of the surrounding forests while strolling the grounds.
2. Farm Life in Frelighsburg
Frelighsburg, Québec, is the one of the closest Canadian towns to the Vermont border, so, unsurprisingly, these neighbors have a lot in common. Both have a deep appreciation for maple syrup; the residents of Frelighsburg have made a name for themselves by baking it into pies. And what fall retreat would be complete without apple-picking? Frelighsburg is known the world over for its bucolic apple orchards, particularly Au Coeur de la Pomme and its twelve different apple varieties.
3. Beauty along the Tomifobia
The 140-acre Tomifobia Nature Trail in Ayer's Cliff stands out as special. It's a repurposed rail trail where you can enjoy car-free cycling while taking in the natural beauty. You'll be surrounded by lush foliage, the meandering Tomifobia River running the length of the trail, and plenty of animals to share in the scenery: black bears, moose, deer, and tortoises.
To learn more about the expeditions in Québec and Canada available from VBT, click here. To request a free catalog and learn more about other exciting destinations throughout the world, click here. If you would like to speak with one of our Tour Consultants, please call 800.245.3868. They are available Monday-Friday from 8:30 a.m. to 6:30 p.m. EST and Saturday from 10:00 a.m. to 3:00 p.m.