Looking for VBT Walking Vacations? All VBT Walking Vacations have moved to our sister company, Country Walkers. The same tours you know and love, plus exciting new itineraries, are available to book through their website.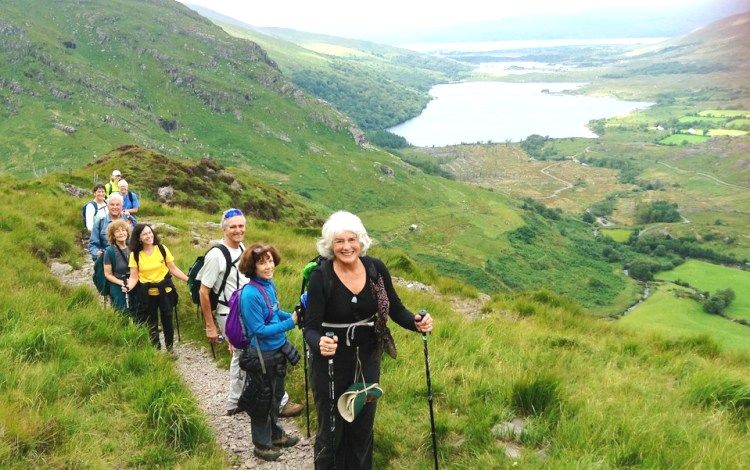 American author and journalist Hal Borland once said that "All walking is discovery. On foot we take the time to see things whole." That's exactly what we had in mind when we introduced walking tours to our line of active vacations six years ago. There are some places that cannot be experienced to the fullest in a tour bus, and even the perspective one gets from walking can be different than biking. With 9 walking itineraries in amazing destinations throughout the world—ranging from Peru to New Zealand to Ireland to Italy—you'll get to walk along some of the world's oldest and most revered paths; as well as be immersed in new cultures, historic sites, and jaw-dropping vistas along the way with VBT. Once you have decided where you want to take your walking vacation, the next step is to prepare for you trip so that you can feel comfortable and confident as you set out for your adventure. With that in mind, here are some recommendations for what to pack, how to train, what shoes to bring and much more about preparing for a VBT Walking Tour.

How to Prepare Physically
Whether you're taking a VBT walking tour rated easy (like France: Slow Road Through Provence or Spain: A Walking Tour of Basque Country) or Moderate (like Peru: Machu Picchu the Sacred Valley or The Amalfi Coast & Capri) we advise you to be prepared to be physically able to walk at least 4 miles in a day. Of course, as with all VBT tours, you may walk as little or as much as you want. Just know that unlike our biking tours where a van continually sweeps routes, the support vans on our walking tours can only meet the group at certain points along the trail. In order to prepare for walking that distance, we advise that 2-3 months before your vacation you begin to walk at least 45 minutes per day for 3 days a week. If possible, walking outside on a trail is preferable, but you may also train on a Stairmaster or treadmill with some incline. For more info, check out this video:
Walking Poles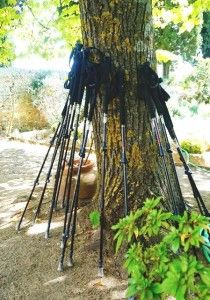 The advantage of using poles when walking is that they can help maintain balance while crossing slippery terrain, bending under low branches, or traversing paths that aren't smoothed out. They also help support your legs and back so that there is less stress put on your body during each day's walk. Aside from helping while walking, they can also be used to lean on during a break or to push aside any brush, debris, spider webs, and anything else that could obstruct the trail or a scenic vista. While avid walkers are encouraged to bring their own poles if they feel more comfortable with them, all VBT travelers will receive a complimentary pair, adjusted for height, to use throughout your tour.
How to pack
Since you'll be taking an airplane to get to your destination, you'll want to be cognizant of the amount of stuff you can fit in your checked bag. We encourage you to pack lightly and know that reusing most of your outer layers during the tour if very common with walkers. In addition to proper clothing and footwear (which we'll address in the next paragraph) you should pack items to protect you from the elements—like a hat with a visor, gloves if you travel in the spring or fall, moleskin for blisters, and a water and wind-proof jacket and pants. VBT will send you a water bottle before you depart so please make sure to bring it along too. Also, you'll have to pack a small backpack for use on the trail—VBT will not provide backpacks—in order to carry a camera or binoculars, your water bottle, sunscreen and extra layers or rain gear on the trails. For more packing tips please click here or watch this video:

Walking Clothing and Footwear
You will want to be prepared for the active portion of your walking tour by bringing clothing made with wicking fabrics and that are bright enough to be visible on the trail. We recommend hiking shirts that are vented, have roll up sleeves and have some kind of SPF protection or bug repellant. The proper footwear is the most important part of the clothing you'll bring. It's important to bring non-cotton socks (treated wool socks like those made by Smartwool or Vermont-based company Darn Tough are great choices) that have extra padding on toes and heels. The right walking shoes should be waterproof and have a tough sole. You can choose whether they are low or high ankle types based on your preference but we strongly recommend that if you buy a new pair for your trip that you begin to break them in 6 weeks before you depart.
To learn more about Walking the World with VBT please click here and to request a VBT catalog please click here. To reserve a vacation or speak with one of our Tour Consultants, please call 800-245-3868. They are available Monday-Friday from 8:30am to 6:30pm EST and Saturdays from 10:00am to 3:00pm EST.