Looking for VBT Walking Vacations? All VBT Walking Vacations have moved to our sister company, Country Walkers. The same tours you know and love, plus exciting new itineraries, are available to book through their website.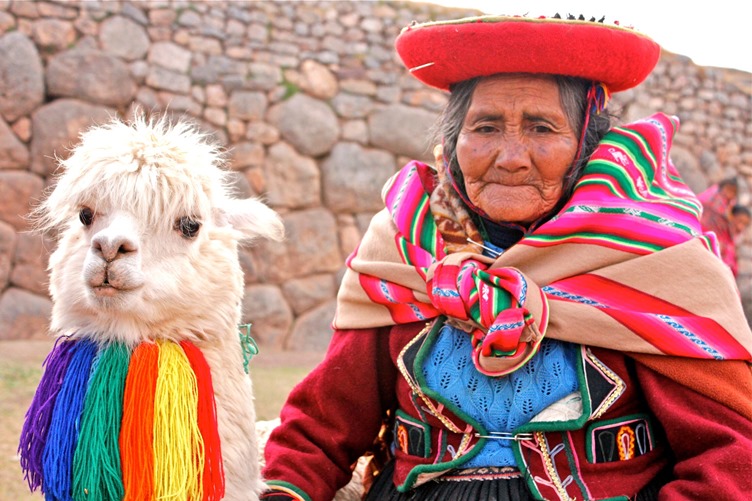 Even when considering the pantheon of ancient architecture from all over the world, the ruins of Machu Picchu are in a class by themselves. The remnants of this Incan city and UNESCO World Heritage Site, located at the foot of a mountain and surrounded by thick verdant forest, are reminders of the majesty of the Incan civilization from nearly five centuries ago. It's a clear highlight of our Peru: Machu Picchu and the Sacred Valley walking vacation.
Not far from the wonder of Machu Picchu live Peruvians who do their own part to preserve the country's traditions through the practice of unique artistic disciplines.
The Beauty of Alpaca Wool
Native to Peru, alpacas are animals of great importance to locals. They use alpaca fleece to produce clothes, textiles, tapestries, and more. According to Threads of Peru, the use of alpaca-derived textiles for backstrap weaving is a 5,000-year-old tradition, stretching far back into Peruvian history. Many of the products created from this wool also employ dyes made from plants indigenous to the Andes Mountains.
Visitors to Peruvian folk markets can find scarves, serapes, and hats, all made with alpaca wool, which is typically softer, stronger and warmer than sheep's wool.
Silver Jewelry: An Incan Tradition
Gold and silver were bountiful among the Inca civilization, so much so that these precious metals attracted Spanish conquistadors, who violently conquered the area we now call Peru. But the tradition of metallurgy didn't die with the original Inca, and the continued abundance of silver in the region guaranteed its lasting cultural relevance.
According to Ten Thousand Villages, the 1960s ushered in a revival of the silversmithing trade. Semiprecious stones like onyx, lapis lazuli, turquoise, and spondylus shell are often incorporated into the original silver designs to make rings, pendants, earrings, and necklaces.
Still Life through Arpilleras
Arpilleras aren't uniquely Peruvian crafts; they originated in Chile during the 1970s as a method of protesting the violent oppression under right-wing dictator Augusto Pinochet, according to the William Benton Museum of Art. But this art style, which incorporates paint and sackcloth, spread to other nations in South and Central America that have experienced systemic brutality in the name of politics: Peru, Colombia and Nicaragua.
Peruvian arpilleras are not always simply illustrations of community life the way that the original Chilean pieces were. Some are three-dimensional dolls made using the same base materials, while others are used to create purses and other clothing accessories. But the focus of the art, to depict the richness of society even in poverty or under other extreme conditions, remains consistent no matter what form the arpilleras take.
To learn more about our Peru walking vacation, click here. If you would like to speak with one of our Tour Consultants, please call 800.245.3868. They are available Monday-Friday from 8:30 a.m. to 6:30 p.m. EST and Saturday from 10:00 a.m. to 3:00 p.m.