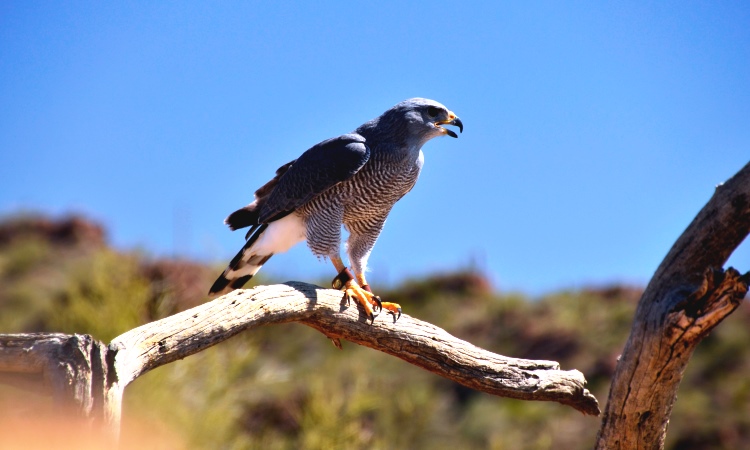 The great birds of prey throughout the world stand out as some of its most majestic animals. Although you will likely encounter some debate from professional ornithologists or amateur bird enthusiasts about the topic if you ask them, there's certainly no doubting that the peregrine falcon ranks among the most impressive of these birds.
Spotting one is something every nature lover should hope to experience - and you might be able to do just that on our Maine Coast: Purely Acadia biking tour. The falcons recently returned to Acadia National Park, according to the National Park Service. Let's take the time to learn a bit more about them and why they've made their way back to the park this past spring:
Peregrine Falcons: The Lowdown
According to Cornell University's Lab of Ornithology, the peregrine falcon is the largest bird of its species to be found on the North American continent, weighing less than four pounds but with a near-44-inch wingspan. The birds have been seen on every continent of the Earth save Antarctica. They're identifiable by their sharp black beak, white patch on the throat and the white-black-brown zigzag patterns of their plumage. Their swooping flight patterns on the hunt are absolutely stunning to watch as an observer—and undeniably horrifying to the falcons' prey! People have made use of peregrine falcons as hunting assistants for more than 1,000 years.
Almost Wiped Out by Human Activities
The reason why it's so remarkable to see peregrine falcons back in Acadia National Park, as confirmed by the NPS's April 13, 2018 press release, is that the past several decades have seen these majestic birds suffer the effects of human behavior. Cornell's Ornithology Lab noted that use of the now-banned pesticide DDT killed thousands of these birds, and various disturbances to their nests caused peregrine chicks to sicken and die in certain cases.
Captivity-based breeding supervised by expert falconers helped bring peregrine populations back to much healthier levels, and they haven't been listed as endangered or threatened since 1999.
Checking Out Falcons at Acadia
NPS officials at Acadia National Park closed certain trails to the public in April so that visitors couldn't interfere with falcon nesting season: specifically, Precipice, Jordan Cliffs, and Valley Cove trails, as well as some of the Orange & Black Path.
This doesn't mean that you won't be able to see peregrine falcons when you visit the park, though. Adults will be flying about, hunting for themselves and to provide sustenance for newly hatched young. And no matter what, you'll see plenty of other fascinating birds - 338 species of them, in fact - and other animals at Acadia.
To learn more about our Maine bike tour, click here. If you would like to speak with one of our Tour Consultants, please call 800.245.3868. They are available Monday-Friday from 8:30 a.m. to 6:30 p.m. EST and Saturday from 10:00 a.m. to 3:00 p.m.