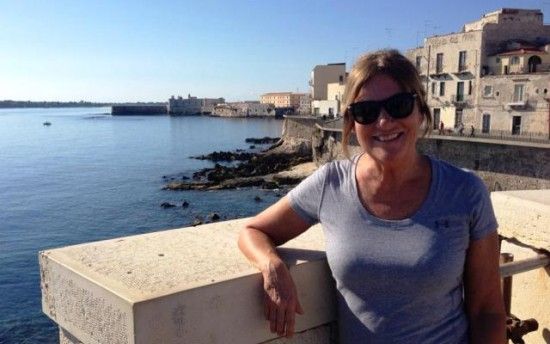 Recently we received a note from a traveler linking to her pictures from a biking vacation to Sicily. Turns out it was Rita Cary—Morning Drive DJ for 92.5 the River, Boston's Independent Radio—who is also a longtime VBT traveler. Rita has been traveling with VBT since 2003 and has gone on both biking and bike & barge vacations with us, so we thought it would be fun to sit down with her and find out about how she learned of VBT and why she continues to travel with us on an almost yearly basis.
Rita loves to travel and often goes with avid bikers so an active vacation is the perfect fit. After traveling with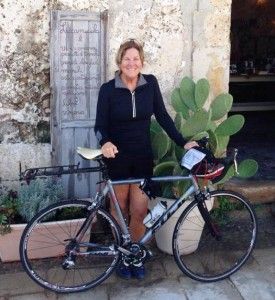 some other companies, she heard about VBT and decided to try a bike trip to Italy with us. She chose The Tuscan Coast because the vacation seemed to "pack a lot of bang for the buck!" She—along with her tour group—really enjoyed the different route options which allowed Rita to take her time and enjoy the scenery while others on the vacation could challenge themselves with longer rides. Since that first vacation she hasn't looked back and has been everywhere from Puglia to Vietnam to Spain and Croatia with VBT. What she really loves is that VBT "takes care of you from the minute you leave the airport" and arrive in your destination. Rita said she loves having local Trip Leaders that can offer insight into the best places to shop and dine when there is some free time off the road or trails. She also appreciates the knack VBT has for choosing nice hotels that really reflect their surroundings—especially the masserias in Puglia.
Her most recent trip to Sicily was actually the second time Rita had been to the Mediterranean island with VBT. She took our old Sicily: Island and Volcanoes vacation back in 2005 and was quite delighted to find how different, yet equally rewarding an experience the newer Sicily: Biking the Southern Coastal Villages​ vacation is. Where volcanoes and the Aeolian islands highlighted her 2005 trip, Rita was more than happy to immerse herself in the warmth and nice summer beaches of the southeastern part of Sicily on the 2013 trip.
With her 10th vacation with VBT coming up this fall—she is going on our Heart of France Bike and Barge vacation with some friends she met on a previous VBT trip—we asked Rita what her favorite vacation has been so far. Although she has had a great time on her many trips, she said that traveling to Vietnam is an experience she'll never forget. While she appreciated the easier bike routes on the tour, it was the quality of the hotels and the cultural differences that really stood out.