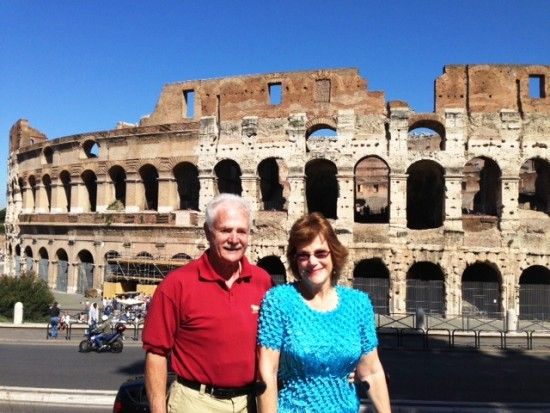 One of our favorite things about providing excellent active vacations all over the world is hearing about all the different places our guests have traveled with us. We'd like to introduce you to September's VBT Traveler of the Month, Barbara from Kansas City, who recently returned from her 6th VBT vacation! Barbara and her husband Ken traveled on our Amalfi Coast & Capri Walking Vacation where they had another fabulous vacation. We had a chance to talk with Barbara about her VBT experiences over the years.
You recently returned from the Amalfi Coast, have you been anywhere else in Italy with VBT?
This was our first VBT trip to Italy. We chose the Amalfi Coast because we knew it would be beautiful and we chose VBT because of our past experiences with the company. VBT trips always featured great rides and walks, spectacular scenery, fabulous hotels and inns, delicious meals, interesting and fun fellow travelers AND knowledgeable, attentive, caring, competent leaders. We needed these leadership qualities this trip because I stepped in a hole on Capri and broke my ankle! I'm grateful that I was in good hands with our Trip Leader Marcello, who guided my husband to a pharmacy where they were able to get crutches and medicine. Marcello helped Ken talk with the trip insurance company and also made intricate arrangements to get me to the next hotel.
Oh no! What about the vacation was so special for you considering your unfortunate immobility?
Our Trip Leaders Vincenzo and Marcello were amazing. They arranged hotel rooms with magnificent views. Marcello always made sure I had an office chair with wheels so that I could easily get around the hotel. My husband was so sure that I was well taken care of that he was able to continue on the walks. He brought back lots of photos. So I had a vicarious experience!! Our leaders made sure I had the opportunity to participate in activities. They even arranged a chair with wheels and the use of a tiny elevator so I could tour the pasta factory and have lunch there.
You've been on six vacations with VBT, where else did you go? What was your favorite place to travel?
We started going on trips long before cell phones were in everyone's hands!! Our first trip was in Vermont where we were going to a wedding and wanted to do a bicycle trip. Our next and so far, our favorite was in Provence, we did a Bordeaux trip and the Cape Cod trip. The most exotic was the Vietnam trip. All trips were exceptional.
So you've been on both bicycling and walking vacations. Was there anything different about the two?
All of our previous trips have been on a bicycle and this was our first walking trip. I don't think there is much difference between a bicycling or walking trip. To me, the difference is feet on the ground versus feet on the pedals. Same great leaders. Same exciting tours, lodging, food and fellow travelers.
That's good to hear. So, where are you off to next?
Ummm. Where shall we go next?? Bike and Barge sounds like our next VBT adventure.