When you think of local cuisine in the Chesapeake Bay the first thing that comes to mind are crabs. The best time of year to enjoy the fresh meat of the Maryland state crustacean— the blue crab—is from April to December. These tasty crabs can be served in a variety of ways from fried whole soft-shell crabs to crab rolls to crab salad. Today, we'd like to share with you a recipe for Maryland crab cakes that is sure to please your taste buds, courtesy of finecooking.com
- 1 lb. jumbo lump or backfin lump crabmeat, fresh or pasteurized
- 1 large egg
- 1/4 cup mayonnaise
- 1-1/2 tsp. Dijon mustard
- 1-1/2 tsp. Old Bay seasoning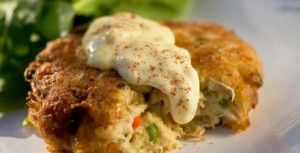 - 1 tsp. fresh lemon juice
- 1/2 tsp. Worcestershire sauce
- 1/2 tsp. Kosher salt
- 1-1/4 cups fresh breadcrumbs (from soft white sandwich bread,
such as Pepperidge Farm)
- 1 Tbs. chopped fresh flat-leaf parsley
- 2 Tbs. unsalted butter
- 1 Tbs. olive oil
- Lemon wedges for serving
Cooking Directions
- Clean the Crab Meat—depending on the source of your crabmeat you may have to drain the meat or pick through it for shells
- Place crab meat in a mixing bowl and set aside
- In another bowl mix the egg, mayonnaise, mustard, Old Bay seasoning, lemon juice,
Worcestershire sauce, and 1/4 tsp of salt
- Add the contents of the bowl to the crab and mix gently with your hands until well combined
- Add the breadcrumbs and the parsley to the mixture and mix them in thoroughly but gently as you do not want to turn the mixture into a mash
- Cover the combined ingredients with plastic wrap and refrigerate for 1 to 3 hours
- Shape the crab mixture into 8 cakes about 1 inch thick.
- In a 12-inch nonstick skillet, heat the butter with the olive oil over medium heat. When the butter is frothy, add the cakes to the pan (8 should fit comfortably).
- Cook until dark golden brown on the underside, about 4 minutes. Flip the cakes, reduce the heat to medium low, and continue cooking until the other side is well browned, 4 to 5 minutes.
- Serve with lemon wedges on the side for squeezing over the cakes.