Nothing makes us happier than hearing how much joy one of our vacations can bring to our travelers. Recently, we received a wonderful note from Marty S. about her walking vacation to the Amalfi Coast with VBT in April. Marty and her husband Stephen visited the Sorrentine peninsula for the first time back in the early 1960's, when the two were working in Portici. The couple still travel to Italy quite frequently but what we loved hearing most was how bringing some friends and family on their first Italian tour with VBT, made this particular trip much more special. The following are some excerpts taken from Marty's kind letter….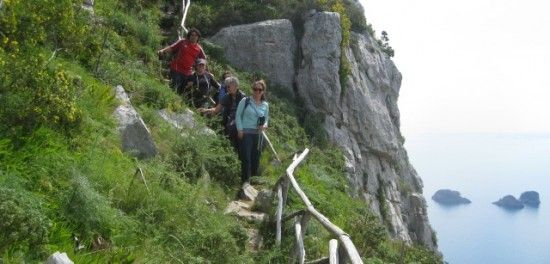 I am writing to thank you for the marvelous VBT trip to the Amalfi coast from which we just returned. For us, even though we have been in the Naples/Sorrento/ Amalfi area on two other recent occasions for Italian language study, it was truly the trip of a lifetime. First, let me provide you with some context. In 1960/61, my husband and I were working in Portici and visited Sorrento once on a two-day holiday at Easter. I remember how we could walk out of our hotel door and up the hill above Sorrento through fields of poppies and other flowers to an overlook, from which we could see the Gulf of Salerno and the Bay of Naples. It was breathtakingly beautiful and we have carried the picture in our minds ever since. We signed up for this VBT trip because it promised walks to such viewpoints and we loved the idea that we could explore the area once again, this time with the aide of VBT's local Trip Leaders.
We travel to Italy about once a year and we often hear our friends say that they would like to go with us, so we chose this trip because we felt that our group of friends would like it and that VBT would be the right company for all of us. We had taken one of VBT's biking trips in Vermont years ago and we liked the van service, excellent food, and the flexibility of their daily routes. For this tour to Amalfi we also invited our children to join us and three of them were able to do so. It was a perfect fit because they are all serious walkers, great cooks, and they love food. They also wanted to see Portici, the town where we worked in 1960-61, an experience they have heard about since they were kids. VBT's 2-day pre-trip option allowed for us to visit as a family some 50 years after my husband and I lived there.
Let me say that this trip delighted us all on all of these expectations. The first day's hike to the Malacoccolo—overlooking the Gulf of Salerno and the islands off Positano—brought tears to my eyes; it was so beautiful and fit that 50 year old lovely picture in my mind. Every day brought another spectacular scene. Some of my favorites were the views of the Sorrentine coast from the Villa Jovis on Capri, the piazzetta at Capri, the sunset over the Bay of Salerno from the terrace of the hotel in Ravello, the sea view from the Roman basilica just before the restaurant in Pontone, and the view near Positano as we walked up the hill past Santa Maria Del Castello. Naples, the Bay, and the Sorrentine Peninsula are all some of the most beautiful locations anywhere in the world, and this trip provided so many ways to experience that beauty.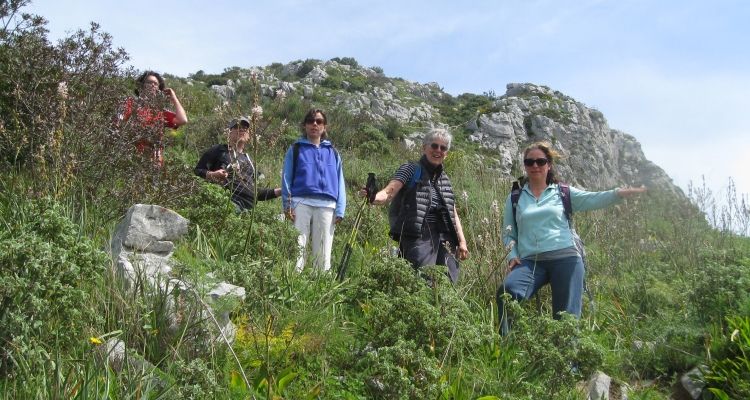 Our group all found that the pacing and organization of the trip easily provided for our range of skills and desires. Our Trip Leaders outlined our walking choices the night before, and again in the morning, and every day we had a different range of walking routes and difficulty levels to choose from. The last day, the hike from Santa Maria Del Castello is a good example: we gradually ascended about 1-2 miles through a forest full of wild narcissus, then through a chestnut cutting forest to a park that runs along a fenced overlook of the Gulf of Salerno, and on to our picnic site. We all had a delicious picnic as a group and then it was time to walk back down the hill to Positano. While I chose not to do the downhill portion to Positano— I rode back to the hotel in VBT's van along with some others—the rest of my family enjoyed their walk down. It was perfect.
The best thing about our pre-trip in Naples was that it provided us with the chance to show our children where we worked in 1960-61. My nephew Francesco has a university friend, Mimmo, whose significant other, Pietro, was born and raised in Portici! As Neapolitans say, "Naples is a small place". With Pietro, we visited the Royal Botanical Gardens in Portici, the palace of Federico II, and then the waterfront palazzo/orphanage called Casa Materna—which is where we worked many years ago. The pre-trip for us was a special connection to our early work in Italy, and the many things that we learned from that experience.
Before I end these comments, I wanted to say a special thank you to our guides, Vincenzo and Ulisse. In addition to the fact that their planning and leadership provided us the fulfillment of a dream of many years—by introducing our friends and children to the Sorrentine and Amalfi coasts—they both did all of this in ways that we particularly appreciated. They are both patient, resourceful, funny, safety conscious and well-informed about the food and culture of the region. When I asked my husband how he would describe what he valued most about our two guides, he said their "enthusiasm, clear, engaging enthusiasm for what we were to do each day" made the trip a pleasure.
To learn about VBT's walking tour to the Amalfi Coast, please click here.