Last week we posted a blog about the experience of VBT Chairman Gregg Marston and his wife, Caroline, on the first leg of their Special 45th Anniversary Chairman's Tours to Tuscany and Amalfi. In this part, we caught up with Gregg about their time spent on our Amalfi Coast & Capri walking tour. Enjoy!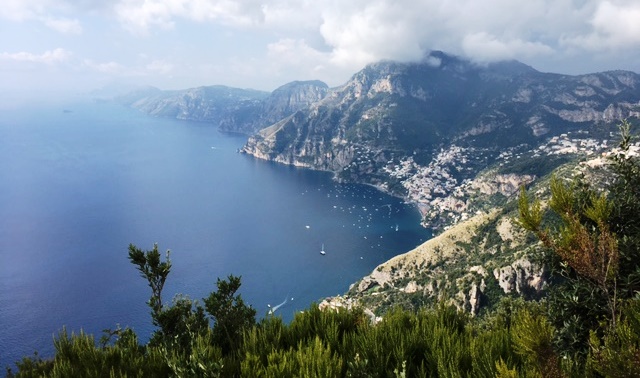 After leaving our friends and fellow travelers in Tuscany, we enjoyed a lovely six hour drive down the coast from Marina de Castegneto to Naples and checked into the Grand Hotel Santa Lucia—which had lovely balcony views of the harbor and medieval "Egg" Castle. We then met Aldo, our excellent city guide, and as the three of us strolled through Naples I became more and more embarrassed with how little I knew about this famous and oh-so historic city. An introductory guide in a new city is an essential piece of enhanced discovery, for sure.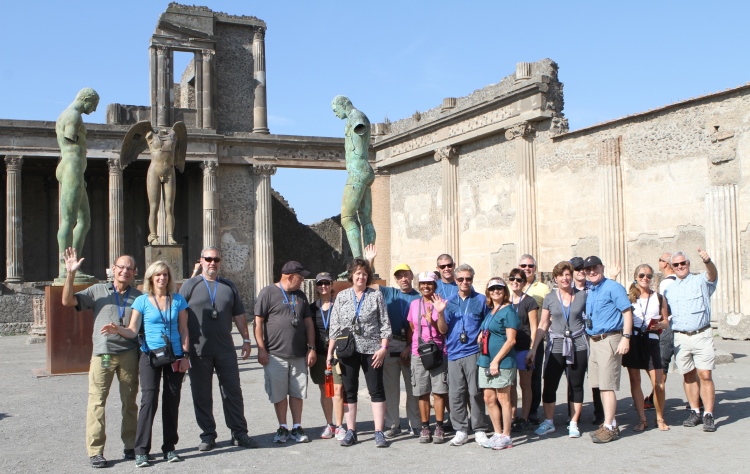 The next day we met our VBT group and Trip Leaders, Ulisses and Vincenzo, and transferred to Pompeii. After a jaw-dropping guided tour of ancient ruins that seemed so alive, we headed to Sorrento to begin the walking tour in proper. That evening we enjoyed our welcome cocktail with new friends on the lovely roof deck overlooking the sea before walking a few blocks through the city to our included dinner. We started our meal with cannelloni and finished with the best sea bass ever...and white wine, of course.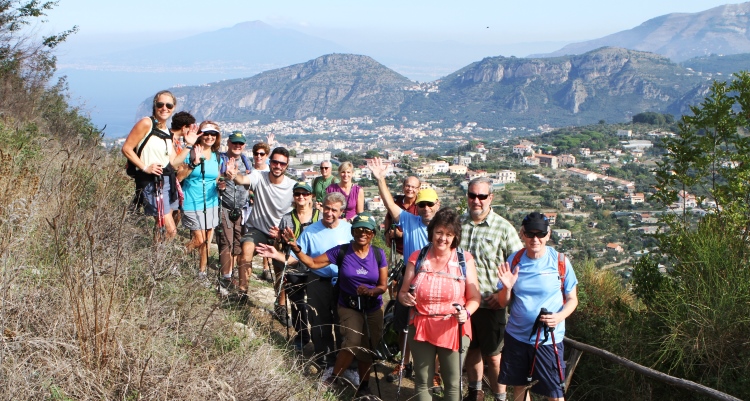 On one of our first walks high along the coast of the Sorrento peninsula we passed pine tree groves and aromatic flowers before reaching a promontory called the Malacoccola that overlooked the Gulf of Salerno. The view was unforgettable. We continued our descent through villages, organic vegetable farms, vineyards and olive groves; petting cats and dogs and waving to local folks along the way. As we entered the little village of Torca a newlywed bride and groom were walking out the front door of the church. Our coincidental timing could not have been better. The village was alive with happiness. Many embraced us with curiosity and swept us into the excitement of the day. For years I have called this "spontaneous discovery"....and we basked in it!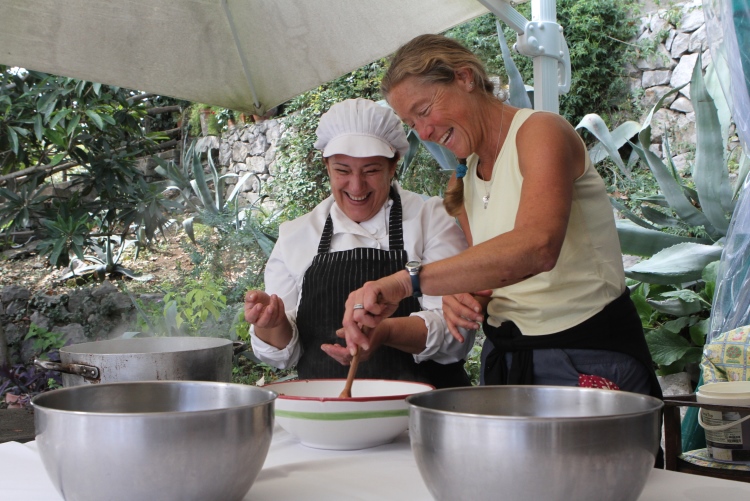 Another cultural highlight was our visit with Maria, a local chef who taught us the tradition of making and braiding fresh mozzarella. Knead…knead…a knead some more. Caroline got her hands in there, to the joy and smiles of Maria who, quite obviously, does not often get participation. She loved it. A feast of antipasto followed underneath a shaded terrace overlooking the sea from high above. Afterwards everyone avoided the temptation of a nap to instead walk the five kilometers back to our five-star hotel in the center of Sorrento. Dinner on our own this night was a relaxing opportunity to explore this charming seaside village on our own.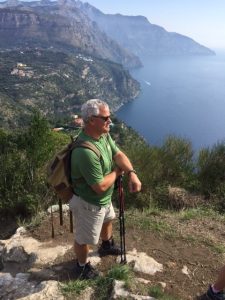 Our next day was scheduled to visit the island of Capri, a favorite destination. However, the raging sea and associated storms prevented this journey. Instead we had some unplanned discovery with a walking tour of the inner winding streets of Amalfi village. We saw the culture as we would not have otherwise seen it, met our leader Vincenzo's children, had a delicious lunch and a simply wonderful day. Afterwards we met our transfer and headed to Ravello, a quaint village high in the hills above Amalfi, looking over the Gulf of Salerno.
When Caroline and I departed we extended our best wishes to this wonderful group of new and veteran VBT travelers and our leaders. Our VBT walking trip in Italy was an amazing adventure that reminds us of how lucky we are to have been doing this for so long and how important it is to travel to new destinations and experience excellent cultural discoveries at a relaxed pace. Thank you to all that made this possible for us and for our travelers. Again, we are blessed. Thank you, thank you.
To read Part One about Gregg and Caroline's travels on our Tuscan Coast biking tour, click here.
To learn more about our tours in Italy simply click here. To request a free VBT catalog in either print or digital format, please click here. If you would like to reserve a vacation or speak with one of our Tour Consultants, please fill out this form or call 800-245-3868. They are available Monday-Friday from 8:30am to 6:30pm EST and Saturdays from 10:00am to 3:00pm EST.