Looking for VBT Walking Vacations? All VBT Walking Vacations have moved to our sister company, Country Walkers. The same tours you know and love, plus exciting new itineraries, are available to book through their website.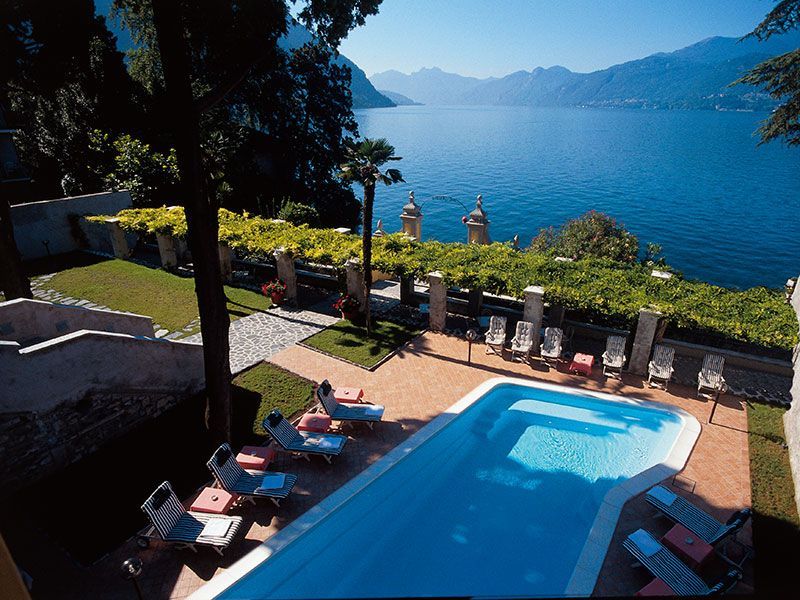 One of the highlights of our Walking the Italian Lakes vacation is the amazing selection of accommodations along three different lakes that our guests will stay in while on tour. "Distinctive Lodgings with Local Charm" is a tagline we like to use because we feel as though your lodging should be a destination in itself—a haven meant to savor. We've highlighted some hotels in Italy along Lake Como, Lake Orta and Lake Maggiore that will make your time off the lakes region's walking trails as memorable as on.
Hotel La Palma—Stresa, Piedmont, Italy


VBT travelers will stay at this elegant hotel located in the center of Stresa— along the Lake Maggiore promenade—for two nights while on this vacation. Guests are greeted by a lovely manicured lawn with flowerbeds and lawn chairs—perfect for taking in the view of the lake across the street. From the rooftop sun terrace and swimming pool, you'll enjoy open panoramic views of Mt. Mottarone, the Borromean islands, and much of Lake Maggiore. One of the many perks of the La Palma is a relaxing visit to the spa that will replenish your energy after our day's walk—and their wellness center overlooks the lake and gardens below. Treat yourself with a dip in the jacuzzi or unwind in the sauna. Afterwards, guests can enjoy a fresh drink while on the open aired roof terrace at the hotel.
Hotel Royal Victoria—Varenna, Lombardy, Italy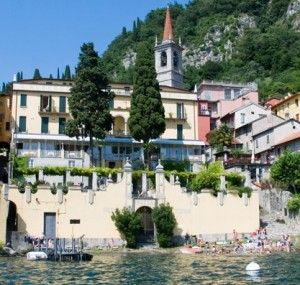 It's not overstating the case to say this historic 4-star hotel—located on the shores of Lake Como in the picturesque medieval village of Varenna—is fit for a queen. In fact the hotel was renamed after a visit from a young Queen Victoria in 1838. Today, the Royal Victoria is one of the finest Lake Como hotels and boasts of modern amenities while retaining its 19th-century ambiance. Travelers can take a refreshing dip in the outdoor pool (pictured at the top of this blog) before dining at the hotel's elegant restaurant with an outdoor terrace overlooking Lake Como.
Hotel San Rocco—Orta San Giulio, Piedmont, Italy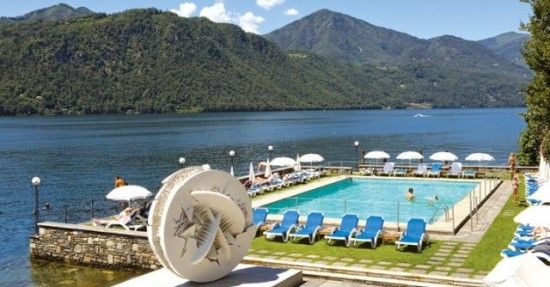 Four hundred years ago, this fantastic 4-star hotel began as a convent on the shores of Lake Orta. It was transformed into a hotel in 1960 and today the combination of modern and historic features lends a unique style and flair to the hotel. Guests will enjoy the proximity of the swimming pool and sun deck to Lake Orta. Travelers have free time on day 7 to venture into Orta San Giulio's pedestrian-only zone for some shopping and dinner on your own. The walking vacation's farewell dinner is at the hotel's gourmet restaurant where afterwards, you can take in the summer sky and enjoy a drink with your new friends out on a huge lakeside terrace.
To read more about our Walking the Italian Lakes vacation please click here. To request a walking catalog or learn more about any of our other exciting walking destinations from New Zealand to The Amalfi Coast to Provence and beyond please click here. If you would like to reserve a vacation or speak with one of our Tour Consultants, please call 800-245-3868, available Monday-Friday from 8:30am to 6:30pm EST and on Saturdays from 10:00am to 3:00pm.