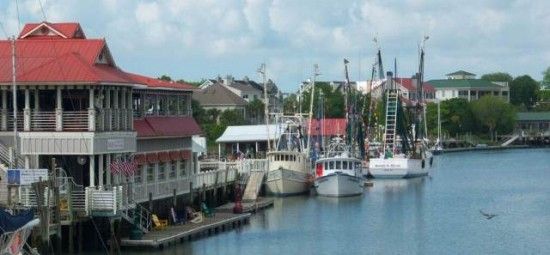 Along the beautiful South Carolina coast, at the confluence of the Cooper and Ashley rivers, lies the city of Charleston, the state's oldest city. VBT travelers will savor the relaxed charm and unhurried pace of "Chucktown" and experience its colonial roots, historic architecture, delicious food, and meet friendly locals on the first 2 days of our popular Charleston to Savannah: A Southern Reel ​ biking tour.
Our home base for the time spent in Charleston is luxurious Ansonborough Inn. The inn is located in the heart of Charleston's historic district in the Ansonborough neighborhood, which is named after Admiral George Anson, a British Lord that first came to own the land by way of winning it in a spirited poker game. The inn itself is an old shipping warehouse that was transformed into a luxury boutique hotel and has since received AAA's coveted 4-diamond award in 2011 and 2012.


During your stay you'll have some free time to check out the city and wander along "Rainbow Row", a group of pastel-colored homes along East Bay Street, or visit the Battery—a historic seawall-turned-promenade at the tip of Charleston's peninsula. We also recommend listening to some local Gullah-inspired jazz music during your stay as the city's rich musical tradition first captured American ears with "Charleston Rag" and James P. Johnson's famed "Charleston" dance. The city also serves as the setting for the Gershwin-penned musical masterpiece, Porgy & Bess.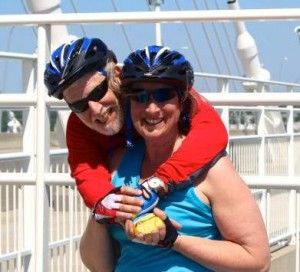 Exploration beyond the city limits begins with an adventure over the Cooper River Bridge via its dedicated bike/pedestrian lane. Soak in expansive river views from the bridge while en route to Sullivan's Island and the Isle of Palms. Glance at some of the area's prettiest beaches and most sought-after homes while cruising along the Intracoastal Waterway before ending up at Fort Moultrie on Sullivan's Island. Here we'll learn how the fortress played a key role in both the Revolutionary and Civil Wars and how Edgar Allen Poe was once stationed here from 1827 to 1828. Also, the use of palmetto tress in the fort's construction inspired both South Carolina's flag and state nickname.


Another day of riding brings us to "Angel Oak", a Southern live oak tree on John's Island that is estimated to be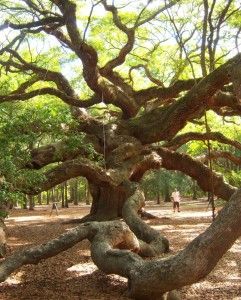 more than 1,500 years old and stands 65 feet tall. The tree is so massive that its widest crown is 180 feet, point to point, and it shades 17,000 square feet. After, we make our way to nearby Wadmalaw Island, where we'll tour the Charleston Tea Plantation, the only place in America where tea is still grown. Before enjoying a picnic lunch on the plantation, we'll tour the working tea factory, visit the tasting room and enjoy a trolley tour of the fields.
Charleston is only one example of the historic Southern cities we'll explore on this popular biking tour that also has stops in Beaufort and Savannah. To read more about what else awaits you on this coastal adventure in America's southeast, please click here. If you would like to reserve a vacation or speak with one of our Tour Consultants, please call 800-245-3868. They are available Monday-Friday from 8:30am to 6:30pm EST and Saturdays from 10:00am to 3:00pm EST.