Here's a recipe for a delightful appetizer that we learned from a chef who is a native of Abruzzii that "is easy to prepare and always a crowd-pleaser." This dish is best served in a small (2 quart), deep terra cotta pot, but a round casserole dish can be used. A Terra Cotta pot is made out of clay and used to cook a variety of dished including soups, meats, stews and of course, delicious cheese dips. The benefit of using Terra Cotta pot to cook is that your food ends up more tender and flavorful than in a conventional pot as the clay acts as a steamer and very little moisture is lost in the cooking process.
Ingredients:
• One 28 ounce can of crushed San Marzano tomatoes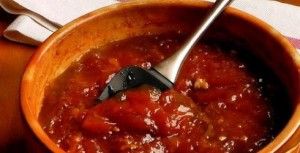 • A 5 ounce piece of Gorgonzola dolce cheese
• 4 ounces of Basil pesto (In most major food stores Pastene brand is readily available)
• Bread for crostini – Paul uses a rustic Italian bread, like a Durum stick- or focaccia
Directions:
- Preheat oven to 400 degrees.
- Place a bit of the crushed tomatoes in the terra cotta pot. Enough to coat the bottom.
- Mix the pesto into the crushed tomatoes.
- Place the piece of gorgonzola dolce in the middle of the pot.
- Pour the rest of the crushed tomato over the cheese.
- Place the pot in the oven and cook for about 30 minutes or until it bubbles around the edge. (You can always take it out and test the middle, to be sure the cheese has melted.)
In advance of putting the pot in the oven, you should create the crostini. Simply slice the bread into strips about ¼ inch thick and 1 to ½ inches wide and 6 inches long. Place the strips of bread on a baking sheet and place in heated oven. Watch closely-you want them to be dry and slightly brown and crisp, but not burnt. It doesn't take long.
To serve, place the terra cotta pot on a large oven-proof platter or tray and place the crostini around it. Have fun dipping, and be sure to tell your guest to dig in so they get some cheese! If you wish, it is okay to mix it a bit before serving, so the cheese is mixed through.